THE CHRISTIC MUSLIM SPEAKS
https://www.youtube.com/watch?v=jwV6fvo2ObI
Last Hero of Islam - Abdul Qadir al-Jaazaa'iri | Shaykh Hamza Yusuf

ALAIN BONNET DE SORAL, LE SEUL VRAI CHEVALIER DE FRANCE QUE J'AI CONNU!
https://www.youtube.com/watch?v=GqMs03G7ALI
THE JEW SPEAKS
Éternel retour au réel – Préparation d'Alain Soral en vue de son combat contre Le Raptor
« Éternel retour au réel » : un extrait parmi de nombreux autres des bonus dont bénéficient les abonnés au financement participatif d'Alain Soral.
Alain Bonnet de Soral born 2 October 1958)
https://www.youtube.com/watch?v=XhaS1gedOhA
Dieudonné : Félicitations Benalla & Macron

https://www.youtube.com/watch?v=uGfqgLtvDX8
Alain Soral – Revue de détail avant vacances
https://www.youtube.com/watch?v=JNxfWstwcLQ&t=221s
😱 INTERVIEW DE ALAIN SORAL AU BAL DES QUENELLES 2018 🇲🇫 [MORGAN PRIEST]
ERTV Officiel
DON'T YOU EVER "DENY THE HOLOCAUST"!
17 Aug at 14:00
Guns and Butter has been banned and removed from the KPFA Radio station. Find out more on why it happened and what you can do.
Dear Guns and Butter Supporters and Listeners,

Guns and Butter has been taken off the KPFA airwaves by the General Manager of the station.

I received on Wednesday, August 8th, before Guns and Butter would have aired on KPFA, the following email from the General Manager:
Bonnie,

KPFA will cease broadcasting "Guns and Butter" effective immediately.



We've received an avalanche of negative calls and emails from listeners about your uncritically airing of views by a holocaust denier, climate denial and casting the Parkland mass shooting survivors as crisis actors.

As steward of our airways, we can't defend this content to our listeners.

Sincerely,

Quincy McCoy Kevin Cartwright
General Manager Program Director
This was followed by removal of the entire KPFA broadcast archives of Guns and Butter, down the memory hole.

KPFA defines itself as "Free Speech Radio" and this reaction is a form of censorship. There was no discussion of these claims, nor any provision for due process or community involvement before these actions were taken. If you are as taken aback as we are, as many of our listeners have already expressed to us by email, you can have your voice heard in this matter.

You can make in-person comments at the next KPFA Local Station Board Meeting this Saturday.

In Person Comments:

KPFA Local Station Board Meeting
Saturday, August 18th, 11:00AM
Town Hall Meeting, 1:00PM.
Public comments will be taken.

North Berkeley Senior Center
1901 Hearst Avenue
Berkeley, California
(Hearst Avenue and Martin Luther King Jr. Way)
(Wheel chair accessible)

Online Comments:
Feel free to copy us on any emails (gunsandbutter@startmail.com) you send in and let us know if you attend the Local Station Board Meeting.

And please forward this to others you know who have the same concerns. With the recent move of censorship by many companies, it is more important than ever to make your voice heard.

Read more on the Guns and Butter Blog
Achtung! What is

LIAR

ANTI-HITLER

Tharoor's "INDIA"?
https://www.youtube.com/watch?v=VcWc7WqcS5M
Shashi Tharoor's Stirring Speech at Oxford Union Goes Viral

ShashiTharoor speech going viral confirms we love to hate the British. He elaborates upon that while conversing with Rajdeep Sardesai. Follow us: YouTube:
Achtung! What is

LIAR

ANTI-HITLER

Tharoor's "INDIA"?
'Winston Churchill is no better than Adolf Hitler,'

says Indian politician Dr Shashi Tharoor
'Churchill has as much blood on his hands as Hitler does,' says author

An Indian politician has said Winston Churchill is no better than Adolf Hitler and the two leaders have equivalent amounts of "blood" on their hands.
Dr Shashi Tharoor, whose new book Inglorious Empire chronicles the atrocities of the British Empire, said the former British Prime Minister should be remembered alongside the most prominent dictators of the twentieth century.
Dr Tharoor, a former Under-Secretary General of the UN, said the blame for the Bengal Famine rested with Churchill. In 1943, up to four million Bengalis starved to death when Churchill diverted food to British soldiers and countries such as Greece while a deadly famine swept through Bengal.
"This [Churchill] is the man who the British insist on hailing as some apostle of freedom and democracy," the author told UK Asian at a launch for his book. "When to my mind he is really one of the more evil rulers of the 20th century only fit to stand in company of the likes of Hitler, Mao and Stalin".
"Churchill has as much blood on his hands as Hitler does," the Indian MP said. "Particularly the decisions that he personally signed off during the Bengal Famine when 4.3 million people died because of the decisions he took or endorsed."
"Not only did the British pursue its own policy of not helping the victims of this famine which was created by their policies. Churchill persisted in exporting grain to Europe, not to feed actual 'Sturdy Tommies', to use his phrase, but add to the buffer stocks that were being piled up in the event of a future invasion of Greece and Yugoslavia".
"Ships laden with wheat were coming in from Australia docking in Calcutta and were instructed by Churchill not to disembark their cargo but sail on to Europe," he added. "And when conscience-stricken British officials wrote to the Prime Minister in London pointing out that his policies were causing needless loss of life all he could do was write peevishly in the margin of the report, 'Why hasn't Gandhi died yet?'"
The 5 of the worst atrocities carried out by the British Empire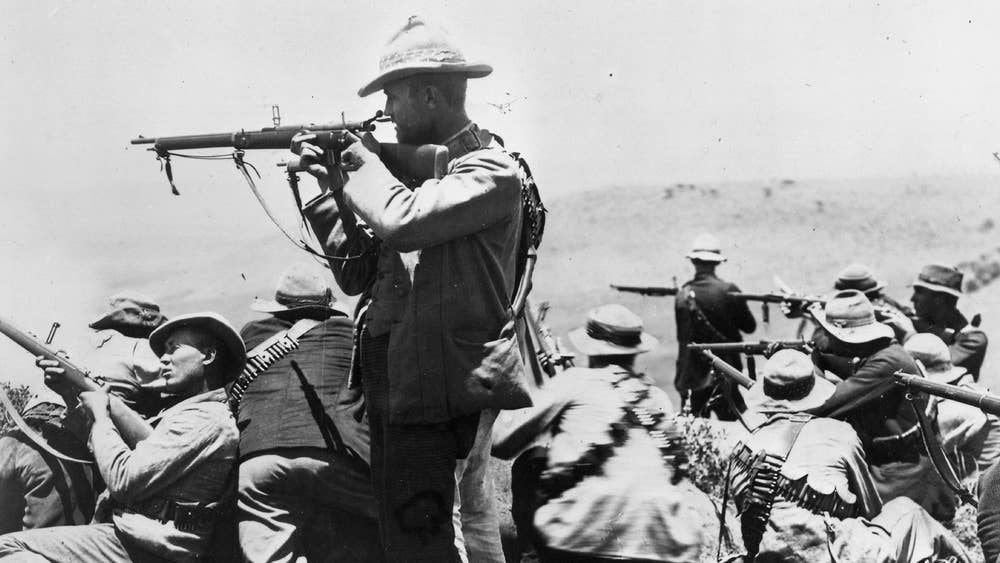 Talking about the Bengal famine in 1943, the Prime Minister who led Britain to victory in World War Two, said: "I hate Indians. They are a beastly people with a beastly religion. The famine was their own fault for breeding like rabbits."
Dr Tharoor, a former Indian government minister, rose to further prominence after his impassioned speech at the Oxford Union in July of 2015 went viral. In the address, he discussed the economic toll British rule took on India.
He said: "India's share of the world economy when Britain arrived on it shores was 23 per cent. By the time the British left it was down to below four per cent. Why? Simply because India had been governed for the benefit of Britain. Britain's rise for 200 years was financed by its depredations in India."
"In fact, Britain's industrial revolution was actually premised upon the de-industrialisation of India."
Dr Tharoor recently gained headlines for suggesting Britons suffer "historical amnesia" over the atrocities and plunder committed by the empire.
HINDUSTAN IS NOT INDIA!
Achtung! What is LIAR ANTI-HITLER Tharoor's "INDIA"?
https://www.youtube.com/watch?v=OB5ykS-_-CI
Dr Shashi Tharoor - Looking Back at the British Raj in India

Published on 15 Nov 2017
The "BRITISH RAJ" was in fact "ISRAEL" in OCCUPIED HINDUSTAN!