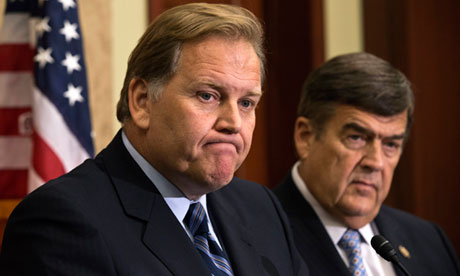 According to US legislators and journalists, the
surveillance
whistleblower
Edward Snowden
actively aided America's enemies. They are just missing one essential element for the meme to take flight: evidence.
An op-ed by Representative Mike Pompeo (Republican, Kansas) proclaiming Snowden, who provided disclosed widespread surveillance on phone records and
internet
communications by the National Security Agency, "not a whistleblower" is indicative of the emerging narrative. Writing in the Wichita Eagle on 30 June Pompeo, a member of the House intelligence committee, wrote that Snowden "
has provided intelligence to America's adversaries
".
Pompeo correctly notes in his op-ed that "facts are important". Yet when asked for the evidence justifying the claim that Snowden gave intelligence to American adversaries, his spokesman, JP Freire, cited Snowden's leak of
NSA
documents. Those documents, however, were provided to the Guardian and the Washington Post, not al-Qaeda or North Korea.
It's true that information published in the press can be read by anyone, including people who mean America harm. But to conflate that with actively handing information to foreign adversaries is to foreclose on the crucial distinction between a whistleblower and a spy, and makes journalists the handmaidens of enemies of the state.
Yet powerful legislators are eager to make that conflation about Snowden.
The Twitter account of Representative Mike Rogers (Republican, Michigan), the chairman of the House intelligence committee, on 18 June placed Snowden and accused WikiLeaks source Bradley Manning in the same company as Aldrich Ames and Robert Hanssen, two infamous CIA and FBI double-agents. (The tweet appears to have been deleted.)
When I
asked about the conflation
, Rogers' Twitter account responded: "All 4 gave critical national security information to our enemies. Each did it in different ways but the result was the same."
Never to be outdone, Peter King, a New York Republican and former chair of the House homeland security committee, proclaimed Snowden a "
defector
" on 10 June. Days later, Snowden left Hong Kong to seek asylum in an undetermined country – a curious move for a defector to make.
Once elected and appointed leaders casually conflate leaking and
espionage
, it is a matter of time before journalists take the cue. For insight into the "fear and isolation that
NSA
leaker Edward Snowden is living through",
CNN
turned to Christopher Boyce – who
sold US secrets to the USSR
before becoming a bank robber.
There are understandable suspicions that Snowden may have aided foreign intelligence services in order to aid in his escape from American criminal justice. While some have speculated that the Russian or Chinese intelligence services might have snuck a look at the highly sensitive intelligence material Snowden is carrying, that material is heavily encrypted. For what it's worth, in a Guardian webchat I asked Snowden directly if he would trade access to his documents for asylum. He
said he would not
.
Perhaps Snowden lied. Perhaps he might change his mind. But all of that is far off in the realm of speculation. As things stand now, there is no evidence Snowden has aided any US adversary or intelligence service, wittingly or not.
Even the
Obama administration
has stopped short of terming Snowden a spy, even in the course of attacking his character. (Yes, he was indicted under the Espionage Act, but the
actual charges against him
are theft of government property, unauthorized communication of national defense information, and willful communication of classified intelligence information to an unauthorized person.) In an email meant to discredit Snowden in the press, an anonymous "senior administration official" told reporters on 24 June that Snowden's ostensible idealism "is belied by the protectors he has potentially chosen: China, Russia, Cuba, Venezuela and Ecuador". That's something to remember the next time Washington wants to talk about its commitment to human rights while cooperating with, say, China and Russia.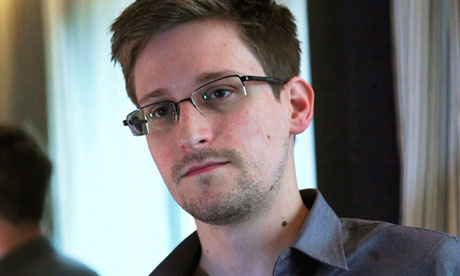 When asked directly if there was any evidence that Snowden had cooperated with any intelligence service or American adversary, the administration and Congress declined to provide any. The office of the director of national intelligence, James Clapper, declined to comment for this story. The Justice Department and the House intelligence committee didn't even respond to inquiries.
By all means, consider Snowden a hero, a traitor or a complex individual with a mixture of motives and interests. Lots of opinions about Snowden are valid. He is a necessarily polarizing figure. The information he revealed speaks to some of the most basic questions about the boundaries between the citizen and the state, as well as persistent and real anxieties about terrorism.
What isn't valid is the blithe assertion, absent evidence, that the former
NSA
contractor actively collaborated with America's enemies. Snowden made classified information about widespread surveillance available to the American public. That's a curious definition of an enemy for US legislators to adopt.
Ts&Cs
and
Copyright Policy
for more detail. Email
ftsales.support@ft.com
to buy additional rights.
http://www.ft.com/cms/s/0/2cc686d2-ed6e-11e2-8d7c-00144feabdc0.html#ixzz2ZCFV6HxB
Russia's Putin calls Edward Snowden unwanted Christmas present
©AFP
Vladimir Putin sarcastically likened US fugitive Edward Snowden to an unwanted Christmas present on Monday in remarks that signalled the Russian president hoped to be rid of the now-stateless whistleblower.
...

Can Edward Snowden cite human rights and still applaud Putin?
The whistleblower had few options, but let's not forget Russia's illiberal record when dealing with opponents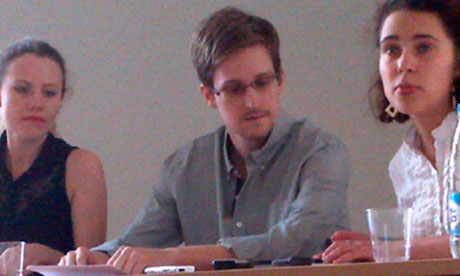 What is one to make of NSA whistleblower
Edward Snowden
's "reluctant" appeal for temporary asylum in
Russia
, an appeal that Russia yesterday insisted had still not
been received
?
It's easy to admire Snowden for what he has revealed about the vast extent of US and UK spying. It is easy, too, to sympathise with the predicament he has found himself in after making his revelations and wishing, understandably, to avoid decades in prison. Indeed, contrary to what some have argued, there is no "rule" that states whistleblowers should voluntarily surrender to the prospect of a long jail sentence.
The consequence is that Snowden has found himself stripped of his passport by the US government that seeks him and has been subjected to a harshly applied international flight ban as Washington has sought to block his travel to a friendly South American country. In these circumstances, his desire for temporary refuge in Moscow – where he is trapped in any case – makes perfect sense.
Yet there is a "but". You can hold all of these ideas as true, yet still feel deeply uncomfortable about the manner of Snowden's request for asylum, not least his praise for Russia.
Perhaps it was no more than being naive, but to list Putin's Russia, as Snowden did, among his little list of countries for "being the first to stand against human rights violations" suggests a dangerous moral relativism.
Far from being a champion, Russia's record on human rights violations is a grim one. Snowden's meeting with human rights groups in Moscow's Sheremetyevo airport was preceded by another piece of human rights news – the posthumous conviction of whisteblower
Sergei Magnitsky
, who was tortured in a Russian prison and denied medical attention that might have saved his life.
Amnesty
, whose representative was at the Snowden meeting, had earlier announced the latest murder of a journalist in Russia,
Akhmednabi Akhmednabiev
, who was killed by an unknown gunman in the North Caucasus region after his name appeared on a death list.
There have been other recent reminders of what happens to those who criticise the Kremlin and Putin. Two members of the punk band
Pussy Riot
remain in jail. Indeed, yesterday – almost unremarked – it was reported that Maria Alyokhina, one of the two imprisoned musicians, was being transferred from the labour camp in the Perm region, where she has been serving two years for hooliganism for performing a song, to another prison in central Russia.
A new trial opened last month into those accused of murdering the journalist
Anna Politkovskaya
in 2006, though few expect those behind her murder ever to face justice.
A cursory glance of Amnesty's list of recent alerts on Russia from the past two months makes very ugly reading, revealing the continuing assault on gay rights inside the country, the use of torture to extract confessions and the pursuit through the courts of non-governmental associations.
If that is too abstract, consider the treatment of
Tanya Lokshina
, the Human Rights Watch researcher, one of those invited to meet Snowden on Friday and who tweeted the
whistleblower's picture
. Last year, the then pregnant Lokshina, who has been a prominent human rights campaigner for more than a decade, received a series of text messages threatening both her and her unborn child.
Commenting on the affair, Human Rights Watch's executive director, Ken Roth, said: "The climate for human rights advocacy in Russia is as bad as we've seen in 20 years. Russia's international partners should make clear that the surest route to pariah status is to reinstate the bleak human rights environment of the Soviet era."
Or take the case of
Alexei Navalny
, the anti-corruption campaigner who this week will learn whether he is to be jailed for his activities.
Why all this matters is simple.
Snowden has built his argument on the moral imperative for leaking the NSA document trove increasingly in terms of human rights, not least relating to privacy.
He has justified his actions by invoking one of the Nuremberg principles – that it is the duty of an individual to break the law of his own state if international law is being broken – and the Universal Declaration of Human Rights.
While that is a compelling argument, what is less convincing is his suggestion that Russia is in the forefront of the fight by the "powerless" against the "powerful".
Instead, in providing a public relations coup for Putin, Snowden has provided cover for a gross and serial human rights-violating state. Even then, it is not hard to imagine the circumstances how this came about. To sympathise again: exhausted, confused, perhaps, even under pressure, Snowden must feel he has been left by Washington with nowhere else to turn.
But that cannot change the fact that the comments he made on Friday – uttered naively or under duress – still have consequences. That is because Snowden's well-developed and credible defence for leaking the NSA documents has been that, as a citizen and as a moral being, he could not tolerate the abuses he witnessed and was compelled to break the law – a powerful appeal to natural justice.
In appealing to the universality of human rights values, while appearing to apply his criticism of human rights abuse selectively, that justification, sadly, now rests on shaky ground.
Edward Snowden 'in possession of blueprints that detail how the NSA operates'
Former NSA contractor Edward Snowden leaked documents about U.S. surveillance

Fugitive has been in transit lounge at Sheremetyevo airport since June 23

He is seeking asylum from Moscow

Journalist says Snowden has 'literally thousands of documents' on the NSA
By
Associated Press
|
1 photo
Quick Facts
NAME:

Edward Snowden

EDUCATION:

Anne Arundel Community College, University of Liverpool

PLACE OF BIRTH:

North Carolina

AKA:

Verax

Full Name:

Edward Joseph Snowden

AKA:

Edward Snowden

ZODIAC SIGN:

Cancer
Best Known For
Edward Snowden is a former National Security Agency subcontractor who made headlines in 2013 when he leaked top secret information about NSA surveillance activities.
---
Think you know about Biography?
Answer questions and see how you rank against other players.
Play Now
Born in North Carolina in 1983, Edward Snowden worked for the National Security Agency through subcontractor Booz Allen in the NSA's Oahu office. After only three months, Snowden began collecting top-secret documents regarding NSA domestic surveillance practices, which he found disturbing. After Snowden fled to Hong Kong, China, newspapers began printing the documents that he had leaked to them,
Quotes
"I don't want to live in a society that does these sort of things ... I do not want to live in a world where everything I do and say is recorded. That is not something I am willing to support or live under."
– Edward Snowden
many of them detailing invasive spying practices against American citizens. With the U.S. charging Snowden under the Espionage Act but many groups calling him a hero, Snowden remains in Russia, with the U.S. government working on extradition.
Edward Snowden was born in North Carolina on June 21, 1983, and grew up in Elizabeth City. His mother works for the federal court in Baltimore (the family moved to Ellicott City, Maryland, when Snowden was young) as chief deputy clerk for administration and information technology. Snowden's father, a former Coast Guard officer, lives in Pennsylvania.
Snowden dropped out of high school and studied computers at Anne Arundel Community College in Arnold, Maryland (from 1999 to 2001, and again from 2004 to 2005), later earning a GED. Between his stints at community college, Snowden spent four months (May to September 2004) in the Army Reserves in special-forces training. According to Army sources, he did not complete any training, and Snowden has said that he was discharged after he broke his legs in an accident.
Two years after leaving Anne Arundel for the second time, Snowden landed a job with the National Security Agency as a security guard, which he somehow parlayed into an information-technology job at the Central Intelligence Agency. Snowden has said that in 2007, the CIA stationed him in Geneva, but in 2009 he left to work for private contractors, among them Dell and Booz Allen Hamilton, a tech consulting firm. With Booz Allen, he was shipped off to Japan to work as a subcontractor in an NSA office before being transferred to an office in Hawaii. After only three months with Booz Allen, Snowden would make a decision that would change his life forever.
While working at the NSA's Oahu office, Snowden began noticing government programs involving the NSA spying on American citizens via phone calls and internet use. Before long, leaving his "very comfortable life" and $200,000 salary behind, in May 2013, Snowden began copying top-secret NSA documents while at work, building a dossier on practices that he found invasive and disturbing. The documents contained vast and damning information on the NSA's domestic surveillance practices, including spying on millions of American citizens under the umbrella of programs such as PRISM.
After he had compiled a large store of documents, Snowden told his NSA supervisor that he needed a leave of absence to undergo treatment for epilepsy, a condition recently diagnosed. He also told his girlfriend that he'd be leaving Hawaii for a few weeks, remaining vague about why.
On May 20, 2013, Snowden took a flight to Hong Kong, China, where he remained during the early stages of the fallout. This fallout began the following month, on June 5, when the United Kingdom's
Guardian
newspaper released secret documents obtained from Snowden about an American intelligence body (Foreign Intelligence Surveillance Court) demanding that Verizon release information "on a daily basis" culled from its American customers' activities.
The following day,
Guardian
and the
Washington Times
released Snowden's leaked information on PRISM, an NSA program that allows real-time information collection, in this case, solely information on American citizens. A flood of information followed, and the American people, the international community and the U.S. government have since been scrambling to either hear more about it or have Snowden arrested.
"I'm willing to sacrifice [my former life] because I can't in good conscience allow the U.S. government to destroy privacy, internet freedom and basic liberties for people around the world with this massive surveillance machine they're secretly building," Snowden said after the fact, in a series of interviews given in his Hong Kong hotel room.
The U.S. government saw a different side of the issue, and on June 14, 2013, federal prosecutors charged Snowden with theft of government property, unauthorized communication of national defense information, and willful communication of classified intelligence with an unauthorized person. The last two charges fall under the Espionage Act. (Before President
Barack Obama
took office, the act had only been used for prosecutorial purposes three times since 1917; Since President Obama took office, it had been invoked seven times as of June 2013.)
Snowden remained in hiding for nearly one month, first asking Ecuador for asylum and then fleeing Hong Kong for Russia, whose government has denied the U.S. request to extradite him. By late June 2013, more than 100,000 people had signed an online petition asking Obama to pardon Snowden.
The following month, Snowden made headlines again when it was announced that he had been offered asylum in Venezuela, Nicaragua and Bolivia. Around the same time, it was reported that Snowden was "stuck in transit" in Moscow after the U.S. annulled his passport, and that he had not yet made a decision on where, of the countries offering him asylum, he would be relocating.
© 2013 A+E Networks. All rights reserved.