Springmeier Update - July 26, 2005, We Need Your Help!
---

Dear Friends, Last month Fritz and I were able to have a visit for the first time in a year-and-a-half. I flew from Denver to Phoenix and stayed for a weekend and so was able to visit with him on a Saturday and Sunday. We were pleasantly surprised to have gotten a full six hours of visiting in each day! When Fritz was housed in Oregon, we were usually limited to two-hour visits to accommodate the small visiting room. You can't imagine the excitement and relief we felt when we finally saw each other in person because, at first, it looked like the Feds were not going to let me visit.
You see my trip for a short time was postponed because, in order to harass Fritz, the prison staff had pulled my approval at the last minute. After lots of prayer, calls to my senator and protests by Fritz, the Bureau of Prisons (BOP) restored my visiting privileges. The final hurdle to clear was to pass the GE Iontrack Itemiser test, which tests for 30 different substances. They put a fresh filter in a wand and pass it over your body and drivers license. Fritz warned me that certain things might give false positives, such as perfumes and lotions. BOP policy is that if a visitor fails the test the first time, they must wait 48 hours before attempting to visit again—in other words a wasted visit from out of state. It seemed so cruel. What a helpless feeling it was to consider that I had no control over what substances prior customers may have had in my rental car, hotel room, or even, who handled the bills in my purse before they became my money (the very bills I was to use to get coins in the prison lobby to use in their vending machines!). Fortunately, they had a restroom where I could wash my hands after handling the money and before being tested. For more information on the Iontrack Itemiser go here to read GE's product information. Unfortunately, I see more of these in our future. Thankfully, I cleared the Itemiser test and Fritz and I went ahead with what became a great trip.




[Permission granted.]


As you can see, Fritz looks great and is doing great. We lost complete track of the time and never ran out of things to talk about. They have a photographer on the weekends, so we had our picture taken. He does a lot of legal work and teaching to help other inmates. He teaches a course on the Civil War, for which the inmates get history credit, as well as math and other subjects. He extends his greetings to all of you, and thanks each one of you for your overwhelming support. He really enjoys all of the letters he gets.
After the visit, I understand much better Fritz's legal battles, but even I can't be told everything to insure the legal process to free him goes smoothly. He is currently on his final appeal. While the specifics can't be disclosed, your donations of love have allowed him to retain an accomplished attorney, J.M. Irigoyen of J.M. Irigoyen Law Corporation of Fresno, California. Mr. Irigoyen is helping Fritz out because of who he is. We expect terrific things to be happening this year, but we're short $5,000 for the final installment which is due by September 7, 2005. In order to proceed with Fritz' appeals,we urgently need help with Fritz' legal fees. This is his last chance to overturn this incredibly unfair conviction. If he fails to make this appeal, he will spend the next 5-7 years in prison for a crime he didn't commit.
If you can help, please make all checks payable to:
J.M. Irigoyen Law Corporation
Then send them to me at the following address:
Patricia Springmeier
700 N. Colorado Blvd., #126
Denver, CO 80206
I will keep track of funds coming in and as I forward them to Mr. Irigoyen, will keep you posted as to how much has come in and will return any checks that come in after our goal has been reached.
If you'd like to write to Fritz:
Fritz Springmeier 65941-065
Federal Correctional Institute
37910 N. 45TH Ave.
Phoenix, AZ 85086
Please continue to pray for us. Without God's help we can do nothing. Be of good cheer. When we can say more, we will.
Gratefully yours,
Patty Springmeier
---
Article TO LOVE OR HATE - KNOW YOUR ENEMY
---
Letter To My Friends From Prison
by Fritz Springmeier
March 12, 2003
It has been one month since I was handcuffed in court and dragged away in chains into the belly of the Beast.
Hebrews
5:8 teaches us that Christ "
learned obedience by the things which He suffered
." Suffering served the purposed of teaching submission.
Further along in the Word of God (1 PTR 4:12) we learn, "
Beloved, do not think it strange concerning the fiery trial which is to try you, as though some strange thing happened to you
." In other words, suffering is normal, expect it, deal with it and move on with your life.
My court battles continue. I hope for a new trial to replace my first one where I was not defended. My attorney was willing to attack the prosecutor's witnesses, but not to call any witnesses or point out any positives on my behalf.
There are many scriptures that speak to my heart, including
PSALM
43:1, "
Vindicate me, O God, and plead my cause against an ungodly nation; oh, deliver me from the deceitful and unjust man.
"
It goes without saying that prison cramps my style of living. Many of the books I had hoped to write and publish may never get done. It is forbidden for me to make money from inside prison.
God is still in control and I encourage all of us to discover what He is doing through all this. Hopefully, the time I am doing will help put to rest some of the absurd stories that have circulated about me. Unfortunately, it is now giving an opportunity for a rash of new dishonest stories from a different angle. As in PS 38:16, when my foot slipped, there were plenty of ungodly persons exalting themselves against me. "
…justice is far from us, nor does righteousness overtake us; we look for light, but there is darkness!
"
Is
. 59:9 a.
This is a difficult time for many people. As the Word says, "
Be of good courage.
" Let us love each other and love our good Lord. It will be OK because God is here beside us.
Please remember my wife Patty. She is the equivalent of a war widow. Perhaps if I had merely died, it would allow her to move on with her life. But she has the burden of being my helpmate while enduring the loss of her beloved husband.
We're riding through the ups and downs of life, but I feel victorious in Christ. So be of good courage my friends, but don't trust in the jury process.
Yours in Christ,
Fritz Springmeier
http://www.geocities.com/three_strikes_legal/from_prison.htm
Date: 4 Jul 2001 17:01:10 MDT

From:
patty springmeier <springmeierpatty@usa.net>
Subject: Milosevic, repeating history?


To Realityexpander and some other selected recepients, here is some
information on a current newstory which I've written up which I think will
be of interest, everyone is free to use this article:
RAMSEY CLARK TO THE RESCUE WHEN SLOBODAN MILOSEVIC POINTS THE FINGER, IS
HISTORY REPEATING ITSELF? By Fritz Springmeier
Slobodan Milosevic is refusing to acknowledge the jurisdiction of the U.N.
war crimes tribunal and has decided to try to finger the western diplomats
who cut secret deals with him and gave him the finances and green lights to
do what he did.
Meanwhile Ramsey Clark is riding to the rescue. Ramsey Clark is known by
those in the Anti-New World Order community as an outspoken lawyer who has
challenged the official version of things in the Panama invasion, and Desert
Storm. He was once the U.S. Attorney General, and has been associated with
Bill Clinton, and hails from Texas. Ramsey Clark seems to fit the category
of "controlled opposition". In other words, he has the appearance of being
against corruption, but is part of the Hegelian dialectic cover up.
Is Ramsey Clark clean? Romwell's Office Diary (up to Jan. 18, 1989, p. 6)
mentions, "Ramsey Clark/Lyndon Johnson/Atty Gen is talking to people in
Wash. D.C. Drug charges may be lifted against Capcom." This implies that
someone expected Ramsey Clark to help cover up Capcom's criminal behavior.
Anyway Ramsey Clark's father was U.S. Attorney General for Pres. Truman, and
later Ramsey Clark works with all these politicians and bureaucrats in
Washington in the same line of work. It looks like the elite see him as one
of their own, and now he is off to the Hague to "help" Slobodan.
Who has rubbed shoulders with Slobodan Milosevic? Who is he trying to
expose? Two of these figures are Illuminati kingpins, Lord Carrington and
Brent Scowcroft.
Brent Scowcroft has been a member of an elite group called the wise men, who
run the United States. This secret group has been known as MJ-12 but it
constantly changes its semi-secret official name and has been variously
known as Special Study Group, Operations Coordinating Board (OCB), 5412
Committee, 303 Committee, 40 Committee, PI-40 Committee, and carries the
secret label in paperwork MAJIC. These Illuminati wise men are based on
Plato's Utopian wisemen concept. Another member has been Nelson Rockefeller.
Brent Scowcroft has had the right memberships to rule us, he's a
Bilderberger, a CFR member, a Trilaterialist, a UN Asssoc. Member, director
of the National Bank of Washington, and vice chairman of Kissinger Assoc.,
Inc. Kissinger Assoc. has been a way for these elitists to do "public
service" and privately make fortunes. Brent and Sir Henry Kissinger are
longtime coworkers in and out of government, or as some have said "clones".
Brent Scowcroft has been intimately connected with the National Security
Council for many years, was its director for a while, and as Nixon and
Bush's National Security Adviser made millions of dollars "consulting" the
U.S. government. One of Brent's beloved terms is "New World Order", and just
to let you know what kind of New World Order it will be, Brent Scowcroft was
busy toasting the Red Chinese leadership in Peking just shortly after the
Tiananmen Square massacre.
Brent Scowcroft had the position of "asst. air attaché" to the American
Embassy in Belgrade Yugoslavia from 1959-1961. One can easily speculate all
the spooky things he was involved with. Later, we find him as one of the
Chairmen of the Board of the National Bank of Yugoslavia along with fellow
chairman Slobodan Milosevic. Slobodan Milosevic is trying to expose the
insider deals these men made with him, that made them money and allowed him
to carry out his policies with a green light.
Lord Carrington is another Illuminati kingpin that Slobodan Milosevic dealt
with. He was the European Union's chief negotiator for the Balkans during
the early 1990's. Lord Peter Rupert Carrington has been prominent in NATO
(Sec. General) and the head of the Bilderbergers. His co-worker Lt. Gen.
Michael Rose was caught red-handed in preventing NATO air strikes from being
launched to stop Serbian campaigns of genocide, and also in encouraging
fighting between the Bosnians and Croats.
Lord Carrington is one of the key people running Hollinger, Inc. which is
financed largely by Rothschild and Li money, and owns the Jerusalem Post and
the Chicago Sun, and hundreds of other daily or weekend mainstream
establishment newspapers. Sir Henry Kissinger also helps run Hollinger,
Inc., which originally began as a British company procuring weapons from the
United States during W.W. II. Lord Carrington and Sir Evelyn de Rothschild
and Rupert Nicholas Hambro have ran The Telegraph, PLC, which has ties to
the Bank of England and the British Royal Family. Hollinger, Inc. owns The
Telegraph, PLC.
Milosevic also wants to expose Lord Hurd and Lord Owen.
Two things are appropriate to mention at this time. When Milosevic points
the finger at anyone he has more pointing back at himself. The news media
has called him names like "strongman", but they have really seriously under
reported his record of underhand ruthless dealings. He makes mafia bosses
and Hitler look like school children. This man would make a good used car
salesman, and the world would have been better off if this had been his
occupation. He is undoubtedly guilty of war crimes; the stink of his guilt
is all over the Balkans. Entire collections of books could document the
ruthless dealings he has had with everyone around him.
The second thing is that Panamanian "strongman" Noriega also thought at
first he would expose his American backers, and he never pulled it off. For
starters, when Noriega was arrested he was severely intimidated. Milosevic's
parents have "committed suicide", or a more convincing scenario is that they
were "suicided". Milosevic can dream of paying back his captors by exposing
their corruption and their role in the years of repeated Balkan genocides,
but he is seriously underestimating their power if he thinks the world will
get a chance to hear. Milosevic is becoming another Noriega. While he was
useful, he was used, and now he is useful as a scapegoat, so that the real
masterminds of all these Balkan traumas can wash their hands of this
unfortunate era in the Balkans.
If you got some news from us, the Springmeiers, then you got a phone
number for ISIL. I had typed one of the numbers incorrectly. The correct phone
number is 707--746-8796. The url for them that I gave is correct. That site
was www.isil.org . If you are interested, their address is ISIL, 836-B
Southhampton Rd. #299, Bonica, CA 94510. ISIL stands for International
Society for Individual Liberty, and they have members in around 80 countries.
my apologies, Fritz Springmeier.
Fritz Springmeier: A Message from Prison
May 10, 2010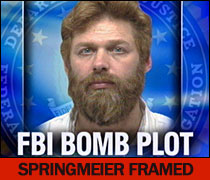 (Fritz asked me to post this letter he sent on April 8, 2010. It was received last week.)
You have been asking and seeking. As life hurries by, you see changes coming and new stages of life approaching. You may be instinctively clutching your possessions, creature comforts, and dear ones. I can't promise you tomorrow will be better. But now is not the time to lose our joy and hope. Now, more than before, is the time to love God even deeper, to encourage each other, to share our God given gifts, and lastly, to center our lives around appropriate meaningful work for God and humanity.
In February 2003, I was given an 111 month Federal Prison sentence for allegedly aiding and betting a bank robbery. I had been serving a role in frustrating the NWO's negative agenda and as an observer and journalist with a Biblical perspective exposing what was going on. I have been cut off from mainstream America, but I suspect many of you, dear readers (even though you are not in prison), also feel cut off from mainstream America. But we are not cut off from our source of strength, our Heavenly Father.
Some of you will naturally wonder how I've made out over seven years of captivity. I'm doing fine. I feel the love YHWH God and his Hand in my life. My body has survived the prison chow, the prison negativity and drama, and prison epidemics. The fact that my body can do at once over 27 pull-ups and over 65 pushups gives evidence that it still has strength. My personal autodidactic educational project has been the written and spoken Japanese language. Yes, I've been able to productively use my prison time, both educationally and spiritually.
Before a year's time is passed, I will again be among you to celebrate life and liberty. Due to the various possibilities, I don't know when or where my release will occur. The release address may be Oregon. It remains to be seen how God working through events and people will re-establish my life. Perhaps you have a positive role to play in that.
Feel free to drop me a line, and describe the landscape of your feelings, dreams and struggles, and your life in general.
FAITH, HOPE & LOVE... the greatest is LOVE.
Fritz Springmeier #65441-065
FCI
3600 Guard Rd.
Lompoc, CA. 93436