While researching parapsychology, I read Sigmund Freud's "

On Dreams

" in the sixties, and later his "

Interpretation of Dreams

", I found him to be a literal fraud, a pervert, and a liar! As a teenager, I had documented some 4-5 Royal College copy-books filled with my dreams that totally disproved Freud's interpretative generalisation and interpretations.

BAFS

https://www.youtube.com/watch?v=HCqIGbvAP1A

Un Juif parle par Roger Dommergue Polacco de Menasce Pour me soutenir financièrement (fais pas ton juif ! ) dans la lutte et pour encore plus de vidéos subversives qui dérangent la mafia en place ! https://www.tipeee.com/david-abitboul

JE COMPTE SUR TOI ! MERCI !

https://www.youtube.com/watch?v=GNBS9u3-_tM&t=1014s



The Truth About Big Pharma and How Medicine Turned Into An Monopoly

The real truth about how healthcare Is worldwide. Why did John D Rockerfeller use homeopath? which most say Is quack medicine. It's time to take our health Into our own hands of healing.
WIKIPEDIA
"The Interpretation of Dreams (German:

Die Traumdeutung

) is an 1899 book by the psychoanalyst Sigmund Freud, in which the author introduces his theory of the unconscious with respect to dream interpretation, and discusses what would later become the theory of the Oedipus complex. Freud revised the book at least eight times and, in the third edition, added an extensive section which treated dream symbolism very literally, following the influence of Wilhelm Stekel. Freud said of this work, "Insight such as this falls to one's lot but once in a lifetime."[1]
The book was first published in an edition of 600 copies, which did not sell out for eight years. The Interpretation of Dreams later gained in popularity, and seven more editions were published in Freud's lifetime.[2]
Because of the book's length and complexity, Freud also wrote an abridged version called On Dreams. The original text is widely regarded as one of Freud's most significant works."
On Dreams by Freud
This edition of On Dreams by Sigmund Freud (1856–1939) was translated into English by James Strachey and published in 1952 by the Hogarth Press and the Institute of Psycho-Analysis. On Dreams, first published in 1901, is an abridged version The Interpretation of Dreams (1899), in which Freud first introduced his theory of the unconscious in terms of dream interpretation. Freud interprets dreams as wish-fulfilment – products of the unconscious that serve to process events or feelings, past or recent, that are repressed and unresolved.
Freud's development of psychoanalysis has had a profound influence on western thought and culture. The Interpretation of Dreams is regarded as one of his most significant works.
English translations of Freud
Although A A Brill first translated The Interpretation of Dreams into English in 1913, James and Alix (née Sargant-Florence) Strachey were Freud's first authorised English translators. Freud approached them about the work in the early 1920s, when the couple were working with and being analysed by him in Vienna. The Stracheys translated 26 of Freud's essays, published from 1927 until 1950.
After the Second World War, James began work as editor on the Standard Edition of the Complete Psychological Works of Sigmund Freud in 24 volumes (1953–74). With their commitment and diligence, the Stracheys played a crucial role disseminating Freud's work in England and in the English language.
Freud, the Hogarth Press and Virginia Woolf
In 1924 James Strachey approached Leonard Woolf with the idea that the Hogarth Press, the publishing house run by Leonard and Virginia Woolf, should become the official English publishers of the International Psychoanalytical Library. In spite of the risks involved – including a large financial outlay – Leonard agreed to the work. Leonard's introduction to Freud had come in 1914, when he reviewed a translation of Psychopathology of Everyday Life (1901) for the New Weekly.
Although Virginia Woolf and Freud shared a deep interest in the workings of the human mind, Woolf claimed that she did not read the psychoanalyst's work seriously until late 1939. Woolf and Freud met for the first time on 28 January 1939, after Freud moved to London with his family following the Nazi annexation of Austria. Letters and other writings prior to 1939 reveal that Woolf had expressed disdain for psychoanalysis and Freud's theories, though she perhaps did not understand them in great depth. In the last years of her life, however, Woolf found a great affinity with the work.
Was Freud right about dreams after all? Here's the research that helps explain it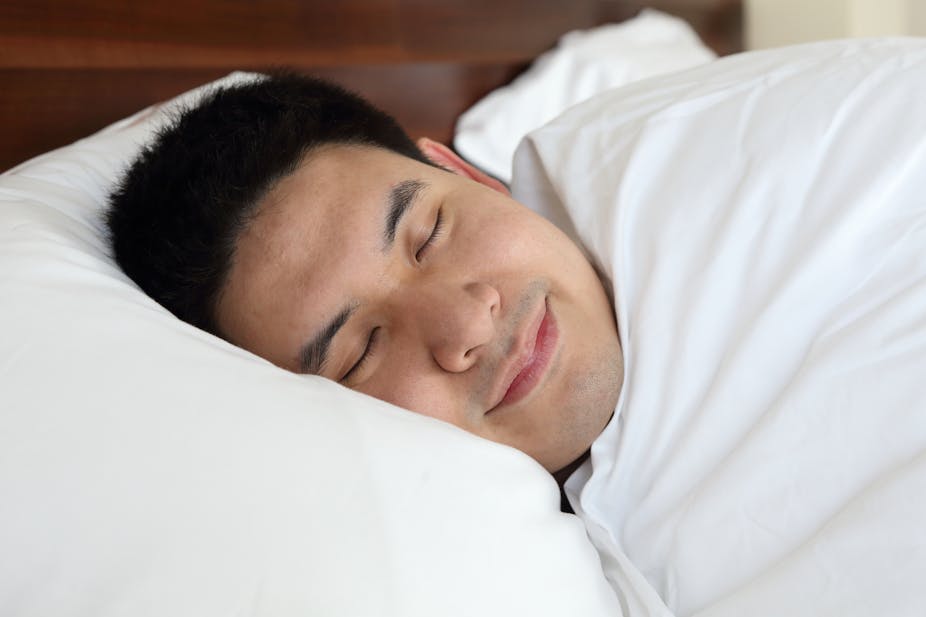 It is the most well known – and perhaps infamous – theory of dreams in the Western world. At the turn of last century, Sigmund Freud published his book, The Interpretation of Dreams, arguing that our dreams are nothing more than wishes that we are looking to fulfil in our waking lives. Some of these wishes are relatively innocent, and in these cases our dreams picture the wish just as it is. However, there are other wishes that are so unacceptable to us (such as sexual or aggressive impulses that we can't admit to or act out) that our dreams have to censor them.
Such unacceptable wishes are typically suppressed by the conscious waking mind but turn up in the dream in an unrecognisable and often bizarre way. But with the help of a psychoanalyst and methods like free association, Freud argued, the wish behind the dream could be discovered.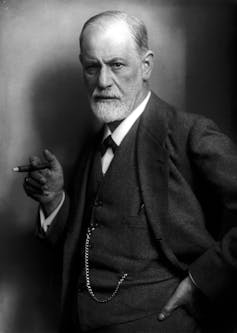 Despite the theory's fame and influence on other psychological theories it has fallen into disrepute in recent years, and been roundly debunked by modern dream scientists. Dozens of theories about why we dream now exist – from helping to process our emotions and strengthening new memories to rehearsing social or threatening situations. But no one theory now dominates, as Freud's once did.
Revealing experiments
However over the past decade or so, a new series of experiments have begun to demonstrate that at least one part of Freud's theory might have been correct after all: that we dream of things we are trying our best to ignore.
The first of these experiments was conducted by Daniel Wegner, who noticed that when we are trying hard to ignore or suppress a thought, it often just keeps coming back. He suggested that this is because we have two psychological processes at work at the same time when we try to suppress a thought: an operating process that actively suppresses it, and a monitoring process that keeps an eye out for the suppressed thought. Thought suppression is therefore complicated and can only be achieved when the two processes are working together harmoniously.
Wegner suggested that these processes might fail during rapid-eye-movement (REM) sleep. During REM sleep parts of the brain that are needed for thought suppression – such as those involved in attention, control and working memory – are deactivated. We know that a large number of our dreams come from REM sleep, so Wegner hypothesised that we would see a lot of suppressed thoughts making a reappearance in dreams.
Interestingly, he managed to test this idea in 2004. In his experiment, participants were asked to identify a person they knew and then to spend five minutes writing a stream-of-consciousness (about whatever came to mind) before going to bed that night. The first group of these participants were told specifically not to think about the person during their five minutes of writing, whereas a second group were told to specifically think about them. A third group could think about whatever they wanted. When they woke up in the morning, they all recorded any dreams they could remember having that night. The results were clear: the participants who were instructed to suppress thoughts of a person dreamt of them much more than the participants who were instructed to focus their thoughts on the person and the participants who could think about whatever they wanted. Wegner called this the "dream rebound effect".
Since that experiment, we've learned a lot more about the dream rebound effect. For example, it has been found that people who are generally more prone to thought suppression experience more dream rebound, and that suppressing a thought not only leads to more dreams about it, but also to more unpleasant dreams.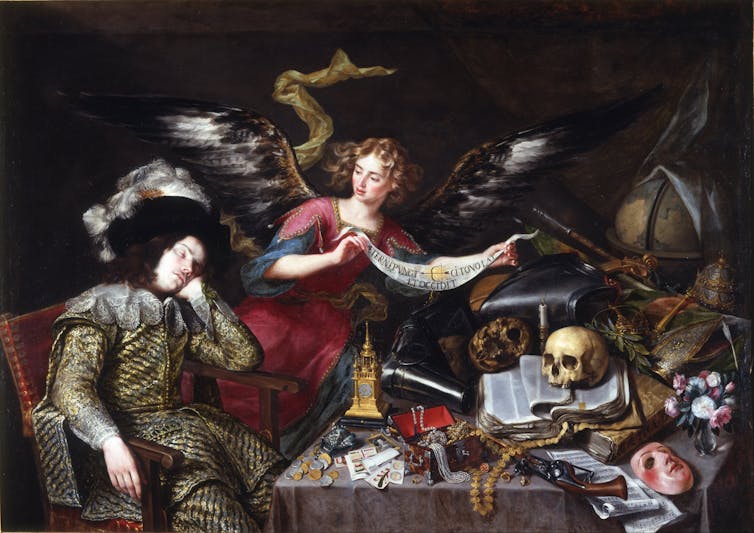 In some of my recent research, I found that people who generally try to suppress their thoughts not only dream about their emotional experiences from waking life more – in particular unpleasant situations – but also have worse sleep quality and higher levels of stress, anxiety and depression than others. In fact, we know now that suppressing thoughts is related to a whole host of mental health concerns.
Because of this, we really need to better understand what happens to thoughts when we try to suppress them. Paying attention to our dreams, then, could help us to identify things in our lives that we're not paying enough attention to that are causing us problems. This may mean that there is merit to exploring dreamwork in therapy. In fact, recent research has shown that exploring dreams is an effective way of obtaining personal insight – both in and out of therapy settings.
The verdict on Freud
There are still plenty of aspects of Freud's theory of dreaming that haven't been (and can't be) tested empirically. It's possible to argue that fulfilment is involved in almost any dream, but it's impossible to prove or disprove it. In later writings, Freud admitted that the theory could not account for all types of dreams, such as the nightmares associated with post traumatic stress disorder. His theory also takes the agency of the dream interpretation away from the dreamer and into the hands of the analyst, which is at odds with ethical guidelines for dreamwork that are now typically followed.
Nevertheless, some aspects of the theory have stood up to experimentation – for example, dreams from REM sleep are full of aggressive interactions, which Freud could have used as evidence of suppressed aggressive impulses playing out in our dreams.
So while the exact extent to which Freud's theory about dreams was correct remains unclear, in at least one respect, it looks like he got it right after all: dreams really are the royal road to a knowledge of the unconscious –- where banished thoughts live on.
Was Sigmund Freud really just a sex-mad old fraud? The founder of psychoanalysis was a money-obsessed cocaine addict who groped women patients and had a genius for self-promotion
Professor Frederick Crews suggests that Sigmund Freud was a fraud
He describes the founder of psychoanalysis as a vile sex-crazed creep
In the book, he writes how Freud would sexually assault his female patients
Women would come away from his treatments in much worse a condition
FREUD: THE MAKING OF AN ILLUSION
By
Frederick Crews (Profile £30)
Gimmicky, perhaps, that the 'E' in 'FREUD' on the jacket of this book has been crossed out and replaced with a scrawled 'A'. But it's apt. 'Freud = Fraud' sums up the message.
Anyone who enjoys reading the systematic dismantling of a reputation will relish this riveting exposé.
It's written not by a scientist or psychologist, but by an eloquent American Emeritus professor of English, Frederick Crews.
Over 650 pages, he builds up a portrait of Freud as the most vile, medically useless, misogynistic, snobbish, petulant, jealous, crazy, sex-obsessed creep you could ever hope not to look up at from a couch — and a man whose 'treatment' you wouldn't wish on your worst enemy.
Professor Frederick Crews portrays Freud as a vile sex-obsessed creep in his new book Freud: The Making Of An Illusion
'Lock up your daughters!' I wanted to scream, when yet another innocent young Viennese woman with a cough or an aching leg got sent to Freud for treatment at today's equivalent of £230 an hour, and came out a few months later totally traumatised and much more ill than she had been when she started.
Not once in this account does Freud do or say a single kind or unselfish thing.
Though a doctor, he had no Hippocratic sense that each human being deserved respectful treatment. He once remarked in a letter: 'I have found little that is "good" about human beings . . . In my experience, most of them are trash.'
But this is such a damningly one-sided portrait that I did sometimes wonder: 'What is your problem, Crews?'
His accusation that Freud 'wrenched his patients' histories into alignment with his theory' could be levelled at the author, who wrenches every detail of Freud's doings and writings into alignment with his theory of Sigmund as an incompetent monster.
It's all highly convincing, though.
The rot seems to have set in during Freud's childhood, when the family moved to a lower-class Jewish enclave in Vienna, instilling in him a ruthless determination to distance himself from his origins and an unquenchable thirst for wealth and fame.
Crews deduces that while his parents were away and he was left in charge of his younger siblings, the teenage Freud sexually abused his younger sister. He was in love with his mother, admitting later to his friend, Wilhelm Fliess: 'I have found, in my own case, the phenomenon of being in love with my mother and jealous of my father, and I now consider it a universal event in early childhood.'
After Freud and his wife Martha's (picture left, with Freud) sex life ceased, he had a clandestine affair with her sister, Minna, who came to live with them when she was widowed
His friend's (well, ex-friend's) eventual damning verdict on Freud was that 'the reader of thoughts merely reads his own thoughts into other people'.
An early adopter and promoter of cocaine as a medical drug, Freud was a lifelong cocaine addict himself, and this, Crews thinks, must have marred his ability to think straight.
Freud liked to diagnose his patients with whichever 'ailment' was currently preoccupying him.
So, when a young woman, Emma Eckstein, came to see him with an aching leg and bad period pains, he forced her story into line with his current theory that 'a misconstrued erotic incident, having befallen a virgin prior to the onset of sexual awareness, gets suppressed and thereby becomes a cause of hysteria, but only when a second such incident reawakens that memory and renders it horrifying'.
If a patient didn't come up with a nice pre-pubescent erotic incident, he or she was being 'resistant'.
After many hours of probing, Freud eventually managed to get Emma to admit that a shopkeeper had once tried to grab her genitals when she was a child.
At the same time, Freud had latched on to the theory that the nose was the 'control centre for other organs and their maladies'. He diagnosed Emma with a double-syndrome, 'hystero-neurasthenia', the neurosis-part brought on by masturbation (Freud's pet-hate).
The treatment? The surgical removal of a bone from the poor girl's nose. Emma haemorrhaged blood. A month later, she was still bleeding profusely. Freud worked out that her bleeding came from 'sexual longing — expressing her desires through spurts of blood'.
Freud performed 'pressure treatment' on women's foreheads and bodies in his darkened consulting room, telling them to remove any tight clothing and then searching their bodies
This was typical. Freud went through a phase of doing 'pressure treatment' on women's foreheads and bodies in his darkened consulting room, telling them to remove any tight clothing and then searching their bodies for their 'hystereogenic zones', while coercing them to tell him details of their sexual history.
As you read this book, it becomes ever-clearer that the real problem was inside Freud's own head — what Crews calls 'his interior house of horrors'.
Not only did he think all boys were in love with their mothers and wanted to murder their fathers, in accordance with his own Oedipus complex, he also had a weird theory that women — all women — were sinister creatures whose vagina threatened to castrate any male who crossed its threshold.
He divined that the secret ambition of every female was to acquire the 'envied penis' by severing it. His mind, Crews tells us, 'conjoined illogic and bizarre ideas with misogyny, prurience and cruelty.'
What Freud did have was a gift for gripping writing, using lots of literary references to heighten his prose. His written accounts of his so-called 'solved cases' became popular because they were a satisfying mixture of detective stories (Freud saw himself as 'the Sherlock Holmes of the unconscious') and soft porn.
'Tell me one thing,' he would write, recalling a case. 'What part of his body was it that you felt that night?'
Freud: The Making of an Illusion by Frederick Crews (Profile £30)
His disciples were titillated, and they lapped up these accounts of the thrilling tension between the wise analyst and his resistant patient.
Those cases, Crews writes, 'belong not to the genre of clinical report, but of detective fiction'.
A genius at self-promotion, who bribed his way to a professorship at Vienna University, Freud parasitically latched on to the theories of his peers and then later condemned those whose theories had given him a leg-up.
In The Interpretation Of Dreams, he reinvented himself as a uniquely sagacious authority, finding examples from literature and history to prove that all human behaviour had always been 'Freudian'.
Pity Freud's wife. Martha Bernays was a sweet, playful, ardent, young woman whose personality Freud slowly extinguished.
In Die Brautbriefe — the whinging, self-obsessed letters he wrote to Martha during their four year-long engagement when he was frantically seeking success — there are frequent signs of what we would now call coercive control.
He cut her off from her own family and friends and made her renounce her Orthodox Jewish faith.
'If I have become unbearable recently,' he wrote to her threateningly, 'just ask yourself what made me so.'
After giving birth to six children, Martha lost her figure and Sigmund saw her as a used-up woman who belonged in the nursery.
Their sex life ceased, and Freud had a clandestine affair with her sister, Minna, who came to live with them when she was widowed.
How unfair it seems that many of the great physicians who worked alongside Freud are now forgotten, while Freud is a household name.
This devastating book might kick‑start the long-awaited process of his downfall from grace.