THE QUESTION IS: WHO AMONG THEM WERE AND ARE NOT JEWISH OR CRYPTO-JEWS, INCLUDING THEIR PUPPETS THEY PLACED AT THE HEAD OF FOREIGN GOVERNMENTS?
HEY, DEAR JESUS, SATAN DID NOT SUCCEED IN TEMPTING YOU,

SO THEY SAY,

BUT HE DID TEMPT AND DEVIL POSSESS THOSE CALLING THEMSELVES YOUR FOLLOWERS, CHRISTIANS AND CHRISTIC MUSLIMS ALIKE!

OY VEY!
BUT, WHY DID YOU NOT ACCEPT RULERSHIP OVER THE WORLD, YOU FOOL, WHEN

I KNOW

(IT TOOK ME NEAR TO 70 YEARS) THERE IS NO SUCH THING AS ANY KINGDOM IN HEAVEN? THERE IS EVEN NO SUCH THING AS "HEAVEN" WITH A

PARADISE

AND A

HELL

AND NO

DAY OF JUDGEMENT

! THEY ARE BOTH RIGHT HERE ON EARTH, AND YOU YOU DID NOT EVEN KNOW THAT!
BUT, I KNOW WHY! AND YOU ARE FORGIVEN BECAUSE YOU STAYED AMONG US ONLY THREE YEARS,

SO THEY SAY!
Capitalism: The North/South Divide - Shaykh Hamza Yusuf
https://www.youtube.com/watch?v=kJv89mvjl3g
BBC Presstitute Talk | Shaykh Hamza Yusuf [Full Interview] [Enhanced VHS]
https://www.youtube.com/watch?v=VF4uv-E282k
Trump Is A %100 Owned Pedo Run By Bi Bi Netanyahu - No WW3 - Relax
Published on 15 Apr 2017
THIS ACCOUNT IS DAYS AWAY FROM DELETION. JUST AS I GET SOME TRACTION YT WHACKED 5 COPYRIGHT VIOLATIONS ON ME - SOME ARE 2 YEARS OLD! THEY JUST BROUGHT THEM BACK UP. THE ACCOUNT WILL BE GONE.

VIMEO HERE - https://vimeo.com/213342415 - Video

Vimeo Account - https://vimeo.com/user61739571

There is not going to be WW3.

There will be no war with Russia, China OR North Korea.

North Korea is "required" to keep South Korea and Japan in line. The thought of North Korea being attacked is a joke. But thats not stopping idiots from spreading the hippopotamus poo.

The DMZ is 20km from Seoul. War means the destruction of Seoul. North Korea, like Iran has miles of tunnels in it's mountain system and ballistic missiles. North Korea is a bad joke. It is "paid" to behave like an idiot.

North Korea is TOTALLY under the control of China and China does as it is told. Chines exchanged $6 Trillion of concrete "goods and services" to the United States in exchange for worthless "US Treasury Bonds" - "bits of paper". So, who is the "dick"? I tell ya what, YOU give me $5000 in laptops and mobile phones. I'll write on a piece of paper...maybe put a pretty gold edge on it - "IOU $5000". You are 5ft2 and 120 pounds. I am 6ft and 200 pounds. I am armed to the teeth. Who is the sucker? I don't bother paying it back. What ya gonna do about it?

China is TOTALLY dependent on the west. Wall Street can collapse the Chinese stock market in 20 seconds. China can barely feed it's people. It can barely provide them with enough water. In fact, China is in a water crisis. It can barely control it's population who are pissed off.China has 10,000 man "police divisions" to keep order in the central provinces. China has been "kill switched" by Israel.

Does anyone SERIOUSLY think all these leaders with their expensive weekend retreats, mistresses, expensive cars, hookers and private jets are going to risk a nuclear war? I mean, seriously. They have to live here.

The soul aim of this bullshit theater is to get YOU into line. To scare YOU to death and keep you distracted. People are waking up - not just to Israel - but to EVERYTHING. YOU must be put in your place and Donald "serial rapist" Trump is a part of that and most likely always was. We were Trumped.

The Middle East conflict will be contained. They are ALL in on it. This is ALL agreed. In two weeks, most likely less, Assad will be asked to leave by PUTIN. In the interests of..."peace". He will be retired to a Chateau in France with a nice Swiss bank account.

Syria will be split into three. Deaths will be limited to Shia and Sunni Muslims killing each other because Netanyahu gets off on that. No precious white people will die. Relax. Just the usual brown people. You should all be used to it by now.

Once Syria is broken up, Hizbollah will be cut off from Iran. Israel will go to work on Hizbollah and Hamas in the Gaza Strip. However, it may be that they get the US to threaten Iran back into it's box first. If that does not work then a "false flag" will have to be carried out. Provoke Iran to attack a carrier OR, a false flag IN Israel. Maybe drop a bomb on a Jewish Day School and kill 200 kids. That will be enough to nuke Iran with tactical s they dress up as "MOAB" cover stories.

Raytheon and Elbit Systems will be throwing giant parties.

The final aim - "cleans" the Gaza Strip completely - under the cloak of war and lots of dead jews...or the "appearance" of dead jews as they are experts now at the old crisis actors. The West Bank is finished anyway - completely broken up. Israel will just throw everyone over the border into Jordan but they must have a giant excuse to do it so there will have to be alot of "dead jews" or at least the appearance of "dead jews". The word "HolocaustTM" will get alot of use.

Everyone go back to sleep. Its business as usual.

The Yinon Plan unfolds.

There is NO double cross coming from Donald trump. He is owned %100 by Bi Bi and always was.

PayPal - boc@boc.rocks

BitCoin - meeting@boc.rocks

Patreon - https://www.patreon.com/boc_oz

MOBILE/CELL PHONE - +60 17 233 8984 - WHATSAPP and SIGNAL ATTACHED

LEGAL PAPERWORK -
https://isolatebutpreserve.blogspot.c...
Looks Like Donald Trump May Well Be Jewish
That Would Explain A Great Deal...
By Miles Mathis
via Jim Kirwan
4-9-17
Share Our Stories! - Click Here
In his biography The Art of the Deal, Trump lied about his grandfather's country of origin, stating it was Sweden instead of Germany. So if you think these people wouldn't lie about their ancestry, you need to explain that whopper.



Trump was brought up in Jamaica Estates, Queens, which has a large Jewish population. He went to Kew-Forest School, ditto. Its other notable alumni include Katherine Weber, Jewish, Gideon Yago, Jewish, and Hank Azaria, Jewish. Googling on "attended Kew-Forest" brings up mostly Jewish names. Trump's father was on the Board of Trustees at Kew-Forest. By the way, it is very expensive.

His genealogy is a total mirage. I'll show you where to look. First go to his mother at

Geni.com
Family Tree & Family History
at

Geni.com


Create your family tree and invite relatives to share. Search 170 million profiles and discover new ancestors. Share photos, videos and more at

Geni.com

.

She is Mary Anne MacLeod. So they want you to think she is Scots. Then click on her father, Malcolm MacLeod. Then click on his mother, Anne MacLeod. She is the wife of Alexander MacLeod, so that is her married name. What is her maiden name? Whoops, it is also MacLeod, because her father is also named Alexander MacLeod. So both her father and her husband have the same first and last names? Did she marry her own father? Also, her birthyear is given as 1833. Note the 33. [Geni also fails to mention what we have to learn from the DailyMail: the name Trump was originally Drumpf.]
That can't be right, can it? So let's check the other genealogies. The second listed on a Google search is at
About.com
The largest source for Expert content on the Internet that helps users answer questions, solve problems, learn something new or find inspiration.
.But it has nothing to say about this. It stops just short of the Anne MacLeod problem.
But it does tell us something interesting: both Trump's parents died at Long Island Jewish Medical Center.
Wikitree matches Geni.
So let's return to Friedrich Drumpf, Donald's great-grandfather. Two of his sisters are listed as Elisabetha Freund and Syblia Schuster. Oi-vay! Those are both Jewish surnames. We just saw the name Schuster in my paper on Engels published two days ago. I reminded you there that Max Schuster, founder of Simon&Schuster, is now admitted to be Jewish. The Schuster in the Socialism project with Engels was also shown to be almost certainly Jewish. As for Freund, see Michael Freund, Moshe Aryeh Freund, Wilhelm Freund, Yoav Freund, Leopold Freund, and too many others to mention. So at least two of Trump's great-aunts married Jewish men. This reminds us that his daughter Ivanka married a Jewish man, Jared Kushner. We are told this is an anomaly, but it isn't. What is an anomaly is that Kushner admits he is Jewish.
Friedrich Drumpf's mother is named Katarina Kober. Not only is that possibly Jewish, but it lead to another suspicious scrubbing of the genealogy. Her father is given as Johann, but he has no parents. He is the only one in that generation whose parents are unknown. Even his wife's parents are known. I suggest the name isn't Kober, but Kolber. We have seen the genealogies being whitewashed this way again and again. Changing one letter is often the best way to do it. It is the most subtle, so it draws the least attention. Kolber is very often Jewish.
With more study, we find that Trump's aunt Elizabeth married William O. Walter. That name is also possibly Jewish. We find a William Walter as Director of Jewish Family Services in York, PA. Also a William Walter just buried at Jewish Memorial Chapel of Long Island. Also a William O. Walter marrying a Cora Neuhauser in Lebanon, PA, in 1924. That name is also probably Jewish. And most curiously, a William Walter, Esq. listed in the Jewish Missionary Intelligence of June, 1896. More research discovers his firm were the honorary stockbrokers of this London Jewish society in 1900. That is interesting because it directly ties to my previous paper on Friedrich Engels and Robert Owen. Owen's brother in-law was James Haldane Stewart, who worked for the Jews' Society in the 1830s and 40s, a precursor of this Jewish Missionary Intelligence. At any rate, this may be our William Walter or his father, given that date. His father is scrubbed at Geni. The names Walter and Walters were chosen by Jews entering the US, as a new name, as we see from Barbara Walters. Her father Louis Walters was original Louis Abrahams.
Both Trump and his father ran with top Jews in New York, including Samuel Lindenbaum and his father Abraham (Bunny), and Roy Cohn. These guys weren't just their attorneys, they were their enablers. As the NYT says in the 2012 obituary of Samuel Lindenbaum:

Mr. Lindenbaum cultivated a scholar's knowledge of the Zoning Resolution, the arcane document that governs development in New York. As a result, he was able to bend the resolution to his clients' will without breaking it. And because his clients were major builders and landowners — among them Harry B. Helmsley, Harry Macklowe, Larry A. Silverstein, Jerry I. Speyer, Leonard Litwin, Steven Roth and Donald J. Trump; the Fishers and Tisches and Rudins and Roses. . .

Notice anything about that list? Everyone on it "except" Trump is admitted to be Jewish. Curious, no?
Ivana is also Jewish. Geni.com lists her father's name as both Knavs and Zelnícek. I'll give you a hint: drop the second "e". You get Zelnick. It is Yiddish for haberdasher. Clothier. It's Jewish, too. See Robert Zelnick, Strauss Zelnick, Bob Zelnick, etc. Robert was a fellow at the Hoover Institution, Stanford. Strauss was President of 20th Century Fox. Bob was ABC News producer. Also Friedrich Zelnik, silent film producer. Also David O. Selznick, whose name was originally Zeleznick, or, alternately, Zelnick. He and his father were major Hollywood producers.
Comment by Kirwan:
So he married a jew, that makes his children jews and his adult children have married jews, his aunt's married jews, his great aunt's married jews, yada, yada, yada.
See the complete, original article by Miles Mathis

here
- See more at: http://rense.com/general96/trumpjewish.htm#sthash.PYAah9i5.dpuf
Muhammad Ali's family launch campaign against Donald Trump's travel ban
Alis have first-hand experience of tightened immigration controls after being detained at Florida airport in February
S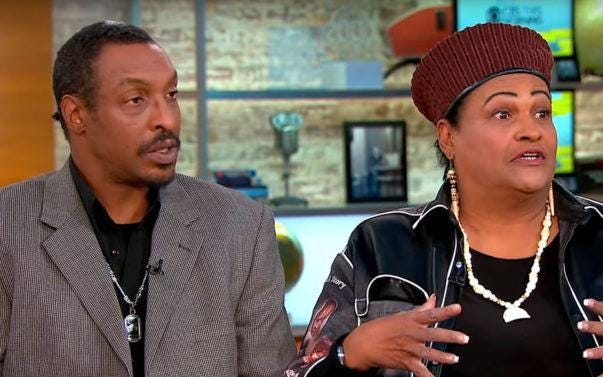 The son of boxing legend Muhammad Ali has launched a religious freedom campaign in opposition to President Trump's controversial 'travel ban'.
Mr Ali Jr and his mother, Khalilah Camacho Ali, will attend a Democratic Committee on border security in Washington on Thursday to discuss the "Step Into The Ring" campaign.
Launching the initiative, Ms Camacho Ali said: "If I don't speak up now, they're going to keep harassing us."
"We, as a family, have been fighting this for a very long time," she said. "We are going to continue to fight for religious justice."
The campaign hopes to galvanise anti-Trump sentiment on Twitter with the hashtag #AlivsTrump, and draw on the support of other prominent figures from the boxing world, such as Evander Holyfield and Larry Roberto Duran.
Mr Duran, a Panamanian lightweight champion, said last year he would love to "step into the ring" with Donald Trump, "to see how many Latinos he's going to deport and to see how really strong he is".
The Alis experienced tightened immigration controls first-hand when they were detained at a Florida airport in February.
Mr Ali Jr, who was returning from a Black History Month event in Jamaica, was questioned for almost two hours by immigration officials. He and his mother later said they felt targeted because they are Muslim, and have Arabic names.
"I'm paranoid. I'm just waiting for somebody to mess with me. That's not a good feeling when you have to travel," Ms Camacho Ali said when asked how the incident has affected her.
Both were born in the United States and hold valid US passports.
After widespread outrage and legal opposition to President Trump's first 'travel ban', which barred travellers from 12 Muslim-majority nations entering the United States indefinitely, the government issued a revised executive order.
For 120 days, the US will not allow any new refugees into the country and for 90 days, visas will not be issued to people from Iran, Libya, Somalia, Sudan, Syria, and Yemen.
Before his death in 2016, Muhammad Ali himself criticised the President's 'Muslim ban'.
"We as Muslims have to stand up to those who use Islam to advance their own personal agenda. They have alienated many from learning about Islam."
To hell with those damn earthlings, the creation of Satan!
To hell with those damn earthlings, the creation of Satan!
Looks Like Donald Trump May Well Be Jewish
That Would Explain A Great Deal...
By Miles Mathis
via Jim Kirwan
4-9-17
- See more at: http://rense.com/general96/trumpjewish.htm#sthash.PYAah9i5.dpuf