Saudi (

OCCUPIED ARABIA

!)
Unexpected Snowfall in "Saudi"* making the people of the desert overwhelmed
*There is no "SAUDI", but only OCCUPIED ARABIA!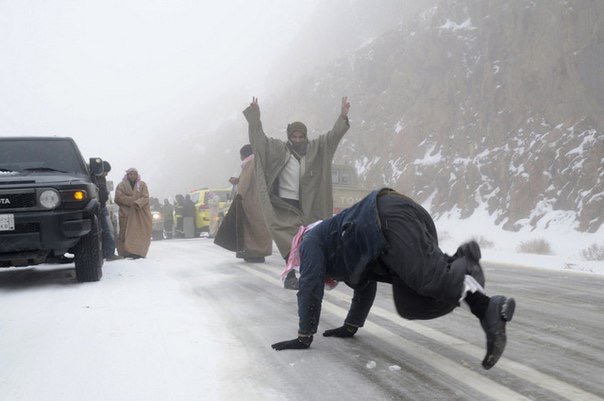 The dry desert of Saudi Arabia is not known for freezing temperatures, let alone snowfall.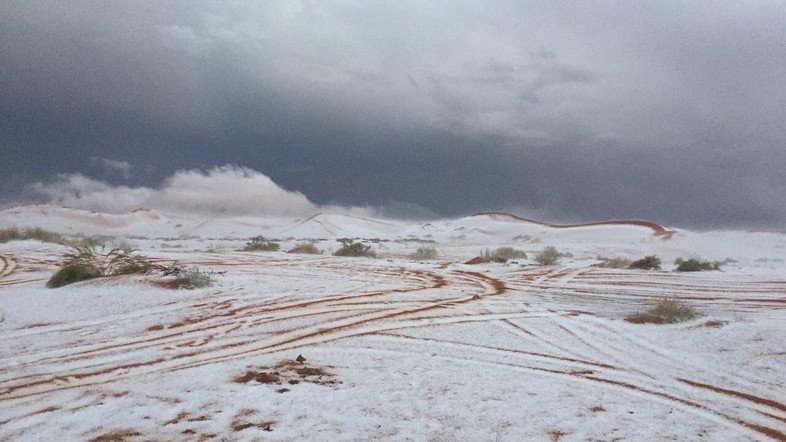 Thus, when people woke up to -3 degrees temperature with snow everywhere, it brought out the child among the many, with people expressing their astonishment and joy in various ways.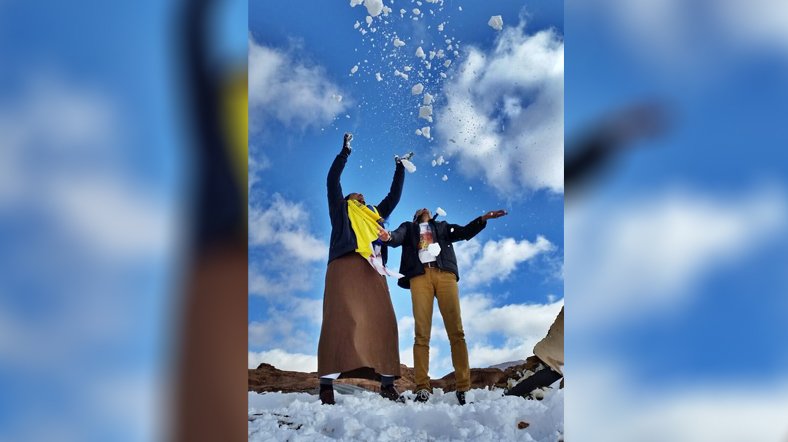 Even the grass was covered with patches of the white blessing: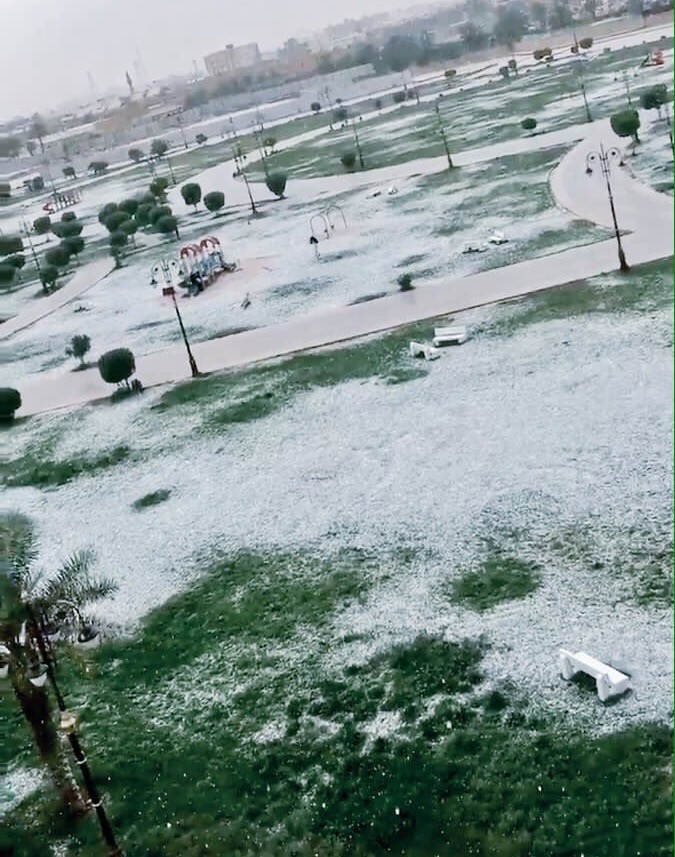 This man entertained himself by skiing on the icey road:
While many cars parked on the side to savour in the moment and be cautious about the conditions: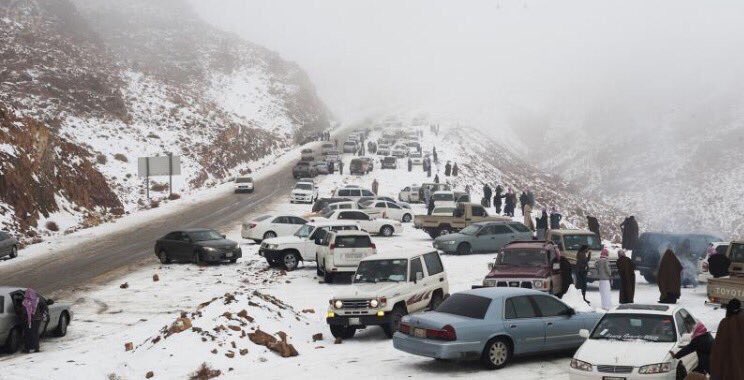 Then, there were those who forwarded their excitement to their friends:
Naturally, it led to others bring up the topic of climate change and global warming (?) being the cause of this:
Now, reflect upon this saying of (attributed to!) Prophet Muhammad (sal Allahu alayhi wa'sallam):
"The Last Hour will not come…till the land of Arabia once again becomes meadows and rivers."
[Sahih Muslim 157b]
FRANCE – Why Are Jews At The Head Of ALL Islamic Institutions?

On Thursday 08 December 2016, the French newspaper Le Figaro published an article about the highly anticipated creation of the

Foundation of Islam (in French).
It is has now been officially launched with the new Interior Minister's warm blessings. The president of this new 'Islamic' foundation is Jean-Pierre Chevènement and its main financier is Serge Dassault.
Serge Dassault
He is an israel-firster jew and a very well known figure in France. He is an arm-dealer and the CEO of the main French military industrial complex, The Groupe Dassault which has been praised time and again by the jews for its vital role during the Six Days War.
He also happens to own some of France's main newspapers and the 'arabic' radio station called 'Radio Beur FM'.
His career is paved with scandals of money laundering and tax evasion but that did not prevent him from becoming a senator.
Jean-Pierre Chevènement
A jew, he is also a known political figure. Having held several different offices (Defense, Interior), he distinguished himself for his very close bond and work with the several jewish institution dictating French politics.
He is married to Nisa Grunberg, the daughter of the former head of the jewish community of Cairo, Egypt. His brother-in-law, Hermann Grunberg is the former CEO of the 'Franco-American' jewish bank, Lazard Bank.
His son Raphael, a script-writer is also an israel-firster and openly arch-zionist.
The current president of the 'French Council Of The Muslim Faith' and a defacto board member of the new Foundation of Islam, Anwar Kbibech, employee of franco-israeli billionaire Patrick Drahi, welcomed the creation of this new Foundation, stressing the importance that the training and appointment of all future Imams in France must be done and co-supervised by Jews. In fact, this is already the case, except that now, it is out in the open.
In other words, we have a unique situation in France where a jew, Jean-Pierre Chevènement is being appointed the new Calif of French Muslims with another jew, Dassault, as his banker.
Reminder 1:

The Institute Of The Arabic World (Institut du Monde Arabe) is also managed by jews, from bottom to top, with gay, suspected pedophile jew Jack Lang as its president.
Reminder 2:

The Rector of the Grand Mosque of Paris, Dalil Boubakeur, is a well known free-mason,an active reformist of Islam, a staunch enemy of 'traditional' Islam, a dear friend of Judaism and the jews to the point that he is now known in France as DAVID BOUBAKEUR.
CIA-SAUDI-SALAFIST HOLY SHIT!
How Big Is Chair Of Allah? Mind-Blowing Throne Of Allah 2017
Assalamualaikum Brothers And Sisters In This Video We'll Show You About The Throne Of Allah..!!! Subscribe Us To See More Content Like This And We'll Surely Provide Best Knowledge In Shortest Time Possible :) We Provide You Epic Islamic Videos, Short Clips, Beautiful Nasheeds And Lot More..!!!

All Our Videos Are Made By Us "SENSE ISLAM" We Don't Copy Anyone's Content Neither Any Video..!!! Feel Free To Re-Upload Our Videos
😊


We Allow Anyone To Translate Our Content And Re-share Videos But The Video Must Remain Branded Under Sense Islam (With Our Logo And Channel Link)

If You Like This Video Please Hit The Thumbs Up Button And Share This Video To Your Friends And Family So That They'll Benefit From It Insha'Allah
😊


Speaker: Sheikh Ahmed Ali

Share, Support, Subscribe

Subscribe Us: https://youtube.com/c/SenseIslam
Google+: https://plus.google.com/+SenseIslam
Facebook: http://facebook.com/islamsense
Instagram: http://instagram.com/senseislam
Twitter: http://twitter.com/senseislam

PLEASE NOTE: Any of the views expressed by the speakers do not necessarily represent the views of The Sense Islam.. The Sense Islam and it's affiliates do not advocate nor condone any unlawful activity towards any individual or community..

About: Sense Islam Is A YouTube Channel Where You Will Find Short Epic Islamic Videos :) New Video Is Posted Everyday :)
I AM NOT AT WAR WITH ISLAM OR MUSLIMS, BUT I AM FED UP LISTENING TO FANATICS AND LUNATICS OF ALL RELIGIONS AND SO-CALLED NON RELIGIONS!

I DO NOT LOOK FOR THEM, BUT THEY DROP FROM ALL CORNERS OF THE SKY LIKE COLD AND ACID RAIN!
Most of them do not even master any European language, and yet they preach at the top of their voices screaming in those languages expecting non-Muslims (or not-yet-Muslims) to be attracted by their SHIT!

(You will find this word littering my observations as this is the mildest non polite word I know to address those primitive creatures of the Devil calling themselves Muslims, Jews, Christians, Hindus, Atheists or whatever, although I will try my very best to avoid it's use)!
This zealot named here Sheikh Ahmed Ali lacks OONderstanding. His God has a CHAIR in the Seventh Heaven while I have a SOFA in my parlour (Well, I used to before it was stolen!), and others literally have THRONES, and the illegitimate Vampire Queen of England (some claim she drinks human blood!) has a Supreme Throne!

But, Ahmed Ali also calls the "Chair" a "Throne"!

Do not even try to understand this!
God knows how many legs the God's Chair of this so-called Muslim Sheikh (elderly or scholarly) has or what size his God's buttocks are although the hysteric Zealot gives us a clue!

The Throne of his God is the size of the SAHARA DESERT!

And Muslims inherited this crappy understanding of the Throne of God from Israel and from so-called Christians!
I like this term MIND-BLOWING, and this crap is so mind-blowing that it will give any sane person a terrible head-ache, and others will simply go berserk apart from the zealots and the fanatics who are already crazy for believing that GIANTISSIMUS Angels stand with their FEET on the first Heaven and their HEADS reaching the Seventh Heaven while carrying the THRONE OF GOD WITH HIM ON IT!

HOLY SHIT!

That imbecilic Sheikh says that all that he was talking about was BEYOND THE COMPREHENSION OF HIS LITTLE MIND, YET HE OONDERSTOOD EVERYTHING AND WANTS US TO OONDERSTAND TOO!

This is indeed MIND-BLOWING!
By the way, we can never translate the word ALLAH by the English LORD or the French SEIGNEUR, but Christians do, and Muslims do this too more and more just like parrots and monkeys!

Even one of my old fake friends is or was LORD!

"LORD" Nazir Ahmed!

And, in the UK you have tons of LAND LORDS!
Further, where did this fanatic get that this world is INSIGNIFICANT, and MEANINGLESS TO GOD?
"IT MEANS NOTHING!

IT IS WORTHLESS!"
No wonder his GOD-SITTING-ON-A-CHAIR or THRONE created such a world.
5:51 minutes of CIA-ISRAEL SALAFIST HOLY SHIT!

Oy Vey!

Shalom!
Monday 16th of January 2017
P.S. No offense meant to the Muslim who brought this to my attention.