JESUS: Father, I never asked the Racist Pharisees or my degenerate followers calling themselves "CHRISTIANS" and "MUSLIMS" (who are in fact of the Synagogues of Satan) to carry out or facilitate the genocide of the Goyim and of the White Europeans or of any other Biological type or "race"!
FATHER: Yes, My Son, your decadent followers, both Christians and Muslims, have allowed the Pharisees and Rothschild's Freemasons and the Anti-Christ Zionist Popes to arm themselves to the teeth and take over their lands, industries, educational, political cultural, economic, financial, medical, scientific, artistic, pharmaceutical and other institutions, media, and their religion as well through that abomination called USURY, and thanks to their own treachery, cowardice, hypocrisy, greed, apostasy, laziness, and their love of materialism! Both Christians and Muslims today are worshipping false Gods and false religions!
False Flag Islamophobia Conference: Live Stream from Paris on Dec. 12th
MIKE KING
| | |
| --- | --- |
| | WHITE GENOCIDE AT THE FUNERAL PARLOR |

A mind that thinks on auto-pilot is as much of a curse as it is a blessing. For even amidst the intense grief over the recent gut-wrenching spectacle of mommy dearest laid out in her casket, the ever-active mind of your bereaved blogger here could not refrain from philosophizing while recalling the words of 19th Century British political giant Benjamin Disraeli (cough cough), which he attributed (via a fictional novel based upon real people) to Lionel Rothschild (cough cough):
"The fact is you cannot destroy a pure race of the Caucasian organization. It is a physiological fact; a simple law of nature...
The mixed persecuting races disappear

, the pure persecuted race (Jews) remains." (here)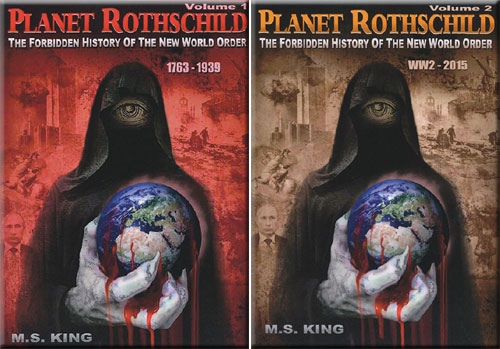 It's all spelled out in PLANET ROTHSCHILD I & II
This latest "thinking man moment" was triggered by the sight and warm embrace of my long forgotten and still very active 100 year old Italian Godmother - born in the same year in which British Secretary of the Admiralty Winston Churchill and U.S. Naval Secretary Franklin Roosevelt deliberately set up The Lusitania to be sunk!
This prompted me to take stock of the gathering. The assessment was not good.
There were quite a few nonagenarians in the house -- old Irish and Italian lions and lionesses who, back in the day, were like a second layer of parents -- a few of them not at all shy about going upside the thick head of juvenile smart-ass Mikey King when necessary, which was quite often. Bowed and broken down, these awe-inspiring 'Dons' commanded respect and reverence.
Octogenarians and Septuagenarians were also well-represented, with 50 to 60-somethings comprising the largest segment of the rank and file. Then came "the kids" - me (just 50) being affectionately referred to by most of those on dad's Irish-
Italian

side as

"the baby"

(still!). After "the baby" came the "kiddie table" of 40-somethings -- cousins from mom's younger and larger pure Italian side of the family.
Then, came the first ominous signs of

"genocide"

. The handful of 30-somethings not only represented a noticeable drop among the room's age distribution, but none of them were married nor had any children. The 20-somethings (children of the 50-
somethings & 60-somethings) outnumbered the 30-somethings, but

none of them were married or yet engaged.

There was one 18-year old daughter of a cousin, but no other teen, pre-teen, nor even so much as a toddler left at home.

NOTHING!

That's an 18 year (and counting) birth-drought for what were once two young, fertile and boisterous Italian-Irish-Catholic families.
The Invisible Genocide
The shocking reality,

unnoticed

to all but

philosopher Mike

(as if I didn't have enough sh_

_

on my plate to deal with!) was that among the large extended families from both sides, there

were as many

centenarians (1) as there were teens and pre-teens! In the grand scheme of things, the death of the grand old woman

-

of-the-hour, devastating as it was, can

not

be

described as tragic. But the genocide-by-attrition of these beautiful extended families -- now that's a human tragedy. Again, speaking in the grand scheme of things, would there

be

any difference between a team of machine-gunners mowing down every relative in that room,

as opposed to

the ongoing slow death of two great legacies by infertility? Either way, an

entire branch of a bloodline would be erased.
For the occasion, my sister-in-law had put together a grand collage of photos from the happy decades of fun and family (1950's through 1980's). Children, children everywhere -- often at my childhood home because we had the built-in swimming pool. The current crop of nonagenarians and octo's were all so happy back then --

vibrant, strong and proud of their loud litters of close-knit cubs.
The nostalgia was so thick

that I couldn't bear to even to look at all of the photos, given the current circumstances, but certainly will in a few days.
And now,

a big fat zero birth gap between ages 0 to 18?

My God, what have they done to us?! We suspect know that many of our dear readers can tell of similar deadly declines among their own bloodlines.
Make no mistake.

The infertility of the White Western man is neither unique to our family, nor is it by accident.

You see, before "

they

" can totally enslave the non-White peoples of the world, the '

powers that be

' (cough cough) feel it necessary to first wipe out their hated historical rival, namely,

European Man and his American / Australian / Canadian / South African offshoots.

That would leave

the Tribe

as the only Caucasian subset still in business. Again, we quote Disraeli's Rothschild -- from the novel, Coningsby: The Next Generation (1844):
"The fact is you cannot destroy a pure race of the Caucasian organization. It is a physiological fact; a simple law of nature...
The mixed persecuting races disappear

,

the pure persecuted race (Jews) remains.

"
Respect for other races and cultures does not mean that Western Whites should commit suicide.
To that demonic end of wiping out Whites through attrition,

the Globo-Zionists

, through

their wholly-owned media and entertainment industries, have engineered a degenerate culture that denigrates religious practice, glorifies casual sex, devalues the institution of marriage, belittles White men, encourages easy divorce, discourages motherhood, brainwashes young women to pursue "careers" above all else, disrespects our history and ancestors, makes it harder and harder for a young man to earn a decent enough living to even support a family, and promotes homosexuality, lesbianism, and now, freakin' cross-dressing!

Indeed, one distant member of the King clan
is suspected of being a closeted / celibate queer himself. Sad, because he really is good-hearted guy.
The

genocidal

force - the same force which has effectively erased western borders - is invisible to most, but very, very real.

Hear

the hate, straight

from their own filthy Marxist

mouths and Trotskyite tongues:
"The goal of abolishing the white race is on its face so desirable that some may find it hard to believe that it could incur any opposition other than from committed white supremacists. Make no mistake about it, we intend to keep bashing the dead white males, and the live ones, and the females too, until the social construct known as the white race is destroyed – not deconstructed but destroyed."
– Noel Ignatiev, Harvard University & Massachusetts College of Art Professor
"U
nlike, say, the bald eagle or some exotic species of muskrat,

you (White people) are not worth saving.

In forty years or so, maybe fewer, there won't be any more white people around who actually remember that Leave it to Beaver, Father Knows Best, Opie-Taylor-Down-at-the-Fishing Hole cornpone bullshit that you hold so near and dear to your heart.

There won't be any more white folks around who think the 1950s were the good old days, because

there won't be any more white folks around who actually remember them

, and so therefore, we'll be able to teach about them accurately and honestly, without hurting your precious feelings, or those of the so-called "greatest generation" — a bunch whose white members were by and large a gaggle of miscreants who helped save the world from fascism only to return home and oppose the ending of it here, by doing nothing to lift a finger on behalf of the civil rights struggle.

So to hell with you and all who revere you.

By then, half the country will be black or brown. And there is nothing you can do about it.

And by then you will have gone all in as a white nationalist movement — hell you've all but done that now — thus guaranteeing that the folks of color, and even a decent size minority of us white folks will be able to crush you, election after election, from the Presidency on down to the 8th grade student council.
We are planning even now — your destruction.
And I do not mean by that your physical destruction. We don't play those games. We're not into the whole "Second Amendment remedies, militia, armed resistance" bullshit that your side fetishizes, cuz, see, we don't have to be. We don't need guns.

We just have to be patient.
And wait for your hearts to stop beating.
And stop they will.
And for some of you, real damned soon, truth be told.
Do you hear it?
The sound of your empire dying? Your nation, as you knew it, ending, permanently?
Because I do, and the sound of its demise is beautiful.
- Tim Wise - Activist, Author, College Lecturer
"He or it (the expected child) must be dark in any case, no more towheads

(blonds)

.
Let us banish all these will-o'-the-wisps! (light color ghosts)"
–
Jewish Psychoanalyst Sigmund Freud, writing to a pregnant acquaintance
The enemy within: "White" (Jewish) professors Wise and Ignatiev magnanimously call for the end of "their" own race. These calls for genocide-by-attrition echo that of the sex-obsessed Jewish Psychoanalyst Sigmund Freud.
Is all hope lost for the big bad White man? In America and Western Europe, it does appear so. But there is hope elsewhere:
"Choosing to have a second child is already a potential choice in favour of a third.
It is important that families make that step . . . I am convinced that the norm in Russia should become a family with three children.
In order for Russia to be a strong and sovereign country, there must be more of us and we must be better in morality, in our competences, our work and our creativity."

(here)
*
- President Vladimir Putin
Russia -- aka 'The Third Rome' is our only chance to save the White Man -- and the rest of the world too! (Some bad-ass White Boys right there)

Oh,

by the way,

to digress as we wrap this up, for those of you who keep sending me photos of Putin doing photo-ops with Rabbis -- relax! It's just strategic public relations designed to keep all of world Jewry from uniting and turning against Russia. For goodness sake, my own son (who believes as I do) once served as an usher at the wedding of a Jewish friend of his.

The "anti-Semitic" leaflets that Putin is dropping over the heads of

idiot ISIS fighters

carry far more weight with this journalist than some harmless Menorah lighting stunt. Have a look at at a Putin action that really matters:

"White Power!"
(Sugar! That is not what this piece is about!)
* The Telegraph
Vladimir Putin calls on Russian families to have three children
President Vladimir Putin has urged Russians to have at least three children as he said a resurgent nation should be a confident and "influential" power on the world stage.
Sponsored by Tourism Ireland
In a bullish state-of-the-nation address in Moscow on Wednesday, Mr Putin promised to smite corruption, create millions of new jobs and boost Russia's military might while warning that foreign meddling in the country's internal affairs was unacceptable.
He claimed the country shared universal democratic values, adding: "Russian democracy is the power of the Russian people with their own traditions of national self-government, and not the realisation of standards foisted on us from outside."
In characteristic rhetoric, Mr Putin also addressed internal as well as external enemies while suggesting a link between the two, saying that "chinovniki" (state officials) — often seen as corrupt caste bent on self-enrichment — should be prevented from keeping their money abroad.
"What trust can there be in a 'chinovnik' or a politician who says big things about the welfare of Russia while trying to take his means, his money abroad?" he asked MPs and senior officials. "I ask you to support legislation to limit the rights of state officials and politicians to foreign bank accounts and shares."
He added: "Direct or indirect external interference in our internal political processes is unacceptable. Any person who receives money from abroad for his or her political activity and by doing so serves alien national interests, cannot be a politician in Russia."
The president's remarks came after a controversial law was recently introduced obliging non-governmental organisations (NGOs) involved in "political activity" to call themselves "foreign agents" if they receive funding from abroad. NGOs have said the rule makes them look like spies.
Also in his speech, Mr Putin lauded recent measures to give cash payments and other benefits to mothers having a second child. Current birth rates show an average of 1.7 children are born to each Russian woman, but the president urged a huge leap in family-building.
New payments for those having a third child would begin next year, he said. "Demographers affirm that choosing to have a second child is already a potential choice in favour of a third," he added. "It's important that families make that step... I am convinced that the norm in Russia should become a family with three children."
To achieve that goal, he said, women needed to be provided with the opportunity to continue work, so that they "did not fear that having a second and third child would close the path to a career".
Mr Putin has long equated Russia's demographic decline over recent decades with a potential threat to security. On Wednesday, he added: "In order for Russia to be a strong and sovereign country, there must be more of us and we must be better in morality, in our competences, our work and our creativity."
To applause, the president said there were already signs that Russia's long term demographic decline was reversing, and the population had grown by 200,000 in the first nine months of this year. "The birth rate is at last above the mortality rate," he said.
A 2010 census put the total population of Russia at 143,000,000.
Announcing a raft of other social and economic measures, Mr Putin said he hoped to create 25m jobs by 2020.
He made sweeping promises to develop industry, including aircraft and shipbuilding, and said the country's military and space sectors must be modernised. "Our military might is the guarantor of Russia's security and independence," he said.
'Don't make it worse for yourselves'

: Helicopters drop leaflets on ISIS and rebel fighters warning them to give up now ahead of huge Russian-backed ground offensive
Flyers are aimed at both civilians and fighters, and warn them to leave area
One says leave 'special operations' zone ahead of possible ground attack
Another urged ISIS and rebel fighters to give up their arms
Moscow's warplanes have been conducting airstrikes on Syria for six days. softening up targets ahead of an expected large-scale ground operation
Syrian army helicopters have dropped tens of thousands of leaflets on ISIS and rebel fighters, warning them to get out now and 'don't make it even worse for yourselves'.
The flyers were let go over the embattled cities of Rastan and Talbiseh, which have been pounded by Moscow's warplanes this week and where Russia claims 5,000 ISIS and al-Nusra Front terrorists are stationed.
It came as Russian media said there would soon be a large ground operation in the area driven by Syrian President Bashar al-Assad's troops - with Russia's military backing from the air and possibly on the ground, involving Spetsnatz special forces.
Iranian troops are said to have crossed the border from Iraq last week to help prop up Assad's ailing regime.