CHARLIE'S VALUES:

THE KORAN IS SHIT!
SWEDISH SAVAGERY
LA CAPTURE SAUVAGE D'UN ANIMAL MUSULMAN MAROCAIN DE 9 ANS
Suède
LONG LIVE ISRAEL!
Published on 13 Feb 2015
L'arrestation brutale d'un petit marocain de 9 ans suscite une vive émotion en Suède. Deux gardes de sécurité d'une société privée ont interpellé brutalement le petit garçon à sa descente à la gare de Malmö car il voyageait sans billet. La société de sécurité qui emploie les deux agents déplore l'incident alors qu'une enquête contre les deux agents a été ouverte.
L'arrestation brutale en Suède d'un enfant de 9 ans originaire du Maroc a suscité une vive émotion dans le pays. Ce petit garçon a été arrêté à sa descente à la gare de Malmö. Son tort: avoir voyagé en train sans titre de transport. Il a été brutalement maîtrisé au sol par un des agents.
Plaqué au sol comme un grand malfaiteur, le garçon a vu l'agent tenter de lui fermer sauvagement la bouche. Malgré les cris du petit, qui ne parlait pas suédois, il a continué à le brutaliser. L'enfant sans défense a alors prononcé la Chahada: « j'atteste qu'il n'y a de Dieu en dehors d'Allah et Mohammed est son messager », pensant sans doute vivre ses dernières secondes.
La vidéo, postée le 9 février sur Youtube, a en tout cas suscité beaucoup d'indignations chez les internautes. « Le garçon ne semblait pas faire quelque chose de répréhensible, mais l'agent de sécurité l'a traité comme s'il s'agissait d'un homme de 90 kgs: il s'est assis sur lui, a frappé sa tête contre le sol », raconte un témoin de la scène au journal suédois Sydsvenskan.
Enquête ouverte contre les deux agents
Mais l'affaire est loin d'être finie. Une enquête a été lancée après la mise en ligne de la vidéo sur internet. Les deux agents soupçonnés d'agression seront interrogés. Svensk Bevakningstjänste, la société qui emploie les deux agents, a réagi après avoir visionné les terribles images de l'arrestation du garçon. « C'est vrai que les images ne sont pas belles à voir, a expliqué le PDG de la société, Anders Lönnebo, qui précise que les agents avaient été contactés pour interpeller le Marocain à sa sortie du train, ce qu'ils ont fait ».
Dans la vidéo, seuls les deux agents de la société privés sont identifiables, mais Lönnebo explique que la police apparait également dans d'autres images. Des rapports ont été déposés à la police et au niveau de la société privée. Cette dernière est sous contrat avec l'entreprise gestionnaire de la gare, Jernhusen.
Le porte-parole de Jernhusen, Cecilia Granath, a déclaré que son entreprise avait été en contact avec la société de sécurité après l'incident. « Nous avons une politique de tolérance zéro envers la violence excessive », a-t-elle fait savoir à Thelocal.se. « Il est clair que cela est très grave sur la vidéo, mais en ce moment nous avons trop peu d'informations pour tirer une conclusion ». Granath a ajouté que la société de sécurité mène son « enquête interne et nous attendrons ses conclusions ».

MUSLIM SATANISTS!!!
Salim Laibi - La Mecque infiltrée par les satanistes
Published on 11 Aug 2014
Three Muslim students shot dead execution-style 'by neighbor who had ranted against religion' in fight over parking at UNC Chapel Hill
Craig Hicks, 46, has been charged with the murders of three Muslim students near the UNC campus in Chapel Hill on Tuesday
Deah Shaddy Barakat, 23, his wife Yusor Mohammad, 21, and her sister Razan Mohammad Abu-Salha, 19, were all found shot in the head
The young couple had only married a month ago
Police say they believe Hicks shot the students dead in an ongoing parking dispute at their quiet condominium complex near the campus
He turned himself in after the triple shooting and is cooperating with police
Hicks, who is married, describes himself as a supporter of Atheists for Equality on Facebook , which includes a number of anti-religion posts
A man allegedly shot dead three Muslim students execution-style near to the University of North Carolina campus on Tuesday after posting anti-religious sentiments online.
Craig Stephen Hicks, 46, shot dentistry student Deah Shaddy Barakat, 23, his new wife Yusor Mohammad, 21, and her sister Razan Mohammad Abu-Salha, 19, in their heads over an ongoing parking dispute at their quiet condominium complex in Chapel Hill around 5pm, police said.
But the women's father, Dr. Mohammad Abu-Salha, said even though parking might have triggered the killings, Hicks had long targeted the family because of their religion and culture.
'It was execution style, a bullet in every head,' Abu-Salha told the News Observer. 'This was not a dispute over a parking space, this was a hate crime.
In court: Craig Hicks, 46, is pictured as he enters the courtroom for his first appearance at the Durham County Detention Center on Wednesday - a day after he allegedly shot three young students to death
Cuffed: Hicks, who has been charges with three counts of first-degree murder and is being held without bond, shot the trio dead amid an ongoing parking dispute, according to preliminary investigations
'This man had picked on my daughter and her husband a couple of times before, and he talked with them with his gun in his belt. And they were uncomfortable with him, but they did not know he would go this far.'
Dr Abu-Salha, who has one other child, added that police told him Hicks shot the three inside their apartment.
Hicks, who is married, turned himself in 'without incident' after the killings and is currently being held in Durham County jail on three counts of first-degree murder.
On Wednesday morning, he kept his head down as he appeared in an orange jumpsuit at the Durham County Detention Center. He is being held without bond.
Police say that he is cooperating, and that their preliminary investigation showed that the parking dispute was the motive.
There have also been questions over whether Hicks' anti-religious stance - which he freely shared on social media - had also been a factor in the murders.
On a Facebook page in his name, Hicks shared a number of anti-religion posts, describing himself as a supporter of 'Atheists for Equality'. A banner about 'anti-theism' is prominent on his page.
Hicks posted a photo from United Atheists of America on February 8, which has the title 'why radical Christians and radical Muslims are so opposed to each others' influence when they agree about so many ideological issues'.

Gunned down: (From left) Deah Shaddy Barakat, 23, his wife Yusor Mohammad, 21, and her sister Razan Mohammad Abu-Salha, 19, were all shot dead near the University of North Carolina on Tuesday

Heartbreaking: Yusor shared this beautiful photo showing her dancing with her father at their wedding. On Wednesday, he said that he believes the trio were shot due to their religion and culture

The students were shot dead near the quiet area of Finley Forest complex, near Summerwalk Circle
People claiming to be relatives gathered at the scene on Tuesday evening asking who the victims were

On the page he is listed as married and having studied to become a paralegal at Durham Technical Community College. Records show his wife works at UNC Hospital.
Most of the pictures he has posted in recent months criticize a number of religions, including Christianity. Other recent pictures he has published include one of a loaded revolver.
In one post allegedly written by Hicks and shared by CNN, he wrote: 'When it comes to insults, your religion started this, not me. If your religion kept its big mouth shut, so would I.'
Craig Hicks has been charged with murdering the three Muslim students after handing himself in
Police were called to Summerwalk Circle after shots were heard at about 5.10pm on Tuesday.

When they arrived they found three people dead. They had been shot in the head, CNN reported.
According to their Facebook pages, Mr Barakat had married his wife just over a month ago and was a second year student at the dental school at the University of North Carolina.
The last picture on his Facebook page, posted on January 29, said he helped provide free dental supplies to 75 homeless people in downtown Durham.
The couple had organised an online fundraiser to get dental care to refugees from Syria, raising around $15,000 - but after news of their deaths, the total reached more than $23,000
Mr Barakat was due to travel to Turkey in the summer to treat children who have become refugees following the civil war.
Last month, he tweeted: 'It's so freaking sad to hear people saying we should 'kill Jews' or 'Kill Palestinians'. As if that's going to solve anything SMH [shaking my head].'
His sister-in-law Razan Mohammad Abu-Salha had been studying for a degree at North Carolina State University in Architecture and Environmental Design.
After their deaths, Barakat's brother Farris paid tribute to the trio on Facebook as he struggled to comprehend the killings.

Outspoken: A Facebook page in Hicks' name clearly displays anti-religious sentiments
Hicks, pictured in an image he shared to Facebook, identified himself as an atheist on social media
Last December, he shared this picture showing him and his 'better half' Karen during a trip to Disneyland
Armed: Two weeks ago he shared this image of his 'loaded 38 revolver, its holster and five extra rounds'
'It doesn't make sense,' he wrote, 'and for that I rely on the Most Wise. It hurts and for that I know that God will not burden me more than I can handle.
'I know my brother, his wife, and his sister in law are together as ultimate winners. This life was only ever a test and they have passed with flying colors...
I haven't even begun to fully comprehend what has happened. But I know those three have done so much we are all proud of
'I haven't even begun to fully comprehend what has happened. But I know for sure those three together have done so much we are all proud of. No reason to stop being proud now.'
He added: 'We live as Muslims to die as Muslims. May Allah enter them to the highest of paradise.'
Following news of the deaths a hashtag #MuslimLivesMatter started trending on Twitter.
Burcu Bozcurt wrote: 'Hate will not prevail. Three beautiful souls taken, but examples of their love & impact on others abounds. #MuslimLivesMatter #chapelhill'
And MohaNNad said: 'Remember them like this. Deah and Yusor had names, dreams and families. #MuslimLivesMatter.'

The couple are only thought to have been married for just a month and were fundraising for Syrian refugees
People posted pictures of the couple, newly married, on Twitter just hours after they were both murdered

Well-known atheist Richard Dawkins also condemned the killings on Twitter. He said: 'How could any decent person NOT condemn the vile murder of three young US Muslims in Chapel Hill?'
People called for action to be taken with some speculating that the attack could have been religiously motivated.
A Facebook tribute page has been set up for the victims, called 'Our Three Winners'. It says: 'Deah Barakat, Yusor Abu-Salha and Razan Abu-Salha have returned to their Lord. They have set an example in life and in death.'
It noted that funeral arrangements will be announced after they receive news from the medical examiner, who will carry out an investigation and release the bodies.
The shooting took place in the Finley Forest complex - a typically quiet area home to students.
Bethany Boring encountered police cars, crime scene tape and people upset in the street when she went to walk her dog.
She told WRAL: 'It's a very quiet community. It's a lot of graduate and professional students. You know, professional's families.'
People have posted tributes to the trio on Twitter, with the hashtag #MuslimLivesMatter following the deaths
People living near Summerwalk Circle said the area was usually very quiet with little or no crime reported
Daniel Waggoner who lives in the area added: 'I'm up late. I come home late and it's always quiet when I get here,' he said. 'So I mean yeah, it's surprising.'
A campus crime alert from the University of North Carolina at Chapel Hill was sent to students. The complex is located near campus.
About two hours after the shooting a group of young people arrived at the scene and sat on the pavement, apparently waiting for news of the names of the people who had been killed. Police later turned away people in tears, claiming to be relatives.
The Chapel Hill Police Department said in a statement there was 'reason to believe that there is no ongoing threat to the public'.
The school added in a statement: 'We are sensitive to the impact an incident of this nature has on campus and in the community.
'We understand you want to know the facts as quickly as possible. At the same time, we must respect the job our Chapel Hill police have as they investigate this crime.'
PARIS CAPITALE DU DAJJAL par Yahia Gouasmi
HOW WOULD REAL MUSLIMS FEEL WHEN SHITTY ENGLISH VALUES NEVER STOP ATTACKING THEM, THE PROPHET OF ISLAM, THE MUSLIM HOLY BOOK AND ANYTHING THAT HAS TO DO WITH THEM THAT THEY HATE AND AS FREE PERSONS ON THE LAND?
CHARLIE'S VALUES: MUSLIMS MUST SHUT UP AS FREEDOM AND FREEDOM OF SPEECH ARE NOT FOR THEM!
PRINCE CHARLIE'S "OUR VALUES": TOTAL FREEDOM TO PRAISE TERRORIST, ETHNIC CLEANSING AND MASS MURDERING ISRAEL, BUT BANNED AND DEFAMED FOR BOYCOTTING OR SPEAKING AGAINST ISRAEL!
Medialens
My earlier post accusing the Guardian's Jonathan Freedland of hypocrisy and opportunism in supporting an attack on George Galloway on Question Time last week has taken an unexpected turn. The truly intrepid Glenn Greenwald retweeted my post, causing a small firestorm as the liberal media elite rushed to Freedland's rescue. The Guardian's Hadley Freeman has recently extended her expertise from fashion to anti-semitism. In taking on Greenwald, she made the defamatory statement below on twitter against Galloway. She's ignored many challenges to cite an example of his supposed anti-semitism, of course, and she's also ignored Galloway's demands that she retract and apologise. Now he's said he will sue her for libel.
PRINCE CHARLIE'S "OUR VALUES": NATO ASSASSINS, TERRORISTS AND THIEVES IN MUSLIM AFGHANISTAN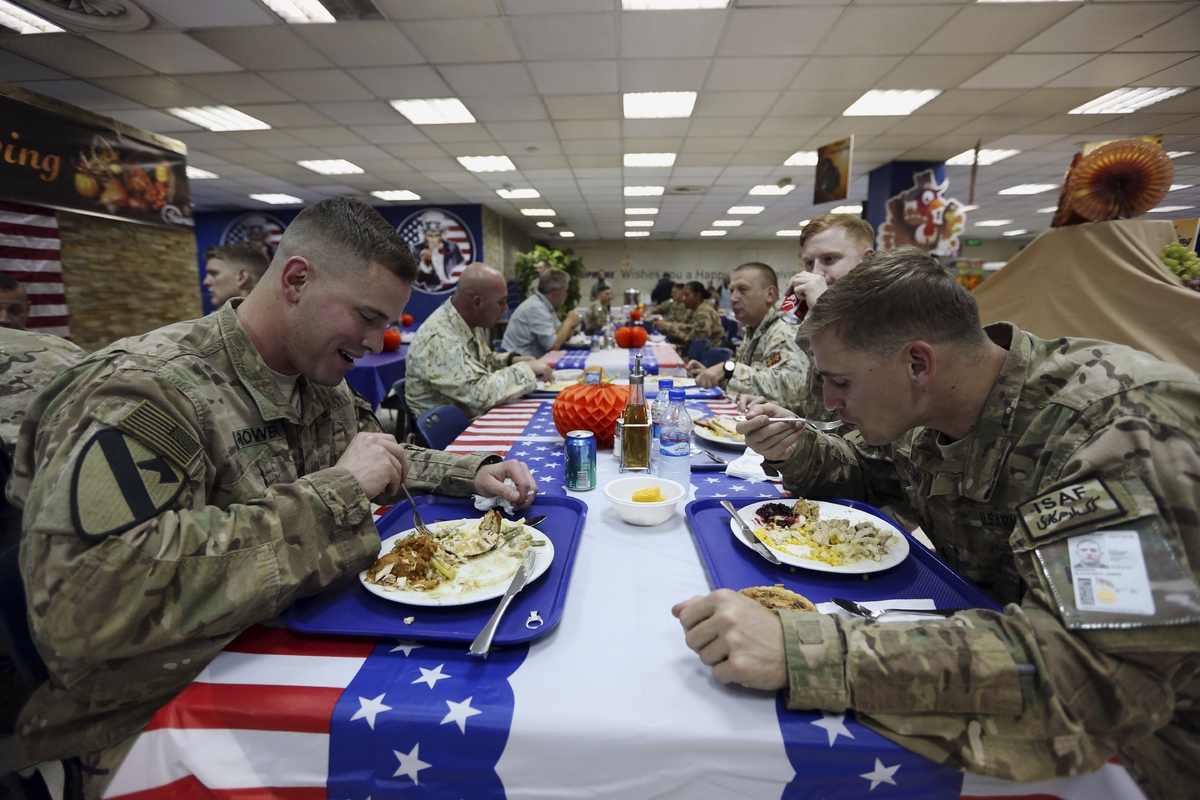 ASSOCIATED PRESS
THE VERY MINUTE I COME OUT ON THE STREETS OF LONDON, THE ATTACKS ARE ALL OVER THE PLACE, AND IN THE FRONT PAGES OF THEIR PRESSTITUTION MEDIA! SEE FOR YOURSELF!
THEY DO EVERYTHING TO MAKE MUSLIMS OR GOOD NON MUSLIMS HATE THEM AND THEIR "VALUES"!
STILL NO ATTACKS ON FRANCE? JUST WAIT! WE STILL HAVE UNTIL END OF JANUARY CHARB AND CABU OF CHARLIE HEBDO WILL PRESENT YOU WITH CHARLIE'S VALUES!


CHARLIE'S VALUES: 100 EMBARGOES, DRONE, PHOSPHORUS BOMB AND DEPLETED URANIUM ATTACKS IF YOU ARE STILL NOT DEAD LAUGHING!


CHARLIE'S VALUES: MUSLIMS ARE SO STUPID!
PRINCE CHARLIE'S "OUR VALUES": ATTACK MUSLIMS NON STOP TO DISTRACT AND COVER UP WHAT "OUR VALUES" DO TO MUSLIMS WORLDWIDE!
Published on 15 Jul 2014
Highlights from a UK parliamentary debate in which MPs variously accused Israel of war crimes, disproportionate violence, ruining peace negotiations by building illegal settlements, running the worlds largest outdoor prison, collective punishment, and attacking water supplies, hospitals, supply centres and all manner of other civilian targets. I have edited out the contributions of Foreign Secretary, William Hague, because nearly all of them displayed a shameful lack of compassion for the sufferings of the Palestinian people (Hague is a prominent member of an organisation called the "Conservative Friends of Israel" and is well aware of the funding that involvement brings to his party and his own political campaigns)
The debate took place on the 14th of July 2014
PRINCE CHARLIE'S "OUR VALUES": ONLY THE LIKES OF CATHY NEWMAN CAN SPEAK FREELY!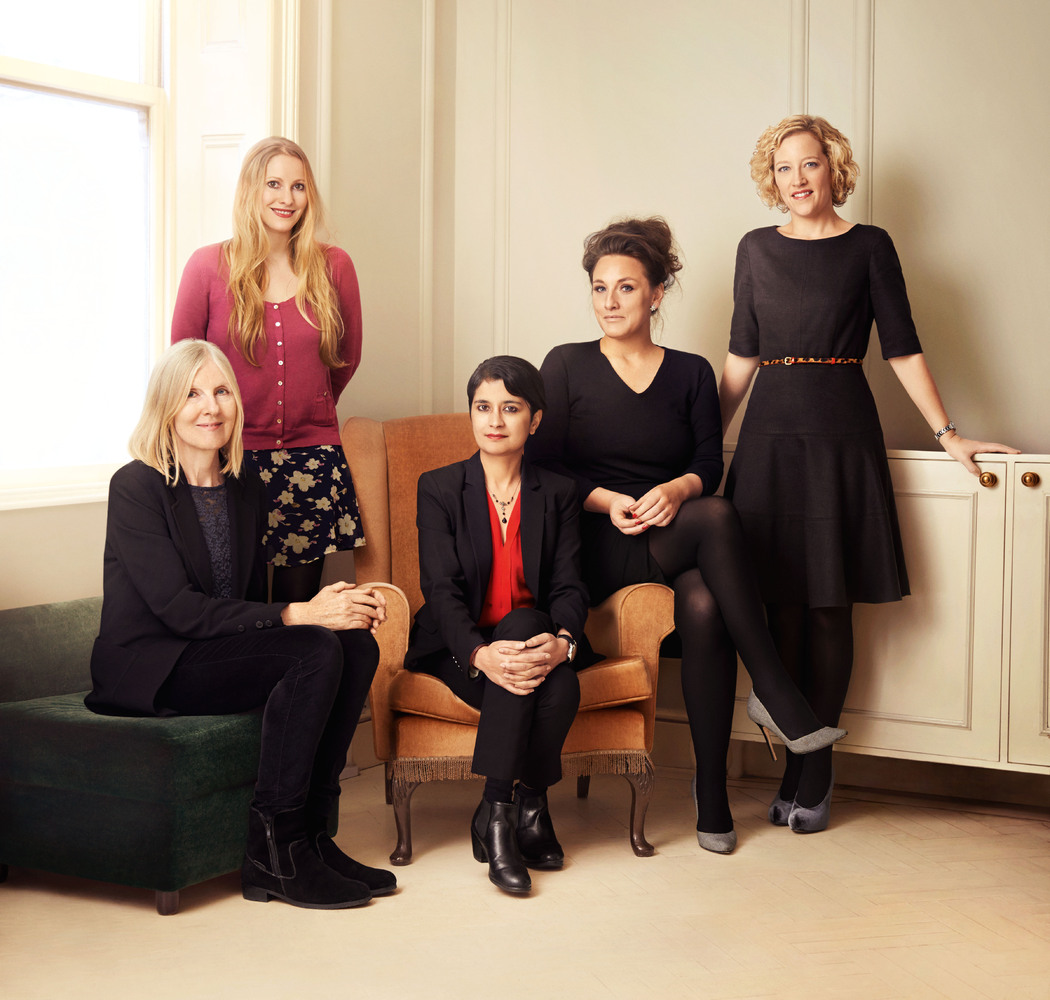 BIRDS OF A FEATHER!
The 2015 Baileys Women's Prize for Fiction judging panel was announced today. Chaired by Liberty Director Shami Chakrabarti, she is joined by Cathy Newman, Laura Bates, Grace Dent, and inaugural winner of the prize, novelist and poet Helen Dunmore
Channel 4's Cathy Newman Apologises After CCTV Footage Emerges Of Mosque Incident
Channel 4 presenter Cathy Newman has apologised after CCTV footage obtained by The Huffington Post UK appeared to contradict her claim that she was "ushered out of the door" of a London mosque on the weekend.
The South London Islamic Centre, where Newman claims she was turned away despite turning up wearing a headscarf, says surveillance video shows the reporter arriving at the mosque, being directed by a male congregant, but leaving alone through the courtyard.
Newman sparked a social media firestorm after tweeting she was "ushered onto the street" during 'Visit My Mosque Day' which the mosque said provoked threatening voicemails which it has reported to police.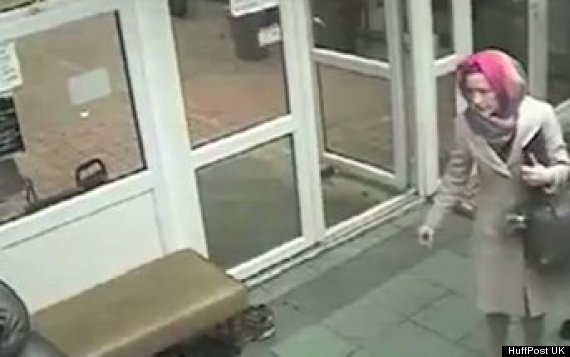 Footage from inside the mosque of the Channel 4 presenter arriving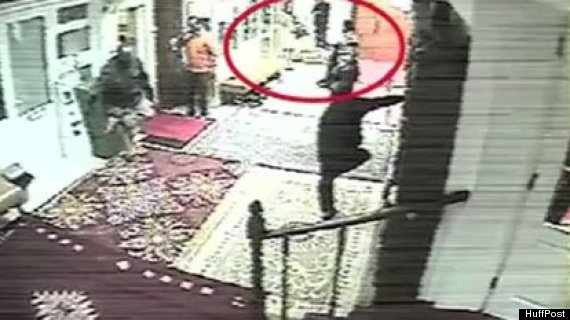 The man in the striped jumper (circled) can be seen in a brief exchange with Newman inside the mosque but does not follow her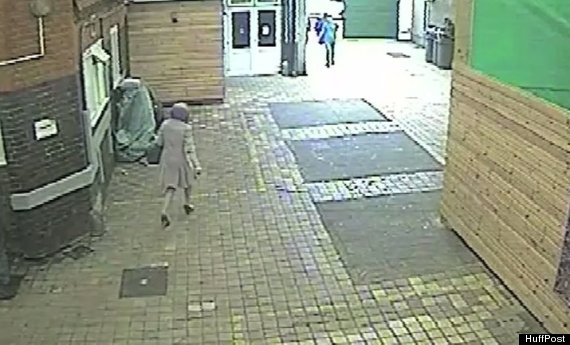 Cathy Newman leaving South London Islamic Centre alone
But the mosque, which initially apologised, claims Newman's story is "not correct" and Newman has now apologised for any "misunderstanding".
After Newman tweeted that she had been "ushered out of the door", the story was covered by the national media, including the Guardian, Daily Mail, Independent and The Huffington Post.
It later emerged Newman had actually gone to the wrong location, and her Channel 4 colleagues were waiting for her 15 minutes away at a mosque that was taking part in the open day.
The CCTV clips show the journalist entering the mosque and beginning to take off her shoes while having a very brief conversation with a congregant in the lobby. The man gestures several times to the left, pointing her in a specific direction. She puts her shoe back on, and leaves alone, walking through the courtyard. The entire encounter lasts just seconds.
READ MORE
Galloway Heckled During Fractious Question Time Debate
'Patronising' Tory MP Accused Of Wanting 'Poor To Starve In The Dark'
This Tristram Hunt Tweet May Have Blown Labour's Chances Of Wooing Teachers
Holocaust Memorial Day - Uneasy Comparisons With Anti-Semitism
The man the journalist spoke to inside, who has been identified by the mosque, claims he misunderstood Newman and directed her to the church next door. The man was not a member of the mosque's management or religious leadership, and none of the Islamic centre's committee claim to have seen Newman arrive or leave.
Watch the CCTV clip below
Although she briefly returns to the courtyard, and paces around outside the mosque on the street, she does not appear to speak to anyone else within the mosque's property, only stopping to speak to a few passing members of the public, well outside the mosque's confines.
"We can see [from the CCTV] that she arrived and that she came into the lobby by the shoe racks and started to take off one shoes," Aslam Ijaz, the mosque's chair of trustees and a founding member of Lambeth Interfaith, told HuffPost UK.
"The prayers had already started and you can see a couple people rushing past her but most people are already inside. The gentleman who you see in the video is obviously pointing in the direction of the church, which is what he thought she wanted to go to."
Ijaz admitted there may have been a misunderstanding of the man's stated intention in directing Newman to the church. "Maybe she misunderstood, but he is clearly trying to direct her," he said. "You can see she turns to leave herself, she looks a little confused and then she comes back into the courtyard again, and you can see her twice coming back to outside the mosque and standing on the pavement."
The timestamp on the video shown by the mosque to HuffPost UK appears to match Newman's tweets on Sunday.
The footage does not show anyone attempting to guide or "usher" Newman out of the mosque or "onto the street", as she wrote in her tweets. "I was really surprised that she would say she was ushered out of the mosque, being a journalist I was surprised she would use that description, it was misrepresented. Now there's this impression we don't like women. She said something that was not correct," Ijaz said.
Later, Newman can be seen speaking to two people on the street outside the mosque, one a member of the public who the mosque has not identified and who does not enter the mosque. The other is a local cafe owner who claims he came over to ask if she needed assistance, and is seen gesturing her across the road. He claims he was giving Newman directions, the Hyderi Centre is a fifteen-minute walk away, or a bus ride from a stop across from the mosque.
Although the time stamp of the CCTV indicates that Newman was still to send her tweets, neither man came from inside the mosque, making it impossible for them to "usher" Newman out, as she describes. She is last seen crossing the road, away from the mosque.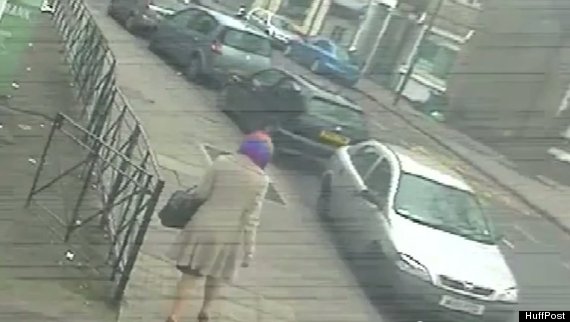 Cathy Newman outside the Streatham mosque
Ijaz later apologised to Newman for her experience, fearing she had been insulted by an uncouth congregant, but said he had not viewed the CCTV footage at the time.
Since the story was picked up by national press, the mosque claims has received two threatening voicemails, which it has reported to the police, and a litany of online abuse, but Ijaz said he took particular affront at the accusation the mosque was anti-women. Newman told the Guardian she believed it must have been a men-only mosque, and was not made aware of this, but Ijaz said that is not the case.
"We were the first mosque in the area to have a prayer section for women, both ladies and gentleman are welcome here and it wouldn't be unusual at all to see a woman here," he said.
"I am known for my interfaith work, whenever there is an event with churches, temples, synagogues, I am there. We have open days here at the mosque, and ladies and gentleman are both invited to attend."
Newman, who has made it clear in subsequent tweets that she wishes to draw a line under the incident, would not expand on why she claimed she had been 'ushered out' of the mosque, but told HuffPost UK: "As the primary purpose of Visit My Mosque day was to increase understanding of Islam, I was horrified to hear the Mosque I visited in error has had death threats.
"I'm sorry for any misunderstanding there has been. I would be happy to pay a private visit to South London Islamic Centre once again."
"It's not something I would expect from a journalist from Channel 4, it doesn't make sense," another congregant told HuffPost UK, adding that Islam as a religion prioritised hospitality.
When queried as to why the mosque had declined to take part in Visit My Mosque Day, Ijaz said: "We were only informed about this initiative [Visit My Mosque Day] on Friday and it's too short notice for us. There wasn't anyone to man it. Next time we have a gathering here, I would love to have Cathy here."
Outside the mosque, which is indeed next to a church, there is a banner inviting visitors in to receive a free Koran. The mosque's secretary, who said he was uncomfortable giving his name, told HuffPost UK that the mosque had up to 1,000 congregants on a Friday, and several hundred at other times. He added that although there were many regulars, it would not be unusual for worshippers to see visitors they did not recognise. "We often have school visits, teachers here, it wouldn't have been something that would have fazed anyone."
READ MORE
Galloway Heckled During Fractious Question Time Debate On Rising Anti-Semitism
'Patronising' Tory MP Accused Of Wanting 'Poor To Starve In The Dark'
This Tristram Hunt Tweet May Have Blown Labour's Chances Of Wooing Teachers
Holocaust Memorial Day - Uneasy Comparisons With Anti-Semitism
How The UK's First FGM Prosecution Became An Unwinnable 'Show Trial'
Sponsored Links
British Establishment Crimes, Cover-up's & The 6 Million Myth with Christopher Everard

Charles tells UK Muslims to abide by our values: Prince says if you come to live in Britain you must respect us
Charles denounced the radicalisation of young Britons by Islamic fanatics
He said they should show more respect to 'the values we hold dear'
Comments were made as he started a six-day tour of the Middle East
He will tell new Saudi king to show clemency to Saudi blogger Raif Badawi
Sentence of 1,000 lashes and ten years in jail caused international outrage
Prince last night arrived in Jordan, where he will meet King Abdullah II
US media 'complicit in mass murder of Muslims'
Media hatemongers help kill millions
Watch the video at Press TV
The media in the United States is helping to create mass murder of Muslims by hiding the shooting deaths of three American Muslim students in the country, an American scholar says.
Kevin Barrett, founding member of Muslim-Jewish-Christian Alliance, made the remarks in a phone interview with Press TV on Wednesday while commenting on the murder of three Muslim students in a shooting incident in the US state of North Carolina.
The incident has not been given coverage "worldwide or here in the United States as Charlie Hebdo incident," Barrett said because "the media here is complicit in the mass murder of Muslims."
He added the media is "actually helping to create more such incidents."
"It seems that the mainstream media as well as the extremist media here in the United States are both complicit in genocide against Muslims and the religion if Islam, and that they are also trying to propagandize the world into a convincing…that Muslims don't have right to defend themselves against this kind of genocidal violence," Barrett said.
"They are simply the latest victims of anti-Muslim genocide which has been created by elements that own most of the media here in the United States," he noted.
As an example for the ongoing "genocide" of Muslims, Barrett mentioned the occupied Palestinian territories where "the Zionists have been conducting slow motion genocide since the World War I really, and certainly since the Nakba, or the mass murder of Palestinians and the expulsion of the rest in 1948."
Palestinians refer to the May 15, 1948 occupation of Palestine as the Nakba Day, which means the Day of the Catastrophe in Arabic, to solemnly commemorate the expulsion of more than 700,000 Palestinians from their homeland in 1948.
Israeli forces have wiped nearly 500 Palestinian villages and towns off the map, leaving an estimated total of 4.7 million Palestinian refugees hoping for an eventual return to their homeland more than six decades later.
"So we are facing a genocide of over a million people and Muslims absolutely have the duty, not just the right but the duty, to defend themselves by any means necessary against this genocide," Barrett stated.
"Every good person on earth also has this duty to stop this genocide and bring the perpetrators, including those who own the American and Western mainnstream media, to justice," he concluded.
DIDN'T I SAY UK MUSLIMS ARE SHIT???
Worried about Muslims in Britain? Here's the answer
As figures show the number of Muslim children is rising, James Kirkup says integration is about economics, not values

RACISTS, do you worry about Britain's growing Muslim population? You're not alone.

According to the British Social Attitudes (BSA) survey, in 2003, 48 per cent of Britons worried that an increase in the Muslim population would weaken Britain's national identity. By 2013, that had risen to 62 per cent.
A report from the Muslim Council of Britain this week may sharpen those concerns. Based on Census data, it set out how immigration and a high birth-rate have combined to swell Britain's population to 2.7 million, around a third of them aged under 15.
Almost every political conversation about British Muslims touches on "integration," the extent to which they and their socially conservative values fit into an increasingly liberal society. Many people fret about Muslims failing to integrate, leading separate lives in their own insular communities.
So are British Muslims becoming more concentrated in particular areas, or are they spreading out and mingling with the rest of the population? Confusingly, the answer is: both.
The rise in the Muslim population, especially because of a high birth rate, means that Muslim "clusters" are getting bigger. There are eight English council areas where Muslims make up more than 20 per cent of the population. Tower Hamlets in London tops the list with 34.5 per cent.
But at the same time, some Muslims are moving out of those clusters into more mixed areas. So while Tower Hamlets' Muslim population grew 19 per cent over the decade to 2011, that is far slower than the UK growth of 75 per cent, or even London's figure of 35 per cent.
"There are bigger clusters and more mixing at the same time," according to Manchester University's Centre on Dynamics of Ethnicity. Its "index of dissimilarity" (a measure of integration) for Muslims fell from 56 per cent in 2001 to 54 per cent in 2011. Sikhs were slightly less integrated (61 per cent) and Hindus slightly more (52 per cent). The situation is improving, but only very slightly.
The reasons that ethnic and religious groups spread out isn't easily trapped in statistics, but just about every study and analyst agrees that the strongest motivations here are education and employment. Most people who move away from the area where they were raised do so to get qualifications or jobs. The richer and better-educated someone is, the more likely they are to move and mingle, and maybe even inter-marry. To integrate.
Are you worried about the rising number of Muslims in Britain?
NO! NO! NO! NO! NO! NO! ONLY RACISTS ARE!
HOLY SHIT!
So what are the prospects for those increasingly numerous children of Muslim households?
There are six state-funded Muslim primary schools, educating around 2,300 pupils. The Association of Muslim Schools says there are a total 156 dedicated Muslim schools in the UK, most of them privately-funded.
The Census data show 8.1 per cent of all school-age children are Muslim. But again, the distribution of that population is what counts, and Muslim children are often concentrated in particular areas.
In Tower Hamlets 66 per cent of school-age children are Muslim. In another seven London council areas, more than a quarter of all school-age children are from Muslim homes. And in Birmingham, several council wards have a figure above 60 per cent.
Many observers, including Matthew Taylor, a former adviser to Tony Blair, worry that Muslim schools tend to be "monocultural" and thus work against integration.
But a more important criticism of the education that many Muslims children receive may be that it is just not very good.
An article in the Curriculum Journal last year suggested that many Muslim pupils do worse than their peers for reasons including: "overcrowded housing, the relative absence of parental English language skills in some Muslim communities, low levels of parental engagement with mainstream schools, low teacher expectations, the curricular removal of Islam from the school learning environment, and racism and anti-Muslim prejudice."
And if any group needs better education, it is Britain's Muslims. The proportion of Muslims with no qualifications has fallen from 39 per cent to 26 per cent, but it still remains above the population as a whole, where the figure is 23 per cent.
The MCB is keen to talk up advances in the number of Muslims with degrees, which has indeed risen from 20.6 per cent to 24 per cent. But over the same period, the educational level of overall population rose faster: the share of British adults with degrees went from 19.8 per cent to 27.2 per cent. Muslims, having been more likely than the rest to have degrees, are now less likely.
Other religious groups also outperform British Muslims: 30.1 per cent of Sikhs have degrees, and 44.6 per cent of Hindus.
Muslim underperformance at higher education is at least partly down to gender. In the population as a whole, young women are more likely to go to university than young men. But among British Muslims, the pattern is reversed, with three Muslim boys going on to higher education for every two women. Equalising those numbers would send another 50,000 Muslim women university.
And when British Muslims do go on to university, some studies suggest they are less likely than other groups to attend the best colleges. Oxbridge and the Russell Group have been criticised in several studies for the low percentage of minority students they admit.
In the "higher managerial" and "higher professional" groups – company executives, lawyers, doctors – Muslims are only slightly under-represented. But lower down the scale, major gaps appear. Around 20 per cent of the UK workforce does "lower managerial, administrative and professional" , jobs, the first rung on the middle-class ladder. For Muslims, the figure is just 10 per cent.
Meanwhile, some 21.3 per cent of British Muslims have never worked, a figure that excludes full-time students. For the UK as a whole, the figure is just 4.3 per cent.
The outcome of this poor performance is unsurprising: Muslims are poorer, sicker, less likely to own their own homes and more likely to live in bad areas. And even as Britain gets richer, Muslims are sliding down the scale.
The 10 per cent of council wards that count as the most deprived parts of the country are now home to 1.2 million Muslims, around 46 per cent of the total. In 2001, just 33 per cent of British Muslims lived in Britain's poorest places.
How much does this matter? Is Muslims' poor educational and economic performance a problem for anyone other than Muslims themselves?
Research published in the Journal for the Scientific Study of Religion in 2013 is useful here.
Based on BSA data and interviews with hundreds of British Muslims, it found that they were indeed more socially conservative than other Britons on gender roles in the home, divorce, premarital sex, abortion, homosexuality, and same-sex marriage.
But comparing Muslims with other Britons, it concluded that "much of the difference on socio-moral opinions was due to socio-economic disadvantage and high religiosity, both factors which predict social conservatism among all Britons and not just Muslims."
In other words, Muslims' moral and social attitudes, the old-fashioned and illiberal attitudes that worry so many people aren't so very different from those of other poor and badly-educated non-Muslims.
Many commentators and politicians approach integration as a cultural question, arguing that more should be done to persuade British Muslims to accept "British values". Perhaps we'd be better off taking an economic perspective, accepting that a better aim is making them better off.
Worried about the rising number of Muslim children in our schools? Then you should hope they pass their exams, go to good universities and get well-paid jobs. Especially the girls. Really, turn more Muslims into fully paid-up members of the Waitrose-shopping, Audi-driving, Boden-wearing middle-classes and their values will take care of themselves.
MORE AND MORE SEVERAL TIMES A DAY VILIFICATION (DIABOLISATION) OF MUSLIMS AND ISLAM!!!
IS, ISIS, ISIL, DAESH = CIA-MOSSAD-DGSE NATO ISRAEL!!!
Fears grow for three teenage 'straight-A' schoolgirls thought to have fled Britain to join ISIS in Syria and become Jihadi brides
Girls from east London told their families they were going out for the day
The girls, two of whom are 15 while the other is 16, then flew to Turkey
It is thought one of the 15-year-olds is travelling on a false passport
The girls all go to the same school and are described as 'straight-A pupils'
Girls were friends with pupil of same school who fled to Syria last year
The school which the girls attended was visited by Prince Harry last year
IS, ISIS, ISIL, DAESH = CIA-MOSSAD-DGSE NATO ISRAEL!!!
Fake News!! CNN & BBC Busted!! ISIS Is A Fake Threat!! 2014