'SHAKESPEARE', EDWARD DE VERE, FRANCIS BACON, STUART HALL AND WESTERN CIVILISATION!
ACHTUNG!!!
SHAKESPEARE WAS NOT A SINGLE PERSON!!!
"SHAKESPEARE WAS A JEWISH ENTREPRENEUR!!!
I DON'T LIKE SHAKESPEARE!!!
I DON'T RESPECT SHAKESPEARE!!!"
(Christopher Everard at 19m40)
TRUMPS NEW WORLD ORDER w/Christopher Everard

Christopher Everard joins the show to go over the Trumpification of the New World Order like never before! All aboard the Trump Train? SEE FULL SUPPORTING ARTICLE, LINKS & VIDEOS HERE.... http://www.kevbakershow.com/trumps-ne... Website for Christopher Everard... http://christophereverard.co.uk/ To help support KBS please subscribe to Truth Frequency Radio via my archive page here.... http://truthfrequencyradio.com/kevbaker/ Visit my site... http://kevbakershow.com/ Tune into The Kev Baker Show, Monday to Thursday on www.truthfrequencyradio.com/listen-live SIGN UP TO THE KEV BAKER SHOW & TRUTH FREQUENCY RADIO'S FULL ARCHIVES FOR OVER 30 LIVE SHOWS! http://truthfrequencyradio.com/amembe... Remember to join our FREAKY FRIDAY Facebook Page... https://www.facebook.com/FreakyFriday... Remember to join our TRUTH FREQUENCY RADIO Facebook page... https://www.facebook.com/truth.freque... Join the facebook @ www.facebook.com/truthtube451Kev Baker Show Kev Baker has been on the front lines since 2009. Hailing from Glasgow, Scotland, Kev was recently featured in VICE magazine as a front-line consultant and expert on activist groups in the United Kingdom. You can listen to Kev Baker on AM/FM in Colorado, Oregan, California, Sydney and London or tune into any of the TFR internet streams or listening options. Kev Baker has set his mark as a professional broadcaster by featuring cutting edge analysis, current events and breaking news. However he does not stop there! Together with his co-hostJohnny Whistles, Kev is joined by a great panel of expert researchers and whistleblowers in the field of space technology, metaphysics, human origins, black operations and international terrorism. Seeking the answers to age old questions and dechipering the world around you painted by the mainstream media.. this is the Kev Baker Show! And remember... WHERVER YOU ARE .... MAKE IT T.F.R. Show Archives -- www.truthfrequencyradio.com/kevbaker FACEBOOK -- www.facebook.com/truthtube451 Twitter www.twitter.com/TruthTube451 Youtube www.youtube.com/truthtube45 Join my facebook page - https://www.facebook.com/Truthtube451
Category
WHY

GEORGE BERNARD SHAW CALLED "SHAKESPEARE" SHAKESPEAR -

SHAKE SPEAR

?
Count 46 words from the beginning down (

SHAKE

) and 46 words from the end up (

SPEAR

). Freemasonic 33rd Degree + 13 Degrees = 46 Freemasonic Degrees
The Holy Bible: Occult King James Version. 2000.
The Psalms
46

God Is Our Refuge and Strength

To the chief Musician for the sons of Korah, A Song upon Al'amoth

.

1
God is our refuge and strength,


| | |
| --- | --- |
| | a very present help in trouble. |

2
Therefore will not we fear,


though the earth be removed,
and though the mountains be carried into the midst of the sea;

3
though the waters thereof roar and be troubled,


though the mountains shake with the swelling thereof.


Selah.

4
There is a river, the streams whereof shall make glad the city of God,


| | |
| --- | --- |
| | the holy place of the tabernacles of the Most High. |

5
God is in the midst of her;


she shall not be moved:
God shall help her, and that right early.

6
The heathen raged, the kingdoms were moved:


| | |
| --- | --- |
| | he uttered his voice, the earth melted. |

7
The LORD of hosts is with us;


the God of Jacob is our refuge.


Selah.

8
Come, behold the works of the LORD,


| | |
| --- | --- |
| | what desolations he hath made in the earth. |

9
He maketh wars to cease unto the end of the earth;


he breaketh the bow, and cutteth the spear in sunder;
he burneth the chariot in the fire.

10
Be still, and know that I am God:


I will be exalted among the heathen,
I will be exalted in the earth.

11
The LORD of hosts is with us;


the God of Jacob is our refuge.


Selah.
Published by The American Bible Society
ACHTUNG!!!

THE USUAL RACISM, WHITE SUPREMACISM, HALF TRUTHS AND OUTRIGHT LIES OF "WESTERN CIVILISATION"!
The New Atlantis - Secret Mysteries of America's Beginnings
Uploaded on 5 Sep 2011
The greatest "Whodunit" of the past 500 years! Secret Mysteries takes the mystery out of America's history. This video unfolds the fascinating history behind the founding of America, and exposes the esoteric underbelly of its design. Why is Washington D.C. build on the 77th Meridian? Are the Revolutionary War cities really built in perfect alignment with Stonehenge? If America was founded as a Christian nation, why are many of its symbols, buildings, and monuments based on Pagan traditions? There is no doubt that much of America's national heritage was Christian, but just as a coin has two sides, our national heritage has a second side -- one based squarely on occult secret societies and their values.

To find the answer to these questions, we follow the journey of secret societies from England to the New World and learn of their ancient hope: to rebuild the lost empire of Atlantis.

In the 16th century, Sir Francis Bacon was at the helm of the secret societies in England. When Bacon penned his classic work, 'The New Atlantis' he believed that America and Atlantis were one and the same. He outlined his vision for the perfect society, and some suggest the program he set forth has been the driving force behind the course of modern history. While he did not originate the concept, it was Bacon who articulated an ancient plan to be carried out by all the secret orders. As Chief of the Rosicrucians and the first Grand Master of modern Freemasonry, Bacon sent his followers to the new world. A 1910 Newfoundland stamp with his image upon it reads, 'Lord Bacon: the Guiding Spirit in [the] Colonization Scheme.' Because of his influence, Francis Bacon is considered by some to be 'the real and true founder of America.' For centuries, controversy has surrounded this figure who is said to be the illegitimate son of Queen Elizabeth I, and secret author of the Shakespeare plays; the man whom Thomas Jefferson considered one of the three most influential men in history.

Is it possible that Bacon's vision guides America today?

Where The DaVinci Code meets National Treasure: Learn the incredible secrets of the esoteric traditions, hidden within the manifold layers of signs and symbols in our nation's infrastructure. Find out why some believe that from ancient times America has been chosen to fulfill a secret destiny.

Cutting Edge has been working on this video for many years, as we are determined that this second coin side of our National Heritage be fully understood. Only when you properly understand our past can you understand where our leaders are taking us today. Only when you properly understand the occult heritage which our Founding Fathers set in place can you understand why America is in Iraq, why we are forcing a strange brand of "democracy" upon the world, and why America has always been in the leadership of the nations of the world in marching steadily towards the NOVUS ORDO SECLORUM (New Order of the Ages - New World Order), the symbol of which is on the back of the American One Dollar Bill. We have enlisted the aid of a Christian Hollywood film producer (yes, there is one), and a proven Hollywood promoter. The quality of the script writing is superb and the technical quality of the film is superior to "The History Channel" or "The National Geographic"*.
*
Except that there are also blatant lies and cover ups in there! The full education background of Francis Bacon is deliberately hidden like it was the case with Aristotle. Both accounts have been exagerated to unimaginable lengths. "Western" civilisation and "science" are not and cannot be exclusively "western" unless the film producer wants to take us all for fools! "Modern science" was not invented or started by the "West"!
The racist West recognises (with exceptions) only or mainly Aristotle, Socrates, Pythagoras, and Athena as founders of Western Civilisation! What a farce! (BAFS - 30 September 2014)
'BEAUTY' OF WESTERN CIVILISATION!
DO YOU SEE THE BLATANT HYPOCRISY?
The Attorney General is to examine whether the 15-month sentence handed to broadcaster Stuart Hall for sexually abusing young girls was "unduly lenient".
The 83-year-old former It's A Knockout presenter was jailed earlier after admitting
indecent assaults on 13 girls.
The attacks spanned three decades and involved children aged as young as nine.
A
"small number"
of complaints have been made about the sentence, prompting an investigation by the Attorney General's Office which has the power to refer the sentence to the Court of Appeal.
A lawyer representing some of Hall's victims said they felt
"vindicated"
after the sentencing.
Harrowing details of the sex abuse
suffered by his victims were described at Preston Crown Court.
The prosecution told how a
13-year-old victim was assaulted
after they had played tennis, when he is said to have told her: "Sometimes thank you was not enough in words."
He told a
10-year-old girl to cuddle him
"like she would one of her teddies" after he had
given her steak and champagne
, the court heard.
A
15-year-old girl was abused
in Hall's dressing room at the BBC, prosecutors said.
A
13-year-old was assaulted while she was drunk
and unwell at a family party and described the attack as a "frenzied maul".
He
preyed on a nine-year-old girl while she was in bed
.
Another victim, who was 17 at the time, was
attacked while dressed as a cheerleader
for the filming of It's A Knockout.
Hall was told by Judge Anthony Russell during sentencing that those who had admired him in his career now know there is a
"darker side"
to him.
He was given sentences ranging from
three months
to
15 months
, all to run concurrently. Judge Russell said Hall would have received 20 months after a trial but he
reduced the sentence
to reflect his guilty pleas.
He said there was a degree of
planning and premeditation
in some of the assaults and he criticised Hall's initial
"brazen" attitude when charged
.
The judge said: "Several of these cases reveal an
abuse of power
by you because your
status gave you an influence and standing which you abused.
"
He added: "The
repeated sexual abuse of young children, too young to consent
and in no position to resist your advances, even if the
individual acts are relatively mild
, is a serious crime and it must be made clear to anyone tempted to take advantage of young children and other vulnerable victims that they face
condemnation and punishment
."
Hall was branded a
child abuse "predator"
by prosecutors.
He initially told police his victims were lying as part of a "vendetta" against people in the public eye.
When arrested last December over three claims of indecent assault, he described the allegations as "nonsense".
He told an officer one of the complainants was "a complete and utter liar".
Hall, of Wilmslow, Cheshire, went on to issue an
impassioned on-camera denial of any wrongdoing,
describing the allegations against him as "cruel".
But he would later
admit 14 indecent assaults on 13 girls between 1967 and 1987.
The initial publicity around his arrest led to other women coming forward, including a 22-year-old who said she had been
raped by Hall in the 1970s

.
The rape charge was denied by Hall and has been left on file.
Hall's defence barrister Crispin Aylett told the court his offences were at the "
less serious end of the scale
".
He said Hall's
life was "unblemished"
in the years since the offences, and statements were submitted about
Hall's charity work
.
Mr Aylett, explaining his client's TV work, said he had
"brought laughter to millions"
and that
if he were jailed, he might die in prison
.
Mr Aylett criticised some media reports about the case since Hall pleaded guilty and asked the judge to carry out the sentencing with a degree of proportion.
He said his client had been arrested "as a consequence" of the investigations into
Jimmy Savile, "who used young girls on a scale that is simply staggering".
Hall - who also faces civil claims from some of his victims - showed no emotion as he was led from the dock to begin his sentence.
Alan Collins, from law firm Pannone, which is representing some of the victims who attended court today - said the sentence sent out "
a strong and uncompromising message that abusers will not escape justice
".
Commenting on behalf of his clients, he added: "I have spoken to a number of them already and they all feel vindicated that their allegations of abuse have been proven by Hall's admission of guilt.
"He had previously denied allegations and accused his victims of lying. This was hurtful, distressing and insulting for them.
"We should remember that the youngest of this man's victims was just nine-years-old and a custodial sentence is no more than he deserves."
Labour confirmed that Shadow Attorney General Emily Thornberry had written to Dominic Grieve urging him to refer the sentences to the Court of Appeal because "it is unduly lenient".
Detective Superintendent Neil Esseen of Lancashire Police's major investigation team praised the victims for coming forward to report the abuse.
ANOTHER JOKE!

ONLY
MONTHS FOR "14 counts of indecent assault between 1967 and 1987" admitted, including a 9 year old!
Disgraced former broadcaster Stuart Hall's 15-month jail sentence for sex offences has been doubled to 30 months by Court of Appeal judges.
At the hearing at the Royal Courts of Justice in London, Lord Chief Justice Lord Judge said Hall "got away with it" for decades and had "lived a lie for more than half of his life".
Attorney General Dominic Grieve had earlier told the packed courtroom: "The total sentence of 15 months' imprisonment ... failed adequately to reflect the gravity of the totality of the offences, and the public concern about offences of this nature.
"Some of the sentences should have been made to run consecutively, so that the total sentence passed reflected the culpability of the offender, the harm caused and to deter others."
After the verdict, Mr Grieve said: "I asked the court to consider the multiple offending by Stuart Hall over a prolonged period of time which involved numerous victims.
"I also asked that the court take into account the breaches of trust in this case - Hall carried out some of these offences in places where the victims were entitled to feel safe, he used his celebrity status to invite them to attend the BBC, and he also displayed an element of planning and premeditation".
Hall, 83, who appeared in court via video link, was convicted of sexually assaulting several girls the youngest of whom was nine. The former It's A Knockout presenter was sentenced to 15-months in June.
Hall's QC Crispin Aylett had argued there was "nothing wrong" with the sentence imposed. He told the court: "If the object was to see this man punished, disgraced and financially ruined then all of that has been more than achieved."
The former broadcaster, from Wilmslow, Cheshire, admitted 14 counts of indecent assault between 1967 and 1987.
Hall directly exploited his role as a popular BBC presenter to target four of his victims, while he assaulted another four on the pretence of giving elocution lessons to them at his home.
Before entering his guilty plea in April, he had made a public pronouncement on the steps of a court, describing all the claims against him as "cruel, pernicious and spurious".
Hall was arrested and subsequently charged on December 5 last year with indecently assaulting three young girls.
More women came forward as a result of publicity and he was rearrested before he later admitted sexual offences relating to 13 victims.
Judge Russell told Hall: "Several of these cases reveal an abuse of the trust placed in you by the parents of these children but all of them reveal an abuse of power by you because your status gave you an influence and standing which you abused."
The judge said Hall would have received 20 months after a trial but he reduced the sentence to reflect his guilty pleas.
At Hall's original sentencing, Mr Aylett said that 27 years had passed since the last offence and the presenter had led an "unblemished" life over those years.
The length of the jail term was immediately criticised as "unduly lenient" by shadow attorney general Emily Thornberry.
Harriet Harman, deputy leader of the Labour party, also added to calls for the sentence to be referred.
RAPE IN THE WEST OR
BY WESTERNERS!
ALWAYS CHARGED AND ALMOST NEVER PUNISHED, OFTEN EVEN REWARDED LIKE THE JEW DOMINIQUE STRAUSS KAHN!
BAFS
ANOTHER BIG JOKE!
Former television presenter Stuart Hall has been charged with 15 offences of rape against two teenage girls.
Hall, probably best known for fronting the comedy game show It's a Knockout in the 1970s and 80s, allegedly sexually assaulted one of the girls between the ages of 14 and 16, from 1976 to 1978.
The second girl was allegedly assaulted between the ages of 11 or 12 and 15, from 1976 and 1981, when Hall was at the height of his fame.
Lancashire Police said that Hall, 83, faces 16 charges in all, 15 of rape and one of indecent assault.
Nazir Afzal, chief crown prosecutor for CPS North West, said: "Following a careful review, we have decided that there is sufficient evidence* to prosecute Stuart Hall for 16 alleged sexual offences against two girls and that it is in the public interest to do so.
"It is alleged that Stuart Hall committed offences against one girl, aged between 14 and 16, from 1976 to 1978 and another girl, aged between 11 or 12 and 15, from 1976 to 1981.
"This decision to prosecute has been taken in accordance with the Code for Crown Prosecutors, the CPS legal guidance on rape and sexual offences and the DPP's guidelines on prosecuting cases of child sexual abuse."
Hall, of Wilmslow, Cheshire, who is married with two children and four grandchildren, will appear at Preston Magistrates' Court on November 8.
The offences allegedly took place in Manchester, Sale and Wilmslow.
Hall has been a familiar face and voice in British broadcasting for half a century, most recently with his eccentric and erudite football match summaries on BBC Radio 5 live. He also wrote a weekly sport column for the Radio Times magazine until recently.
* there is sufficient evidence
WHEN DID THE WESTERN COURTS OF INJUSTICE NEED EVIDENCE TO CHARGE, OR EVEN EXECUTE SUSPECTS???
BAFS
LOOK AGAIN AT GODLESS WESTERN MENDACITY! IT IS BETTER TO RAPE AN ENTIRE NATION THAN TO PUNCH A HORSE!
THEY SELL THE ALCOHOL AND DO NOT WANT SOME TO GET DRUNK!
Newcastle United fan jailed for punching horse in head
Remember the
Newcastle United
fan who squared up to a police horse before landing a cheap right hook on the poor animal's head in clashes after the Tyne-Wear derby?
Well, Barry Rogerson's boxing career appears to be over after the Geordie was sentenced to 12 months in jail for his antics in the wake of his side's 3-0 defeat at home to Sunderland in April.
Despite Rogerson earlier expressing his desire to apologise to the horse – who escaped unscathed from the bout – Judge Paul Sloan QC saw it fit to hand down a custodial sentence at Newcastle Crown Court.
"I reacted stupidly. I did not go out to attack a horse," Rogerson, who was caught on video hitting 'Bud', had said previously.
"I love animals – I've got three dogs, a fish pond out the back and I feed foxes across the road.
"I am on medication and had been drinking, but that does not excuse what happened.
"I had two pints before the match, two bottles of beer at the match and a pint when I left early.
"I had just come out of the Terrace bar at St James', turned right and I was right in the middle of it.
"There was a loud bang and it spooked all the horses. This horse came towards me and I just reacted.
"The fire cracker went off, and it charged at me. That's when I panicked and threw a punch.
"It made contact with the horse, I tried to get him away from me with my left hand and then punched him with my right. It was sheer panic."
Six others were jailed alongside Rogerson on Thursday after almost 100 Newcastle fans were charged following clashes with police.
But anyone trembling at the thought of Rogerson causing havoc at football grounds in twelve months need not worry – the 45-year-old was also handed a six-year football banning order.
+++++++++++++++++++++++++++++++++++++++++++++++++++++++++++++++++++++++++
View Photo
Child Porn: Web Giants Summoned For Talks
Leading internet companies (ALL JEWISH???)* have been summoned to a Westminster meeting in an attempt to crack down on child abuse online.
Firms including Google,
Microsoft
and
Facebook
will attend a summit called by
Culture Secretary Maria Miller.
They will be expected to come up with ways to
stop access to child abuse images
** and report back with an action plan.
The meeting comes after two child killers were found to have viewed such material online.
Mark Bridger, convicted of murdering five-year-old April Jones, and Stuart Hazell, who murdered Tia Sharp, 12, both accessed images of abuse.
In the 12 days since the summit was announced, web giants have already taken some action.
TalkTalk and BT confirmed customers trying to view inappropriate material will be confronted by a pop-up warning.
And Google has pledged millions of pounds to organisations who try to tackle child abuse online, such as the Internet Watch Foundation, which maintains a blacklist of images.
Mrs Miller said: "Child abuse images are horrific and widespread public concern has made it clear that the industry must take action. Enough is enough.
"In recent days we have seen these companies rush to do more because of the pressure of an impending summit.
"Imagine how much more can be done if they seriously turn their minds to tackling the issue. Pressure will be unrelenting."
It is unclear exactly what concrete action - if any - the Government will demand from the meeting.
Companies providing internet services in Britain have already rejected a call from the Prime Minister's adviser to impose parental filters for adult content as a default setting when viewing content online.
The Internet Service Providers Association said it remained opposed to default filtering because it "can be circumvented and lead to over- or under-blocking" of offensive web pages.
(ALL JEWISH???)
*
AND THE JEWS ARE THE LEADING PORNOGRAPHERS ON THE PLANET!
stop access to child abuse images
**
TO STOP THE ACCESS, BUT NOT TO STOP THE PRODUCTION AND POSTING OF "CHILD ABUSE"

(CHILDREN PORNOGRAPHIC!)

IMAGES???????
DO YOU SEE THE BLATANT HYPOCRISY?
"RAPE PORN" LOOPHOLE
Trigger warning: this email contains references to sexual assault that may be triggering to survivors.
Basheer --
I've worked at Rape Crisis South London for the past seven years. Everything I do here is about supporting survivors of rape, that is why I was shocked to

discover that

websites that exist solely for the purpose of showing pornographic depictions of rape are legal.
These depictions are horrific to see, involving weapons, abductions and women dressed as teenagers. These are images that are promoting themselves to the viewer as being of real rape.
When Rape Crisis discovered these sites we contacted the Internet Watch Foundation. We couldn't believe when told that although they too recognised the horrific nature of these images, unless they could be proven to be actual rape they were completely legal in England and Wales.
The images are allowed because of a loophole in the law, a loophole that has gone unnoticed by the majority of the public who have never accessed these images and are unaware of what is and isn't covered by the law.
This loophole can be closed. At a summit in Downing Street this week ministers, campaigners and internet firms are discussing safeguards for the internet. A public call for the loophole to be closed will send a clear signal to ministers that they must take urgent action.
Thank you,
Fiona
This email was sent by Change.org to BAFS |
Start a petition
Unsubscribe
from future weekly updates. Edit your
email notification settings
.
128
Vatican Assassins by Eric Jon Phelps
Edward de Vere, 1550 – 1604
"William Shakespeare" Seventeenth
Earl of Oxford, Lord Great Chamberlain to Queen Elizabeth
A member of "the fighting Veres" since the Battle of Hastings in 1066, and named after the young Protestant King Edward VI having been poisoned by the Jesuits, our hero, "born into great riches, honour and power," was known as "the Red Knight." As the finest horseman and swordsman of the realm, this great and loyal man of honor exposed one of the Order's plots to assassinate his Queen. In vengeance, the Jesuits used William Cecil to steal his landed estates and "wounded" his name, henceforth to be known as "

William Shakespeare.

" This true author of the plays and of the sonnets, having been England's premier Earl in the House of Lords, was voted by the British Empire in the year 2000 as "the most important personality of the last millennium." Having coined 5000 words for the English language, de Vere's prose was the basis for The King James Bible
The Renaissance Man of England, Dorothy and Carlton Ogburn, (New York: Coward-McCann Inc., 1955).
Another big joke! Police did not arrest the pervert! Why? Because he was "Jewish"?
30 September 2014
Last updated at
13:39
Thorpe Hall School pupils' images on teacher's computer
Indecent images of pupils were discovered on the computer of an Essex deputy head teacher, who was found dead the day after he spoke to officers.
Martin Goldberg, 46, a maths teacher at Thorpe Hall School in Southend, died two weeks ago.
Police found images of boys undressing in the school's changing room, and at a leisure centre, on his computer.
It has emerged officers were told in November 2013 about him buying videos of naked boys.
He was first visited by police on 9 September.
"It is important that we understand why it took nine months for the force to act on this information," Essex's Police and Crime Commissioner Nick Alston said.
"There may be valid reasons, but we deserve an explanation".
Children identified
The images, both videos and stills, are believed to have been made from 2000 onwards, and "would appear to be of boys aged from nine to 12," police said.
Detectives have identified four children from the footage and have spoken to their parents.
They said there is no evidence of any other offences involving physical contact with the children.
Police said 75 images, which were classed as

"indecent"

, were from the changing rooms at the independently run, co-educational school.
A further 465 were found to have been taken at the leisure centre's swimming pool and 38 from "

two other locations

".
Officers said in most of the pictures, the children's faces were not visible, or the quality of the image was so poor that they could not be identified.
Mr Goldberg, a single man who lived alone, had taught at Thorpe Hall school for 23 years.
In a statement, head teacher Andrew Hampton said governors and staff were "very shocked" by the news, and everyone felt "surprised, angry and betrayed".
"There were no indications whatsoever that Mr Goldberg was leading a double life," he said.
"An incident such as this is very alarming and no-one could have foreseen it."
Mr Hampton said an inspection of the school's safeguarding policies in March this year found no improvements were needed.
"Despite this,

we are re-enforcing our safeguarding procedures to ensure our provision goes beyond the highest standards expected of all UK schools and are as watertight as it is possible to have them,"

he said.
Southend Borough councillor Anne Jones, responsible for children and learning, said the local authority had been working closely with police and the school.
"The council's primary focus at this time are the children and families directly involved from Thorpe Hall School," she said.
Mrs Jones also said there were "rigorous" safeguarding arrangements in place at Southend Leisure and Tennis Centre, where some of the images were taken.
"Members of the community are encouraged to access the Essex Police helpline on 0800 056 0944 or contact the council's Children's Services should they have any concerns," she added.
Share this page
Exposing the Criminal "Mother Theresa": Catholic Church and its deceitful plots exposed
If you like this blog
Don't miss
Kevin Barrett's radio shows
! And visit
TruthJihad.com
for more...
Sunday, April 24, 2016
The Cervantes/Shakespeare conspiracy theory
I barely scratched the surface of Cervantes/Shakespeare conspiracy theories in
yesterday's 4/23/16 400th anniversary deathday tribute to the two greatest geniuses of Western literature
. So let's pick up where we left off.
One of the most popular theories (among Muslims, anyway) is that both authors were secret Muslims. Shakespeare's real name, according to one interpretation, was
ash-Shaykh al-Kabeer
meaning – no, not the shaykh of beer, that would be
haram
– but rather The Great Shaykh. And that is certainly plausible, since we know that anyone who says Shakespeare was No Great Shakes doesn't know what he or she is talking about.
Those who claim Cervantes was a secret Muslim are on firmer ground. In the
Quixote
the author himself tells us that the book was actually written by an Arab (presumably Muslim) historian named Cid Hamet Benengeli. One of my correspondents, a Spanish Muslim, writes:
Dear Kevin:
Assalamu Aleikum,
Ahmed Cervantes was a muslim follower of Ibn Arabi, a real sufi "maclami" of very high level. He state very clear in Don Quixote that Lepanto was a cristian defeat. It is very clear in my book in spanish I sent to you.
Despite Cervantes write under strong Spanish Inquisition he put in Don Quixote this astonishing score:
99 Names of Allâh.................. 1.250 times😎😎😎
Jesuscrist........................................1 time😀 d
Holy Spirit....................................... 0 times😇
He joke deeply on Trinity Dogma and all the system we suffer today under direct fire of Spanish Inquisition.
In Oslo may 2002, hundred writers elect the "world's best work of fiction":
Don Quixote.............. 53 votes.
Romeo and Juliet..... 12 votes.
Divina Comedia.......... 3 votes.
Others....................0/1/2 votes.
Salams
Another author wrote to me with a slightly different theory. Rather than summarize it, I hereby offer it verbatim for you to make of it what you will.

Don Quixote, Englishman

"Don Quixote", by Michael de Cervantes, generally regarded as the first & greatest of Novels, came into the World in two, 500 page Installments...Part One, published in 1605....& Part Two, in 1615.

While it is generally assumed that Part One was written between 1598 & 1604, it is also assumed, with much less to go on, that it was written in Spain.

Curiously, there is no Record of Cervantes ever being employed in Spain during this six-year Period...& the Writer was simply too poor to have gone this Length of Time without a Source of Income.

Writing a Novel consisting of five hundred printed Pages, moreover, would have called for a few thousand Sheets of hand-made Paper plus hundreds of Candles, which, by Weight, as "White Wax", were pricy enough to be used as Currency.
Also, I would mention here that there is no Record of Cervantes receiving any Money from the Printer, Juan de Cuesta, for Part One, or, for that Matter, even for Part Two.

In the Course of the Novel, two Books are described that bear no resemblance to any other Books I can think of, but do bear a striking Resemblance to One Another.

The First is "Don Quixote" itself...& the Other, mentioned in Part Two, Chapter 62, is a book in Italian called "Le Bagattelle"...& in Spanish translation "Los Juguetes" ...both meaning "The Playthings".

Both Books are mentioned as being the Work of two Authors writing in two distinct Languages.

The Second Author, in both Cases, is a Spaniard writing in Spanish.
In the first Case it is Cervantes...in the Second, a Gent that Don Quixote meets in a Printing House in Barcelona.
The Reason the Second Author, in both cases, deserves the title "Author", presumably, is that his Contribution is on of being the Adaptor of the original Text into another Genre...in the first Case, into a Novel...in the Second, perhaps, a Novel as well.

The First Author of "Don Quixote" is the Knight's biographer, "Cid Hamet Benengeli", who we learn at the end of the Novel, is none other than the Alter-Ego of Cid Hamet, himself.

Cervantes converts this Autobiography into a Novel by adding a Character representing himself, "Sancho Panza", as the Knight's more down-to-earth foil, thus becoming the Author of a Fiction.

Cid Hamet, like Don Quixote, is described as a "Manchegan"...that is "of La Mancha".

If "Manchegan", in this case, means "a Spaniard from La Mancha, Spain" there would have been no need for a translation of his text into Spanish.
The name,"Cid Hamet Benengeli", it may be added, bears a much more of a Resemblance to "Lord Hamlet of England" than it does to anything Arabic, something that Cervantes, a one-time, five-year Captive of Arabic-speaking Algiers, would have known very well.

The striking Resemblance of the name "Cid Hamet Benengeli" to "Lord Hamlet of England" has always been considered a Cco-incidence...for Part One of "Don Quixote" AND "Hamlet" were both published in 1605...& unless Cervantes had written his Novel at the Home of the Author of "Hamlet", there is no way he could have known of Shakespeare's "Prince of Denmark".

Before we dismiss this Possibility out of Hand, however, let us take a brief Look at the Similarities between the two immortal Works, the Novel & the Play.

The Similarity of the Relationship between Hamlet & loyal Horatio, on the one Hand, & Quixote & loyal Sancho, on the Other, is striking.

Hamlet "thous" Horatio & addresses Horatio by his Christian name.

Horatio "yous" Hamlet, & addresses Hamlet only as "my lord", "good my lord" & even, "dear my lord".
Quixote "thous" Sancho & addresses him by his Christian name.

Sancho "yous" Quixote, & addresses Sancho only as "Senyor", "Senyor Don Quixote" & "vuestra Merced", ("your Grace").

In "Hamlet", a play lasting over four Hours, the Prince, never once, is addressed as "Highness" by anyone...only as "Lord", not unlike Don John of Austria, the illegitimate son of Emperor Charles V in the Court of Philip II.
Philip forbade anyone in the Spanish Court to address the illegitimate John as "Highness"...only as "Excellency".

As "Mancha" in Spanish can also mean "Stain" or "Blemish"...& as we know that Quixote, like Don John, was an "Hijo de Algo" or "Son of a Somebody"...then "Hidalgo de La Mancha", might well have the Meaning of "high-born Bastard" or even "Royal Bastard".

At the end of the Play, a dying Hamlet entreats his loyal Side-Man, Horatio, to absent himself from Felicity awhile & to draw his Breath in Ppain to tell the Prince's story.
This line, traditionally, has been taken as one spoken simply for dramatic Effect.

The Idea that the Author of "Hamlet" was actually in such Despair of leaving behind a "Wounded Name" that he wanted Michael de Cervantes, of all People, to tell his Story "to the Unsatisfied", is Something I have never heard raised.

That the Prince would admonish Horatio to "absent himself from Felicity awhile", suggests that Horatio, not unlike Sancho...& not unlike Adriano de Armado in "Love's Labors Lost", was Something of a "Gracioso", a "Droll"...& may have needed this Reminder.

As the Knight tells Sancho in Part Two, (Grossman translation)..."One of the things that must give the greatest Contentment to a virtuous & eminent Man is to see, while he is still alive, his good Nname printed & published in the Languages of different Peoples.

I said GOOD Name...for if it were the Opposite, no Death could be its Equal."

That sounds remarkably like a dying Hamlet addressing Horatio.

In Part Two, Chapter 28, Quixote & Sancho are riding along together when Sancho asks Quixote for a six Real, per-Month, Wage Increase.

Quixote agrees that Sancho is worth it, & tells Sancho, who doubles as Quixote's Bursar, to start paying himself the new Salary.

Then...out of the Blue...Sancho tells Quixote that his new Salary of thirty Reals per Month should be paid retroactively from the Time Quixote first promised Sancho the Governorship of an "Insula" or "Isle" along with the Title "Count" "more than twenty Years before..."give or take three Days".

Quixote angrily responds that his first "Salida" or "Sortie" as a Knight Errant began only sixty Days previous...& that Sancho had been with him only twenty five Days of that Time.

This brings us to a remarkable observation made by an Englishman, Edward Webbe, who, in the summer of 1575 happened to be touring Sicily.

"One Thing did greatly comfort me which I saw long-since in Sicily, in the city of Palermo, a Thing worthy of Memory, where the Right Honorable Earl of Oxford, a famous Man of Chivalry, at what Time he traveled in foreign Countries, being then personally present, made there a Challenge against all Manner of Persons whatsoever, at all Manner of Weapons as Tournaments, Barriers with Hhorse & Armor, to fight a Combat with Any whatsoever, in the Defense of his Prince & Country, for which he was very highly commended.

And yet no Man durst be so hardy to encounter with him...so that all Italy over, he is acknowledged the only Chevalier and Nobleman of England.
This Title they give unto him as worthily deserved.'

What Webbe is describing, let me suggest, is not only a flamboyant Gesture made by the 27 year-old Edward de Vere...but the Inspiration for Michael de Cervantes, also in Italy at the time, & also 27 years of age, of "Don Quixote's First Sally
De Vere, in 1575, firmly believed that he was the intended of Elizabeth I...as well as the future Edward VII of England.
As the Father of Elizabeth's green-eyed, red-haired Son, Henry...later the 3rd Earl of Southampton, later still, the Addressee of "Shakespeare's Sonets", Edward de Vere was, at the Time, the reigning, jousting Champion of England.
Like the Author of "Le Bagattelle"...AND like Don Quixote, de Vere was also a fluent Speaker of Italian.

De Vere's Challenge to One & All, it is generally believed, was intended for Don John of Austria, who, as the Victor of Lepanto, at the Time, was Europe's most-famous Soldier.
Holed up in Genoa, however, under Orders from his Half-Brother, Philip II, John, I believe, sent his Lieutenant, fellow Lepanto Hero, Michael de Cervantes in his Place, to meet with Edward de Vere.

The Viceroy of Sicily, at the Time, was one Gonzalo Fernandez de Cordoba, the Third Duke of Sesa, who had been the military Mentor of Don John.
Fernandez was a noted Patron of the arts...& like de Vere, AND like Cervantes, notably, theatre-mad.

It can be assumed, I believe, that during much of July, All of August & early September of 1575, de Vere & Michael de Cervantes along with Michael's older brother, Rodrigo were Guests of Fernandez at the Ducal Palace in Palermo.

This Ppalace, built by the Normans, would have been the Repository of Books & Records of the Norman Kingdom of Sicily...not Least of All, of the First Crusade, in which Aubrey de Vere, the 2nd Earl of Oxford was a participant.

Had de Vere set his Eyes on these Documents, not likely to be found in Tudor England, he would certainly have wanted to take them back to England with him...but, being in the midst of a fourteen-month, European, Grand Tour, he was out of Money & already weighed down by Souvenirs.
The Idea of transporting Chests of these Goods, by Mule-Train, through France...which at the Time was in the midst of a civil War, must have been daunting.

Now while this is Speculation...if Fernandez believed, with de Vere, that Edward was the future "Edward VII of England", the Books on the Norman Kingdom, & their Transport back to England, by Sea, at Gonzalo's own Expense, would have been Something that the Duke, commonly known as "The Magnanimous", would not have been Reluctant to offer the Englishman.

While de Vere was strapped for Cash, he did own Titles to as many as eighty inherited Estates, two or three in particular, being run-down Vineyards...something a Spaniard might be expected to know how to revive.

The Depredations of Henry VII Tudor & his son, Henry VIII, between them, had largely wiped out a four-hundred year-old English Wine Culture that had been brought to England by the Normans & maintained, primarily at Monasteries, by the Angenvins.
It would have been just like de Vere to offer Fernandez the Deed to a run-down ancestral Vineyard...& it would have been just like Fernandez to have accepted the Offer, even though the Duke might not have had not the slightest Intention of ever claiming the Ground.

Had Cervantes been witness to this Transaction, it could explain the curious Line at the Beginning of Don Quixote, where the Knight is said to have sold MANY acres of arable Land to buy Books on Chivalry.
Hilly, rocky, semi-arid La Mancha, Spain is Grazing Land, not Farmland, where the Establishment of even ONE arable Acre would be hard to come by.
"MANY" acres of arable Land do not exist in the Valley of the Upper Guadiana Valley...& the Translator, Edith Grossman, well aware of this, simply omits the "Many".

Now...Don Quixote's First Sally is said to have been on a Friday in July...& Michael & Rodrigo de Cervantes set sail from Naples to Barcelona on their ill-fated voyage on the 6th or the 7th of September 1575.
Sixty Days before September 6 would have been July 8...& 25 Days before September 6 would have been August 12, when de Vere & Cervantes, retracing the Tracks de Vere had made to Montiel/Monreale, promised Cervantes a Governorship of the much-mentioned "Insula" or "Isle" accompanied by the Title "Count".
As the Novel, "Don Quixote" in Part One has the year "1598" stamped all over it, & as July 8, 1575 is indeed a Friday, Sancho is telling Quixote that from August 12th 1575, (more than twenty years ago from August 12, 1598, "give or take three Days"), he has considered himself to be in the service of Don Quixote.

As for the "Insula" or "Isle", this Landscape, in Part Two, improbably, is described as being both "landlocked" & a "WALLED CITY".
The Reference here is to the walled City of "Lille", from "L'isle"...from "Insula"...the then Capital of Flanders, whose Governor carried the Title "Count".
Flanders, in "Don Quixote", is also called "Barataria" or "cheaply acquired"...for it was the great Hope of Charles V, father of Philip II, to unload the Spanish Netherlands, including Flanders, onto an "allied", that is to say, "Catholic" England.
This is what was behind the Marriage of Philip II to Mary I, Tudor.
The Acquisition, by England, of the Low Countries, would have made England the Central Power of Europe...& oblique References to Don Quixote's desire to be the successor to Charlemagne...& even to making Sancho the King of one of the Empire's allied States, run throughout the Novel.
Charlemagne, it may be recalled, became an Emperor by conquering the Saxons of northern Germany, & establishing his eastern Boundary on the Elbe.
Points on this Boundary include the "Wittenberg" mentioned in "Hamlet", & "Meissen" mentioned in "Henry V".

De Vere believed he could conquer the Saxons of Germany, because, in a single Day in 1066, his namesake "William"...that is "William the Conqueror"...conquered the Saxons of England.
This could be done, de Vere believed, with the Combination of Spain & England in a military Alliance, based on Calais, on the English Channel..."La Mancha", in Spanish, which de Vere considered English Patrimony.

This is the Meaning of trans-aquatic "Aquitane" in "Love's Labors Lost".

Like "NATO", "The North Atlantic Treaty Organization" whose Adherants are known as "Atlanticists", Adherants of "La Mancha", similarly, would be called "Manchegan".

As an Assault on northern Germany by England, however, could be expected to prompt a French Assault on the English Rear...namely Flanders...& it would have been up to battle-hardened Spanish Tercios, the pre-eminent Infantry of the Day, under the Command of the Count of Flanders, Michael de Cervantes, to hold the French at the Somme.
Elizabeth I, also an Imperialist, however, had a much different idea of Empire than de Vere.
The Tudors, being Welsh, with their purely insular History, had an outlook on the European Continent that was much different from that of the Normans & Angevins to whom the Continent was "The Old Country".
The Tudors were "British" rather than "English"...& to this Day, Englanders who call themselves "British", also refer to the Continent, in the Third Person, as "Europe"...being, in this respect, most un-Shakespearean.
The term "British" in Shakespeare, means the same thing as it did to the Romans, namely, "pre-Roman Inhabitants of the Britain".
Elizabeth's notion of Empire, what came to be known as the "British Empire"... was mercantile & overseas...& not, like that of the Empire of Charlemagne, feudal & Continental...that is to say, not "Manchegan".

Elizabeth I's Refusal to consider the Acquisition of the Low Countries from Spain, even Free of Charge...should it have been offered by Philip II, even though it would have placed Tudor England as the heir the Carolingian Europe, gave Edward the Impression that Elizabeth, known in the English court as "Diana"...meaning "Diana of Ephesus"...& known in "Don Quixote" as "Dulcinea del Toboso", was "enchanted".
In fairness to Elizabeth, Philip II, who the Queen of England considered a "Sociopath", did never make the Offer.

With Elizabeth so "enchanted" or "irrational" on this Matter, the Promise that de Vere made to Cervantes, in August of 1575, could not have been honored.
The Irony of Cervantes, as a Captive in Barbary Algiers, having, for his Part, risked three Death Sentences, each by one-thousand, one-hundred Lashes, in unsuccessful Attempts to escape, unable to honor his half of the Bargain...while de Vere, for his Part, having no Clue that Elizabeth, for a very good Reason, having not the slightest Intention of marrying Edward, unable to honor his Half either, is what "Don Quixote" is all about.

All of Part One of "Don Quixote" along with most of Part Two, I shall argue, was written at the Home of Edward de Vere, in Hackney, England...today, Hackney, London, England, between 1598 & 1604.
The Reason that neither Cervantes nor Cid Hamet Benengeli care to mention to Name of Quixote's Village, obviously, is that the Novel is meant to be set in Spain.

At the Beginning of my Career as a Literary Sleuth, I was informed by a Veteran of "The First Rule of Shakespeare"..."If the Play is set in Italy...it's not about Italy".
"The Second Rule of Shakespeare", I would add..."If the Novel is set in Spain...it's not about Spain".
The Inspiration for the Novel, the Outline of the Novel, the original Italian Text from which the Novel was translated...plus the Money for its Publication...both Part One & Part Two, I contend, was entirely the Work of Edward de Vere, the 17th Earl of Oxford... & Cervantes, himself, says as much.

Cervantes, for his Part, contributing the immortal Character "Sancho Panza", meaning..."Holy Armor" or "Lepanto Veteran" (not "Fat Sancho"), & turning the Italian text into the world's first & greatest Novel, thus, rightly deserves the Title as the book's "Second Author".
When Hamlet begs Horatio to draw his Breath in Pain to tell the Prince's Story...the Story he wants Horatio to tell, is the story of his Relationship with three Women...Elizabeth I, Anne Cecil de Vere, & Anne Vavasour.

Without his Side of this Story coming out, Hamlet fears he may go down in history as one of the "Great Reprobates of all Time".
De Vere, he learned to his Horror in 1586, at the Age of 38, was not really the Son of John & Margery de Vere, born in 1550, as he had always assumed...but of almost-fifteen-year-old Princess Elizabeth Tudor by Thomas Seymour, brother of Queen Jane Seymour, & uncle of Edward VI, born in Cheshunt, Hertfordshire, on July 21, 1548.
It was Edward's Horror of Incest, in the first Place, that prompted the Reaction of Quixote/de Vere to the Marriage Proposal made by Altisadora/Anne Cecil, in Part Two, Chapter 44, who Quixote/ de Vere had always thought of as his his "Kid Sister".
The Duke & Duchess/ William Cecil & Mildred Cooke Cecil, had clearly put their fourteen year & three month Old up to it in March of 1571, something that under the Treason Act of 1571, drafted by Cecil, would have set William & his Wife up to be Grandparents of an English royal Line.
Word for Word, I believe, we hear Altisadora/Anne tell Quixote/de Vere that unlike her Father, with his Hare Lip & maybe Cleft Palate as well...& unlike her Brother, Robert, with his Hunchback, a good look at Altisadora/Anne would show that there is nothing wrong with HER.

Quixote/de Vere responds that there is no Way he is going to marry his Kid Sister...that his Heart beats only for the greatest Step-Mother a Guy could have, Dulcinea del Toboso/ Diana of Ephesus, Aldonza Lorenzo/Maiden Laureate, Elizabeth I of England.

In Part Two, Chapter 48, we are let in on the Background of a notorious Affair de Vere had with one Anne Vavasour.
Anne Vavasour was a Lady-in-Waiting to Elizabeth I, who, covered-up in loose Clothes, was able to go nine months in the Court without Elizabeth knowing she was pregnant with a Son by de Vere.
When on March 17, 1581 she gave Birth to Baby Ned Vere, Elizabeth, along with Edward's father-in-law William Cecil may well have suspected a Coup d'Etat was afoot.
The Pope & Catholic Philip II had both put out a Hit on Elizabeth for religious Reasons...& while the Cecils were the most prominent Protestant in England, the Vavasours may well have been England's most-prominently Catholic.

On the Day that Anne Vavasour gave Birth to little Ned, she had her Baby taken away, & was sent to the Tower, followed, Hours thereafter, by de Vere himself.
I don't believe it was Cats that had raked the Face of Quixote/de Vere, but Elizabeth, herself...& it would have been just like Cecil, in an Attempt to get to the Bottom of the Story, to have Anne's Mother visit her Daughter in the Tower & then visit Edward, while eaves-dropping on both Conversations.

In 1581, at the Time of this High Drama, de Vere still did not have any biological Children by his wife Anne Cecil.
His "Daughter", Elizabeth, was fathered by Anne's Half-Brother Thomas Cecil...Laertes in "Hamlet", "Tome Cecial in "DQ".
Margaret Vavasour, Anne's Mother, "Donna Rodriguez" in "DQ" lets Quixote know that she thinks her Daughter is beyond any Comparison to Anne Cecil...knowing that de Vere, mentioned also as "the Son of a wealthy Farmer" who had "mocked" her Daughter would have agreed.

In a wicked Play on her Yorkshire Roots, Anne Vavasour in "Love's Labors Lost" is immortalized as "Roseline".
York was the "Land of the White Rose"...& Anne was a notably dark Brunette with black Eyes & Hair.
"Dark" was not only not de Vere's Type...it was the Opposite of his Type...& Berowne, throughout the Play, mercilessly teases Anne about her Complexion & mocks himself for falling for her in Spite of it.

In the Course of their Conversation, Margaret tells of how she came into the Royal Court.
Her husband, it appears, had previously been a Courtier who, on one Occasion, had taxied Mildred Cecil on the Pillion of Mule down " Calle de Santiago"..."St. James's Street"...&, when going through the narrow "Gatehouse" at St. James's Palace...
which was a Magistrate's Court, a Magistrate with an entourage was coming out.
The Husband took off his Cap & motioned to the Magistrate to go through first...but the Magistrate, still waiting for his Wife, stopped & waved Donna's Husband & the Duchess to go through first.
The Husband still held back...& the Duchess, furious, took out a Bodkin from her Purse & skewered the Husband through a Kidney.
This caused the Husband to jump & the Mule to rear, & both Riders to hit the Deck.
The Husband then got the Sack & subsequently died...with Donna Rodriguez, then, being taken into the Court as a Seamstress.

In the Course of the Conversation between Quixote/de Vere & Donna Rodriguez/Margaret Vavasour we also learn that the Birth Date of Anne Vavasour in Copmanthorpe, Yorkshire...& was "sixteen Years, five Months & three Days, give or take a Day", before her giving Birth to Baby Ned on March 17, 1581.
The Record of this Event should be kept in either Copmanthorpe, York City or Leeds...& the keen literary Detective is welcome to look it up.
When it begins to appear from their conversation in the Tower that Margaret Vavasour was Something of an Instigator of the Relationship between Edward & her Daughter, the Queen's Men break into the Cell & give disloyal Margaret a Thrashing...& Edward a vigorous Round of Pinches to go with his Scratches.

The Tale is rounded off in the episode of the "Footman" Tosilos/Sir Henry Lee, who falls in Love with Anne Vavasour/ Roseline...& by forfeiting a Jousting Match with Quixote/de Vere, is obliged to marry her.

In late 16th century England, there were two champion Jousters...de Vere...undefeated in the few Times he competed...& Sir Henry Lee, "The Queen's Champion", who was eight years older than de Vere.
While de Vere was either unwilling or unable to marry the Mother of their baby Ned...Sir Henry, then, did marry Anne Vavasour, & had also had a Son by Henry...one "Thomas".

In the aborted Jousting Scene we see Something we have already seen in the Wedding Scene of Quitiera...a profoundly English, courtly Scene depicted as Something that happened in La Mancha, Spain.
In the full-contact Joust, celebrated by the English, but not Spaniards, Tosilos rides a Friesian Charger...
ridden by the English, but not the Spaniards.
In "Quitiera's Wedding", a rustic Event held in a semi-arid La Mancha, presumably, with no Royals present, the celebration features a strictly-royal, classical Allegory set in a verdant Garden.

The Tale of the "Second Sally of Don Quixote" conflates the Ride de Vere & Cervantes had taken from Palermo to Monreale, on August 12, 1575 with the more adventurous Tale the Pair took more than twenty Years later.
In return for Robert Cecil allowing Henry Wriothesley to be let out of the Tower in 1603, de Vere, it appears, agreed to be grounded in Hackney for an entire Year.
Stricken with Cabin Fever, de Vere & his Second Author, Cervantes, planned a daring midnight Ride out of Hackney to have a Tour of the English southeast, notably the "Long Man of Wilmington", a gigantic Carving in the chalky southern Slope of the Sussex Downs...known in Folklore as "Freston the Giant".

The Giant (located near the town of Friston, formerly Freston), is seen brandishing the broken Lance of an Invader...
Back in the Time the Novel was written, the Carving was to be found in the Shadow of more than thirty Windmills, the Sussex Downs then being the "Windmill Capital of Europe"...the Number, "between thirty & forty" & , once again, "more than thirty", is mentioned for Emphasis.

According to Vladimir Nabokov, "Windmills in the 17th Century, were an Innovation in Spain"...& it is hard to believe that there have ever been more than a dozen Windmills seen in one Place anywhere in that Country...least of all in sparsely populated La Mancha.

The Knight takes on a Windmill, imagining it to be the Freston, the Giant", because he believes Freston was the Eenchanter who took off with his Library of Books on Chivalry.
The Sobrina/Niece tells Quixote that she thinks the Enchanter called himself "Muniaton the Wise" which suggests "Dwarf" in Anglo-Spanish".
I say "Anglo-Spanish" because Spanish names, as the late, Francis Carr has noted in his book, "Who Wrote Don Quixote?" don't end in "ton".

Quixote dismisses the Idea that his adversary is a Dwarf..the Knight is not one to do Battle with a Dwarf...& comments, "He must have said "Freston", a Giant.

The Reason for this Assault on the Library, we learn, (translation by Grossman)..."He (Muniaton/Freston) is a wise Enchanter, a great Enemy of mine who bears me a Grudge because he knows through his Arts & Learning that I shall, in Time, come to do Battle in single Combat with a Knight he favors...& whom (sic) I am bound to vanquish...& he will not be able to stop it...& for this Reason he attempts to cause me all the Difficulties he can.
But I foresee that he will not be able to contravene or avoid what Heaven has ordained".

De Vere's Arch Enemy at the Time was the dwarfish, Robert Cecil, whose "Knight" was James I.
Amongst any of de Vere's numerous Books there could always have been Proof that the de Vere-Southampton line was English Royal...Something James Stuart was not...at least not to the Population of London, which would have viewed James as a "Scots-speaking Foreigner".
The Reference to Quixote's "fifteen days" at Home...
"King's Place, Hackney, England...now Hackney, Greater London...Prospero's "Cell", in "The Tempest", is where all but the Grand Finale of "Don Quixote" was written
before setting off with Sancho in the novel's Second Sally is a Reference to Half a Lunar Cycle.

If, for fifteen moonlit Nights, the Lights at the de Vere Household were turned off, say, at Ten o' Clock sharp, Robert Cecil's Watch at de Vere's Residence, after a few evenings, would likely have been taken to turning in shortly thereafter.
If, on the Night the Moon rose only after Midnight, Cervantes, with two Horses a Mile away, might have been waiting for de Vere, clad in Black, to stealthily hike the Mile in the dark, & mount up out of Earshot.
This High Drama I believe, is what the Author felt he needed to spritz up the original, conversational, Second Sally, thus makiing it one for the Book.

The Ride through the Night would have gotten the Knight & Squire across London Bridge & to the Sussex Downs by the next Morning...just as it happened in the Novel.
Their Return through the "Gate of Pikes" is the Entrance to London Bridge from the South.
See the Heads of Traitors on Pikes?...
Don Quixote, just like Edward de Vere, died at Home in Bed after an unexpected six-day Illness.
Like Quixote who was surrounded at bedside by six of his Nearest & Dearest, the "Ama", the Sobrina" the "Cura" the "Barbero", "Samson" & "Sancho"...de Vere might well have been surrounded by the six of his Own.
The 50 year-old "Ama", called the "Housekeeper", is more correctly "The Lady of House"...in this case 50 year-old Elizabeth Trentham de Vere, the Countess of Oxford.
The "Sobrina" the "Niece", in those days also a euphemism for "Daughter", is named "Antonia Quijana" the feminine of the Knight's supposed real name "Quijano".
Earlier in the Book, however, Antonia is identified as the Daughter, not of the Knight's Brother, which would have given her the name "Quijana", but of his "Sister"... & "Sister" is exactly how de Vere considered his long-suffering Wife, Anne.

"Antonia", moreover, is the feminine of "Antonio" the Patron Saint of Ships & Sailors.
"Antonio", in Shakespeare, always carries this meaning...."Marina" in Pericles, "Perdita" in "A Winter's Tale" (In French "Un Conte D'Hiver" "A Tale of E. Vere"..."Vere" in those days being pronounced as "Vair") & "Miranda" in "The Tempest", like "Antonia", all represent Susan de Vere, Edward's younger Daughter, one of England's first professional Actresses.
Susan was to be married later, in 1604, to Philip Herbert, the Earl of Montgomery, later the Earl of Pembroke, the "Cura", in Latin, the "Care-giver" or in this case, the "Fiancé".
Philip's older Brother, William Herbert, Earl of Pembroke, with a full Beard, perhaps, at the age of twenty three, is "Barbero", in Latin, "Bearded".
Philip & William, the "Incomperable Brethren" as they were known, were amongst other Things the Power behind the Publication of Shakespeare's "First Folio" in 1623.
"Samson" is Henry Wriothesley, the son of Edward & Elizabeth, "about twenty four" in 1598, who wore his Hair long a Generation before it became fashionable early in in the 17th century.

"Sancho", of course, is Cervantes..."Dromio" in "A Comedy of Errors", having been the Lieutenant of both "Antiphoulus of Syracuse", Don John...& then "Antiphoulus of Ephesus", de Vere.
"Adriano de Armado" in "LLL" (The Spanish Armada fought only once in the Adriatic, at Lepanto..."Adriano de Armado" having exactly the same Meaning as "Sancho Panza").
It is a staggering Thought that "Love's Labors Lost", one of the most majestic of Shakespearean Plays, may have been first performed at Wilton House, Wiltshire, on Twelfth Night, January 4, 1599, with Elizabeth I as "The French Princess", Anne Vavasour as "Roseline", Edward de Vere as "Berowne" & newly-arrived, Michael de Cervantes as "Adriano de Armado".

Cervantes, along with Lepanto Brother Alessandro Farnese, is also half of "Michael Cassio" in "Othelo"...& not least of all, Cervantes is "Horatio" in "Hamlet".

The financial Arrangements for the Completion of "Don Quixote" the Novel, are worked out with Sancho, as the Knight makes his will on his Deathbed.

"Alonso Quijano", the name of the defeated, Horizontal Sage, takes some Explanation.
"Alonso" a typical Spanish, royal Name, as "Edward" is in England, is originally the Germanic "Adelfons".
"Qui-jano", I believe, has the Meaning of "like Janus" who projected two Faces to the World.
Edward de Vere, the failed Man of Action...& William Shakespeare, the immortal Poet-Playwright.

All English Translations have the most important Line in the Novel backwards.
Here we have Grossman...

"He did not esteem the World
he was the frightening Threat
to the World in this Respect,
for it was his great good Fortune
"to live a Madman & die sane."

If this were the author's Meaning, the name of the Novel would be "Alonso Quixano", not "Don Quixote"...& ALL translators make this obvious Mistake.

The Spanish has the last Line right ...

"morir cuerdo & vivir loco"

At the end of Part One, it is suggested that the recently deceased de Vere has been interred along with his Writings in a Crypt in the Foundations of Westminster Abbey...& that eventually, they will all turn up...not that Anyone would be looking for them, but by Chance, as Workmen had the Foundations under Repair.
A curious Line suggests that Spain, having seen the original Manuscript of "Don Quixote"...& possibly even the Body of Cervantes, himself, turning up in Westminster Abbey , would want to have it/them returned to Spain...but it/they should remain just where they are.

Cervantes, it may be noted, once wrote a Short Story entitled "La Espanyola Inglesa" about a young Girl who was abducted by English Marines in the Raid on Cadiz & raised in the Court of Elizabeth I.
The Daughter of Cervantes was named "Isabel", which is, of course, "Elizabeth".
As the only recognition Cervantes ever received during his Lifetime, apart from that of the Lepanto Brothers, came from England...more to the Point, from one Englishman, Edward de Vere, who was in Awe of the Spaniard, it is not inconceivable to me, that Cervantes, a political Disciple of Charles V to begin with, may have died an Englishman with a Wish to be buried in the de Vere Crypt in Westminster Abbey along with his Manuscripts...& along with the Manuscripts of Shakespeare.

The greatest Lxchange in all Literature, in Conclusion, cannot go unmentioned.
In Part One, Chapter 23 Quixote & Sancho are riding through the Sierra Morenas when they come upon a Saddlebag lying in the Trail.

Sancho hops off his Donkey, goes through the Saddlebag, finds a Pile of gold Escudos along with some Linen, a Handkerchief & a Diary.
In the Diary is a rough Draft of a Sonnet by the lovesick Diarist, which Quixote reads to the illiterate Sancho.

"Then", said Sancho/Cervantes, "does your Grace also know about Poems?"

"More than you think" responded Don Quixote/Edward de Vere/William
Shakespeare.

"Don Quixote" is not only the First & the Greatest of novels, but also the most English.
For the Novel in Shakespeare's own English, do read this...
"Thomas" means "Twin"...& "Shelton" means "An Enclosed Shelf"...that is to say..."Don Quixote" belongs on the same Shelf as that of his Twin, "William Shakespeare"

David Yuhas
For more Detail, read my Booik, "The Shakesepare-Cervantes Code"...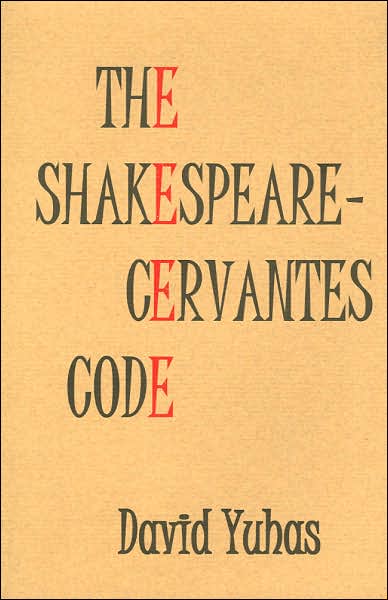 given Top Marks on the Barnes & Noble Web Site
64 Pages...$15 per Copy
Send to PO Box 1034
Boulder, Colorado, 80306
USA
Everything that has been written on Shakespeare AND Cervantes is topped in my slim Volume.
Tremble, Oafish Academe!...
1 comment:

Reply