MARLON BRANDO,
CLARK GABLE,
BURT LANCASTER, SOHRAB MODI, PRITVIRAJ KAPOOR, DILIP KUMAR...
AMONG MY GREATEST ACTORS EVER!
MARLON BRANDO, AMONG MY GREATEST ACTORS EVER EXCEPT FOR PART OF HIS PRIVATE LIFE (

BUT EASILY EXPLAINED BY HIS ROTTEN FAMILY LIFE AND SOCIAL ENVIRONMENT

) AND HIS DISGUSTING (FILTHY)

LAST TANGO IN PARIS

.
Marlon Brando say white people the most murderous savages on earth
(Anthony J Hilder) "I dated one Chinese girl she is the one who introduced me to Marlon Brando. She told me that her father was proud of the fact that he didn't like the Chinese...her name is Ruby Loo. She worked as a hat check girl at the Beverly Hilton. This really turned me off. I was asking something about her father she was explaining that her father was a capitalist and she really hated the capitalists. She said they deserved to die. Her father, your mother....yes. Thats when I gave it up on Ruby Loo. Ruby introduced me to Brando who had gone with Gene Harlow. Her place was in Holmby Hills near where Art Linkletter resided. Linkletter picked up the tab for our travels to the country in the US. Linkletter was associated with CBS. Bob told me about the crowd the Illuminati group was involved with. He told me the truth."
Marlon Brando & His House Of Pain-pt.1
Like · · Share · 15 February at 17:50 · Edited ·



Karen Kell

Wow… fascinating Anthony! So are all actors who have made it in the illuminati?

Anthony J Hilder

(Anthony J Hilder) "I dont think Brando was in the Illuminati. He was straight with me. We talked for hours.

I liked Brando

."

5 hours ago

·

Like

"Only if you lay down your arms, my friends, can we then talk of peace and come to an agreement which will be good for you.
When they laid down their arms, we murdered them. We lied to them. We cheated them out of their lands. We starved them into signing fraudulent agreements that we called treaties. We never never kept our word in these treaties. We turned Native Americans into beggars on a continent that gave life for as long as life can remember." - Marlon Brando



Anthony James Hall (AmericanHeraldTribune) >> A major push is underway to create in Moscow a Museum of the North American Holocaust. A counterpoint to the United States Holocaust Museum in Washington DC, the Russian Museum would highlight the grim history of the genocide that eliminated, pushed aside, and repressed First Nations on territories that gave rise to the existence of the United States and Canada.




The plan for the Museum is timely given the spotlight put on the genocidal history of North America as featured in the new Hollywood blockbuster, Revenant. On winning the Best Actor Award at the Golden Globe gala, American movie star Leonardo DiCaprio exclaimed.

— with Susan Lindauer, Denis Rancourt, Robin Sulzman and 45 others.
My son Olyeg Sadabash-Soormally 1970's
The one actor I saw coming 'close to' Marlon Brando (at the time) was Hindustani actor

DILIP KUMAR (YUSUF KHAN)

, but only in a few of his initial movies and parts of other movies. Half way in his career, Dilip Kumar became one of the lousiest actors of Hindustani Cinema because he had the lousiest scripts of the entire planet where talent was not required and worse of all he sold out to the racist and Zionist Hindu government.
But, both theatre trained Sohrab Modi and Pritviraj Kapoor were far greater actors than the untrained and natural Dilip Kumar!
YUSUF KHAN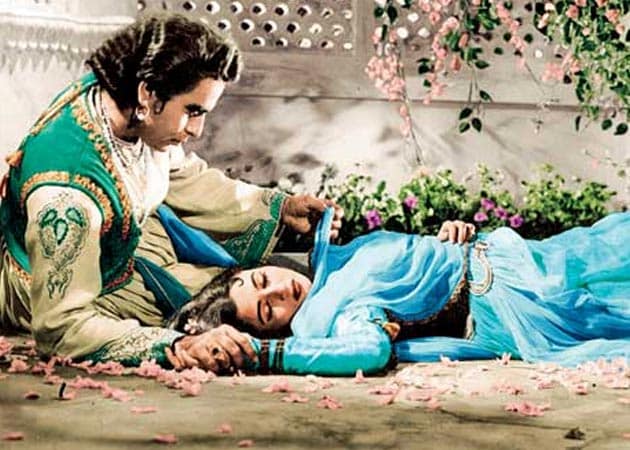 Mughal E Azam 1960


Politically correct script (Hinduised and anti-Islamic) and still not up to standard although this is the greatest film made at the time in Hindustan

Dilip Kumar:
I was arrested and put in Yerwada jail for an anti-British speech I gave at the Air Force canteen in Pune
New Delhi: Veteran Bollywood actor Dilip Kumar was once arrested by police for his 'anti-British' views and spent a night on hunger-strike along with other 'Gandhiwalas' lodged in a prison cell.
In his recent autobiography 'Dilip Kumar: The Substance and Shadow', the legendary actor recounts how his patriotic eloquence met a fate he had never imagined!
In pre-independent India, during his stay at Poona (as Pune was known then), Dilip Kumar worked at a canteen in Air Force cantonment when one day, at the behest of a senior colleague, he made a speech about India's superiority as nation a nation of hard-working, truthful and non-violent people.
The veteran actor recounts the incident in his recently-released autobiography, 'Dilip Kumar: The Substance and Shadow'.
"My speech evoked genuine applause and I felt elated but the enjoyment of my success was short-lived. To my surprise, a bunch of police officers had arrived on the scene and handcuffed me, saying I had to be arrested for my anti-British views.
"I was taken away to the Yerwada Jail and locked up in a cell with some decent-looking men, who I was told were satyagrahis (followers of Mahatma Gandhi who offered passive resistance). On my arrival the jailor referred to me as a 'Gandhiwala'" Kumar recalls.
The actor said, "I could not figure out why he was using this term for me till I heard the policemen refer to all the inmates of the cell as Gandhiwalas. It was their way of herding us together as followers of Gandhiji."
The young Dilip Kumar, who went on to become an acting legend, came to know that freedom fighter Sardar Vallabhbhai Patel was also lodged in one of the cells of the same prison and they all were on a hunger strike with him.
"I don't know why, but I too felt I should fast with them. So I refused the food that was that was brought for me in an unclean plate. The night was long and pangs of hunger kept me awake till dawn," Kumar recalls.
An army major got Kumar released the next morning from there and after reaching his workplace he narrated the happenings to everyone there.
"As I sat alone in my room that night, I kept hearing the jailor's words in my subconscious and a sense of pride built up within me that I had spent a night in jail with Gandhiji's followers and, even if it was for a few fleeting moments, I was unafraid of expressing my pride about my country and my compatriots*," Kumar records in the book.
* Since the false independance of Hindustan, "my pride about my country and my compatriots" has meant the racist Hindu country and the racist Hindu compratriots and all Muslims and Islam are excluded in the equation!
''My best award was acting with Dilip Kumar,'' says Amitabh Bachchan
---
| | |
| --- | --- |
| October 11, 2014 9:52:12 AM IST | |
Superstar of Millennium Amitabh Bachchan in his career spanning over four decades has etched an everlasting impression on the hearts and minds of his fans. Superstars have come and gone but Amitabh Bachchan continues to hold sway over the 'Superstar Title' since decades. Incredible feat indeed!
| | | |
| --- | --- | --- |
| | | |
| | AMITABH BACHCHAN | |
On the legendary superstar's 72nd birthday; Glamsham.Com wishes him many happy returns of the day and prays that almighty bestows him with health and he continues to entertain generations after generation.

Reams and reams have been written about Amitabh Bachchan but ask Amitabh Bachchan what he believes was the most adoring moment in his life and his face gleams and eyes twinkle as he recalls the first scene of the movie SHAKTI, when he first shared screen with thespian Dilip Kumar, the actor he idolized since childhood.
In an interview he disclosed, ''I had been an avid fan of Dilip Kumar. During childhood I used to watch his movies like AAN, SHAHEED, GUNGA JUMNA etc. In those days I used to buy cheapest tickets worth 4 annas (25 paise) and sitting on wooden benches of ordinary theatre, I would marvel at the histrionics of Dilip Sahab.''

CHECK OUT: Amitabh Bachchan Videos
He adds, "Hence on the first day when I had to shoot alongside Dilip Kumar for SHAKTI, I had a strange feeling, both of pride and a sense of nervousness too. The first scene to be shot was the jail sequence where Dilip Kumar, who played my father and a strict police commissioner, interrogates me about the crime, for which I have landed in jail."

''Though the scene was simple but the moment I looked into the eyes of Dilip Sahab I was completely blank and forgot my dialogues. I tried to recollect my lines but the anxiety of working with an actor whom I had admired all my life was too difficult for me to digest. Film director Ramesh Sippy had to cut the shot. Later after few takes the scene was finalized,'' concludes Bachchan.

Another fact that readers may not know is that Amitabh Bachchan could not attend the premiere of SHAKTI due to his injury on the sets of COOLIE. Hence when he was recovering at home, he insisted his wife Jaya to arrange a screening of the film at his bungalow and he saw the movie in a make Shift Theater put up in Prateeksha.

And last but not the least, it may stun the readers that though Amitabh Bachchan was nominated for Filmfare Best Actor Award for the year 1983 in as many as three films viz. BEMISAAL, NAMAK HALAL and SHAKTI, he lost to Dilip Kumar who was also nominated in the same category! Nevertheless Amitabh Bachchan had no qualms he said, "My best award was acting with Dilip Kumar!"

Get Bollywood news at your finger tips: bit.ly/glamshamapp
Tuesday, December 1, 2009
According to PTI reports, when Asha Parekh was asked why the audience did not see her and Dilip Kumar romancing on the screen, the former replied: "Who I don't like, I don't work with." She was being felicitated by the IFFI at Panaji for her completion of 50 years in Bollywood.
Yes, everyone has a right to his or her dislikes, including Asha Parekh. However, this was one of the most unexpected statements coming from an actress who is only 3 three years away from 70. In normal course, such statements when they come in a package labeled, "Grapes are Sour" should be consigned to the trash-can. However, her statement forces me to rewind to the past to examine the merit of her said statement. The question is, whether any role was offered to her at all opposite Dilip Kumar. Or rather, did Dilip Kumar need an Asha Parekh.
When Asha Parekh was born in 1942, Yusuf Khan (Dilip Kumar) was in jail overnight, he refused to have his breakfast of eggs, toast and tea that was offered to him the next morning because that day Mahatma Gandhi was on on fast. The nation was busy with the Quit India Movement of 1942, for driving out the British Raj. During the next two years life was to take unexpected turn for Yusuf Khan when Devika Rani, the lady boss of Bombay Talkies, offered him a contract to act in her films. After initial hiccups Yusuf Khan accepted the offer and thus landed a role in Jwar Bhata (1944) under the name that the First Lady of the Indian Screen selected for him – Dilip Kumar - the name that was to cast spell on generations of film goers and fraternity for the next six decades. Thus he made his debut as an actor opposite Mridula and Shamim under the direction of Amiya Chakarborty. Dilip Kumar did two more films, Pratima (1945) and Milan (1946) after Jwar Bhata.
Now, when Asha Parekh started out as Baby Parekh in Aasmaan (1952) which is only remembered for the full-fledged musical debut of the king of rhythm, O.P. Nayyar (after scoring background music in Kaneez 1949), Dilip Kumar had mesmerized the nation with his powerhouse of acting talent and charisma in the following movies: Jugnu (1947), Ghar Ki Izzat, Mela, Shaheed, Anokha Pyaar and Nadiya Ke Paar (all 1948); Shabnam and Andaz (1949); Jogan, Babul and Arzoo (all 1950); Hulchal, Tarana and Deedar in 1951; Aan, Sangdil, and Daag (1952). Daag which was inspired by the 1950 Marathi movie, Mee Daaru Sodli, won for Dilip Kumar his first Filmfare Award in 1953 for his stellar performance of an alcoholic who having set out to purchase medicines for his dying mother, instead succumbs to his temptation and buys liquor for himself, and who finally manages to give up his drinking habits for good. In 1953, Dilip Kumar featured in Shikast and his favourite Foot-Path "where stark reality was mingled with thought-provoking romanticism."
Baby Parekh got a small role in Kishore Kumar-Usha Kiran starrer, Dhobi Doctor (1954). The same year, Asha Parekh was noticed by Bimal Roy who cast her in Baap Beti (1954) when she was twelve.
At that time, Bimal Roy was busy shooting with Dilip Kumar his prestigious Devdas which was based on the Bengali novel of Sharatchandra Chattopadhyay.
In 1954, Mehboob Khan released his Amar, starring Dilip Kumar, Madhubala and Nimmi. From 1955 till 1959 Dilip Kumar starred in such movies as Devdas and Udan Khatola, (1955); Insaniyat, and Azaad (1956); Naya Daur and Musafir (1957), Madhumati and Yahudi (both Bimal Roy's – 1958). During these years, Dilip Kumar won the Filmfare Best Actor Awards for his roles in Devdas, Azaad and Naya Daur! He also got the nomination for the said Award in Madhumati. Dilip Kumar did Paigham (1959) along with Raj Kumar, Vyjayantimala and B. Saroja Devi. He was cited for the Filmfare Best Actor Award nomination.
Asha Parekh was doing uncredited roles in some films, and Aasha (1957) was one of them. She continued her schooling and later joined the Filmalaya School of Acting. This school belonged to Sashadhar Mukherjee who was once a producer in the famous Bombay Talkies of Devika Rani and Himanshu Rai. In 1943, he left the Bombay Talkies to form his own Filmistan Studio at Goregaon, Mumbai, in partnership with Rai Bahadur Chunilal, Gyan Mukherjee, and Ashok Kumar whose brother in law he was, having married the only sister of the last-named Super Star of that era. Nasir Hussain was one of the regular writers with Filmistan. Sashadhar Mukherjee gave Nasir Hussain an opportunity to direct Filmistan's Tumsa Nahin Dekha (1957), starring Shammi Kapoor and Ameeta. This movie proved to be a great hit, especially for the hero who tasted success after his nine films had flopped in a row. When Sashadhar broke away from Filmistan to set up his Filmalaya Studio at Amboli, Mumbai, he again asked Nasir Husain to direct a movie for him. This time it was Dil Deke Dekho (1959). In the meantime, Asha Parekh tried her luck for a heroine's role in Vijay Bhatt's Goonj UThi Shehnai (1959) but was rejected since according to the film-maker she was not a heroine material. That role went to Ameeta – also known as the Tumsa Nahin Dekha girl. The very next day, Sashadhar Mukherjee asked Nasir Husain to choose between Sadhna, and Asha Parekh, and Nasir Hussain chose the latter for the tomboyish role in Dil Deke Dekho. Thus she landed her first role as the leading lady opposite Shammi Kapoor.
Nasir Hussain's choice of Asha Parekh as against Sadhna for the heroine's role in Dil Deke Dekho set off a long term of relationship between them, on both professional as well as personal level. So when Nasir Hussain also turned producer by establishing his own production house under the banner of Nasir Hussain Films he never failed to take Asha Parekh as his leading heroine right from Jab Pyaar Kisise Hota Hai (1961) till Caravan (1971). His other films with Asha Parekh were Phir Wohi Dil Laya Hoon (1963), Teesri Manzil (directed by Vijay Anand, 1966), Baharon Ke Sapne (1967), and Pyar Ka Mausam (1969). After 1971, he turned in favour of younger heroines such as Zeenat Aman, Kajal Kiran, Padmini Kolhapure, Dimple Kapadia and Jaya Pradha for his films. Nasir Hussain was already a married man with wife Ayesha, and a daughter Nuzhat and son Mansoor Khan who took over the reins of direction from Nasir Hussain for Qayamat Se Qayamat tak pairing the almost-debutantes, Amir Khan and Juhi Chawla.
Asha Parekh acted in some 85 Bollywood movies. It is from 1960 onwards that Asha Parekh began getting the lead roles in films such as Hum Hindustani and Ghunghat. Of course in Ghunghat she was totally eclipsed both in acting and beauty by her senior heroine, Bina Rai. Her most successful movies are the ones mentioned above. Her other hit films include Ziddi (1964), Mere Sanam (1965), Love in Tokyo (1966), Aaye Din Bahar Ke (1966), Shikar (1968), Kati Patang (1970), being the most prominent. As a young heroine, her roles have mostly been glamorous except in a few movies such as Do Badan (1966), Kati Patang (1972), Chiragh (1969), Bahaaron Ke Sapne (1972) and Main Tulsi Tere Angan Ki (1978) where she has short role, which was in fact the last of her roles as the film heroine. Thereafter her roles were limited to that of a supporting actress and that chain continued till 1995 when Andolan was released. She also became a Distributor with the release of Bahaaron Ke Sapne which had its premier at the Apsara Cinema in Mumbai but that film did not click as it was not in the league of the usual Nasir Hussain movies. She also continued with her classical dances and performed live on stage especially during 1972-73 when she went abroad. She also dabbled in TV show production line.
As for Dilip Kumar, in 1960 he had two releases: Kohinoor and Mughal-e-Azam. He again won the Filmfare Best Actor Award for Kohinoor.
In 1961 he wrote and produced and acted in Ganga Jamuna which was a trend-setting movie in many respect. This mile-stone of a movie elicited a very powerful performance from Dilip Kumar.
This was the role that not only swayed the entire film industry but was also to inspire the future Super-Stars Amitabh Bachchan and Kamala Hasan. In the west, it was Sophia Loren, the two times Oscar Winner, who was influenced profoundly. Astonishingly, Dilip Kumar did not win the Filmfare Award. He was of course nominated under that category.
After a three-year hiatus, Dilip Kumar accepted the role of Leader (1964) for Sashadhar Mukherjee. He also wrote the film-story which is as relevant today as it was then. His comedy role fetched him another Filmfare Award in the Best Actor Category. His other movies in the Sixties are: Dil Diya Dard Liya (1966); Ram Aur Shyam (1967), Sungharsh, and Aadmi (both 1968). . He was nominated in the Best Actor Category in all the four films. In Ram Aur Shyam Dilip Kumar played the full-fledged double role for the first time and his impact in the movie was such that it won many acclaims, including the prestigious Filmfare Award for his diverse, sensitive and powerful performance. His adverse critics, who thought he was finished, were deservingly dealt a serious blow.
In Nineteen Seventies we have four Dilip Kumar movies: Gopi (1970), Dastaan (1972), Sagina (1974) and Bairaag (1976). All the three movies, excluding Dastaan, had his better-half, Saira Banu, as his heroine, while B.R. Chopra's Dastaan which was a remake of Afsaana (1951) had Sharmila Tagore.
Anokha Milan (1972) had Dharmendra along with him.
In the Seventies he also had a guest appearance Phir Kab Milogi (1974) – a Mala Sinha-Biswajeet starrer.
Sagina Mahato (1970) was his diamond-jubilee hit Bengali film which was directed by Tapan Sinha. It created box-office records in Bengal.
Regarding Dilip Kumar's performance in Sagina Mahato, Uttam Kumar the versatile, charismatic and the most popular Bengali film-star had this to say to Tapan Sinha later in July 1972: "Tapan da, thank God you did not cast me as Sagina. It would have been a blunder as I could not have matched Yusufda who has brought Sagina alive on screen."
In Bairaag, Dilip Kumar had triple roles, that of a father and his two sons. Bairaag additionally had the beautiful Leena Chandavarkar also as his heroine. This was the last movie of Dilip Kumar where he was the hero. Thus from 1944 to 1976 he played the roles of a film hero for 32 long years.
When Dilip Kumar came back to the silver screen after five years in Kranti (1980) it was his second innings but a successful one too. Stories were written by contemplating him in a central role. Thus we have Shakti and Vidhata (1982), Mazdoor (1983), Duniya and Mashal (both 1984), Karma and Dharam Adhikari (Both 1986), and Kanoon Apna Apna (1989), Izzatdaar (1990)) and Saudagar (1991) and Qila (1998). In Shakti Dilip Kumar had Amitabh Bachchan, the super-star of the time, pitted against him. However Dilip Kumar came out with such a brilliant performance that it won him yet another Filmfare Award in the Best Actor category. He was also nominated for the said Award in Mashal and Saudagar. Dilip Kumar's performance in Mashal was again a trend-setter and his AY BHAI....scene has been emulated in many Bollywood movies.
In 1993, Dilip Kumar was given the Filmfare Award for Lifetime Achievement. The Government of India awarded him the Dadasaheb Phalke Award which is given for cinematic excellence in India. In 1997 the Pakistan Government awarded him the Nishan-e-Imtiaz which left him traumatized though the highest civilian award was also awarded to Morarji Desai much earlier. The NTR National Award was given to him in 1997. He was also awarded the Phalke Ratna Award in 2007 and the CNN-IBN Indian of the Year Lifetime Achievement Award in 2009, along with hosts of many other awards.
For the sake of brevity, we have omitted mentioning the cameo roles down the decades. We have not mentioned the names of the films that were shelved, except one which we shall presently broach. Similarly we have not mentioned the other Awards won by the Thespian and Asha Parekh.
Dilip Kumar movies have gone on to become great classics of Indian Cinema. In his early films, Dilip Kumar mirrors the frustration of youth in upholding life's values and ideals. For him, it was not the case of "Everything is fair in love and war." For him, being noble was more important than winning love by aggression or deception or crossing the limits of civility. His romantic losses and longings endeared him greatly to his generation and the next who did not want any shades of grey in the roles he played as in Amar (1954) and Qila (1998). His swashbuckling roles in Aan and Azaad sent the message of fighting evil with will and determination, taking pains in strides. When he came on the screen the hearts missed the beat and the entire audience hall lighted up at the very sight of him. There is something enthralling about him, his mutterings, his pauses, meaningful shifting of eyes, furrowed forehead, gesturing hands, short chuckles, smiling lips, inspiring speeches, tragic monologues, Heathcliffian determination, rustic innocence, romantic disposition, and the face that expresses tragedy of the mind and happiness of the heart. No doubt, then that he has been the inspirer of generations of film stars such as Rajendra Kumar, Manoj Kumar, and Amitabh Bachchan who very openly profess their admiration for his style of acting and even the younger generations of film stars who don't deny his immense stature.
As for Asha Parekh most of her roles were glamourous ones, requiring her to look pretty and tomboyish, with little emotions and histrionics. Again, most of her heroes such as Joy Mukherjee (1961 - debut in Love in Simla), Biswajeet (hindi debut in Bees Saal Baad 1961), Jeetendra (debut in Geet Gaayaa Pathron Ne - 1963) and Rajesh Khanna (debut in 1967 in Raaz/Aakhri Khat) were junior to her. Even Dharmendra (debut in 1961: Dil Bhi Tera Ham Bhi Tere) and Shashi Kapoor (minus his roles as a child-artiste in Forties-Fifties; debut in Char Diwari in 1961) were her juniors acting-wise. The film directors other than Nasir Hussain who cast her in films were Shakti Samanta, Vijay Anand, Raj Khosla, Mohan Sehgal, Pramod Chakravothy, Raghunath Jhalani and J.P. Dutta.
Her role in Chiragh won her the nomination while that in Kati Patang won her the Filmfare Best Actress Award. Incidentally, in her interview with Jitesh Pillai, published in Film Fare magazine of September 2001 Mumtaz stated: "I should have won the Best Actress Award for Tere Mere Sapne. I really deserved it. Instead it went to Asha Parekh for Kati Patang in which she wore white and stood in front of piano doing precious little. Khair, jaane do (let it go). God has given me so much..." Earlier, the Kati Patang role had been offered to Sharmila Tagore who turned it down for "some silly reasons."
The other movies that won Asha Parekh the Filmfare nominations in the Best Supporting Actress category were Udhar ka Sindur (1976) and Main Tulsi Tere Angan ki (1978). She won the Filmfare Lifetime Award in 2002.
Dilip Kumar was the most eligible bachelor of his time. When he finally tied the knots with Saira Banu he was 44 years old and she just 22 . Despite gloomy predictions and some unexpected happenings, this marriage has remained as one of the most enduring ones in the film industry.
Asha Parekh never married though according to her nothing is more therapeutic in life than companionship. She confides that men found her unapproachable. Even Shammi Kapoor who is her favourite and who played hero opposite her in four films, Dil Deke Dekho (1959), Teesri Manzil (1966), Pagla Kahin Ka (1969), and Jawan Mohabbat (1971) used to call her Bhatijee ("Niece") while she addressed him as "Chacha" (i.e.Paternal Uncle).
She admitted that she had had a longtime boy friend and it was good while it lasted. Dev Anand was the other senior actor who paired with her in Jab Pyar Kisise Hota Hai which did silver jubilee at the Alankar Cinema in Mumbai.
To take the bull by the horns: What prompted Asha Parekh to make such a sweeping statement? Was it her comparative past youth? Was it her past beauty? Was it acting talent?
On seeking the answers to the above questions, we find that Dilip Kumar, even in his Fifties, has romanced a much younger and beautiful actress viz., Leena Chandavarkar when she played the role of heroine opposite Dilip Kumar in Bairaag (1976).
Again, his spouse Saira Banu was 2 years younger than Asha Parekh and 22 younger than Dilip Kumar at the time of her marriage in 1966. Then there's the case of Rakhee who acted opposite Dilip Kumar as his wife in Shakti (1982). She is twenty-five years younger than Dilip Kumar and five years younger than Asha Parekh. Then we had the gorgeous Rekha acting opposite him in the shelved Aag Ka Darya (1982) and later in 1998 in Qila as his romantic interest where she is even "raped" by him. She is 32 years his junior. One can see some twelve-year old Rekha along with many other children, twisting away to the song and music of AAYEE HAIN BAHAAREN MITE ZULM-O-SITAM in Ram Aur Shyam. So what was it? Dilip Kumar has acted with beautiful actresses such as Madhubala and Saira Banu to name just a couple. Being an institution of acting unto himself, Dilip Kumar has acted with most powerful actresses such as Nargis, Meena Kumari, Nalini Jaywant, Vyjayantimala, Nimmi, Waheeda Rehman and Nutan. So we can conclude that there was no question of youth or beauty or acting talent involved in the reported statement of Asha Parekh that she doesn't like Dilip Kumar.
Was it something personal then? Nasir Hussain had announced a movie, called Zabardast, starring Dilip Kumar (not the one that was later directed by him in the Mid-Eighties). But this one did not see the light of the day and was shelved. This much we know. (see the poster below: courtesy my FB friend Rajesh bhai)
M
aybe Asha Parekh was selected as the heroine as usual by Nasir Hussain, along with other star-casts. Maybe she refused to work with Dilip Kumar, we don't know. Sadly, there are no details. The loss is ours! If it was Dilip Kumar who refused then we can only conclude by quoting Congreve: "Heaven has no rage like love to hatred turned / Nor hell a fury like a woman scorned."
(
based on information from internet sources)
NASIR.