"Only 46.9 percent of India's 24.66 million households have toilets, 49.8 percent defecate in the open, and 3.2 percent use public toilets, according to 2011 census figures."
HINDUSTANIS WERE ALWAYS A VERY CLEAN PEOPLE. WHAT HAPPENED TO ANGLO BHARAT (

BOLLYWOOD INDIA

)?
Nobody liked the smell of truth, more so since it concerned the tetchy aspect of toilets in India.
India's Federal Minister of Rural Development Jairam Ramesh was accused last year of hurting Hindu religious sentiments by the opposition Bharatiya Janata Party for saying the country needed "more toilets than temples".
Cleanliness may be next to godliness, but India - with 1.2 billion people - is far from achieving it. As World Toilet Day is marked on November 19, India's sanitation and toilet statistics continue to raise a stink.
Less than one-in-three households in Indian villages have toilets. Urban areas have more toilets but nevertheless suffer from poor sanitation and disposal mechanisms.
The lack of public toilets for the urban poor and in rural areas leads to alarming rates of water-borne disease and affects women and children most, campaigners say.
India also carries the shame of having manual labourers, mostly marginalised people who belong to a community formerly called "untouchables" or Dalits, to clean human excreta from open lavatories, even today in the 21st century.
While a 1961 census by the government said there were more than 3.5 million "faeces scavengers", recent reports have said the number is down to 64,000. This is contested by NGOs saying these workers still suffer the ignominy of cleaning human excreta, suffer illnesses and social ostracisation.
A few years ago, "Shit of the Other" - a show by Delhi-based artist Inder Salim - displayed human faeces in a bottle. Some contended it was not scatological but a telling artistic statement of the state of the poor and disadvantaged, who are compelled to defecate in public in Indian cities.
"Toilets are not just confined to sanitation in India," Salim says. "They contain layers of oppressed people, Dalits, our inability to deal with this basic human need."
Mahatma Gandhi, India's "Father of the Nation", had in the early part of the 20th century branded the practice of engaging manual scavangers to clean latrines as a social evil. Gandhi preferred to clean his own toilet to set an example - something that shocked many.
Gandhi's call to make sanitation a hygienic issue 65-years ago seems to have gone down the drain.
Consider these facts:
- Only 46.9 percent of India's 24.66 million households have toilets, 49.8 percent defecate in the open, and 3.2 percent use public toilets, according to 2011 census figures.
- The economic impact of inadequate sanitation is about 2.4 trillion rupees ($38.4 million), or 6.4 percent of India's gross domestic product, according to the Water and Sanitation Programme.
- The states of Jharkhand and Odisha rated lowest with 78 percent of households lacking toilet facilities.
- More people in India have mobile phones than toilets.
Right to dignity
"We need to view services – such as the availability of functional toilets – as a part of the right to live a life of dignity and equality," says Subhadra Menon, director of Health Communication at the Public Health Foundation of India.
But she adds: "Having said that, the provision of toilets to 1.2 billion people is far more complex than making mobile phones available, so in a sense, it isn't right to compare apples and oranges.
"But yes, the kind of social and other marketing that can be utilised to influence choices and behaviours is not being done optimally in the case of the use of toilets."
Sulabh International is an NGO promoting sanitation across the country. Its founder, Bindeshwar Pathak, bemoans that "India lacks a culture of sanitation."
The royal rajas - erstwhile rulers - might have had slaves to evacuate their "thunder boxes", but much of India has had a late start to "toilet training", Pathak says.
"Even the rural rich in the 1950s did not have toilet facilities in their mansions. Women went to the open for their ablutions as did the men."
While he says India has made progress from a no-toilet scenario to providing nearly half of its population with latrines, "implementation of rural sanitation must be made priority and speeded up", says Pathak.
Sulabh is seeking ways to accelerate the installation of toilet facilities. These programmes include training youth in both rural and urban areas on health and sanitation; pressing the government for fund allocation, and encouraging alternative livelihoods for caste groups that manually scavenge toilets.
'No toilets, no marriage'
It's easier for modern Indian women in the metros to walk into a shopping mall and find a loo. But it is not so for their underprivileged sisters who are poor or live in villages with no toilet facilities.
Women and girls often defecate in public, harming their health and also inviting molestation and unwanted attention from men in both rural and urban areas.
Police in the state of Bihar have admitted violence against women could be contained if more public toilets were provided.
As Salim points out, "You can find public urinals for men, but women suffer most as Indian cities and villages do not make space for women's basic needs. Gender gets the worse off in this shitty business."
Ramesh, who has campaigned zealously for the need for toilets, last year invoked a "no toilet, no bride" campaign. He exhorted women to not marry men whose family homes did not come equipped with toilets.
Some instances have occurred where brides have left the home of the groom after finding the household did not have a proper toilet. It has forced some men to pose in photos beside toilets in their home before seeking a bride in their villages.
A "right to pee" campaign was also launched in April 2012 by a group of non-profit organisations in Mumbai. They fought for the use of free toilets for women who were until then charged a fee to use toilets, while men could use them for free.
India's Supreme Court ruled in 2011 that every government school must provide toilets, especially for girls. Inability to do so would mean closing the schools down.
"Once political support – across party lines – builds up for an issue, chances are it gets addressed satisfactorily," says Menon. "Therefore, it is more about how all our politicians and elected representatives can take up the issue of toilets being provided.
"The critical issue is this – each and every day, young, adolescent girls and young adult women [and men actually] need to expose themselves to multiple vulnerabilities," Menon says. "This makes even more serious the ignominy that these girls and women face – including not having a clean and functional toilet that they can use with a guarantee of privacy."
ADDENDUM
Adalberto Erazo Jr.
Wednesday 20 November 2013
at 2:16

AM
Narendra Modi got his enlightenment 22 years late: Jairam Ramesh on 'toilets before temples' remark
I spoke of toilets out of conviction, Modi out of compulsion: Ramesh
Narendra Modi got his enlightenment 22 years late: Jairam Ramesh on 'toilets before temples' remark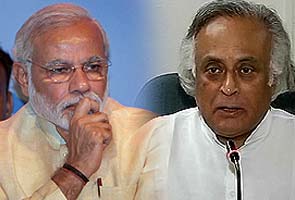 New Delhi:
Jairam Ramesh has launched an acidic attack on
Narendra Modi
for his "more toilets than temples" comment, saying it is borne out of his "blind desire for the Prime Minister's position."
Mr Modi had said yesterday, "My identity is of a Hindutvawadi, but I say build toilets before you build temples," ruing the fact that many Indians still do not have access to basic sanitation. (
Make toilets before temples: Narendra Modi tells students in Delhi
)
The union minister told NDTV today, "He's got enlightenment finally, but 22 years too late. Had he had the same realization earlier India would have been spared the trauma of the Babri Masjid tragedy and subsequent events.. - the Bombay blasts, Godhra and its consequences. The communalization that took place on account of this temple movement, which was masterminded by Modi amongst others."
And he added sarcastically, "But I am glad that Modi, 22 years later, is a changed man."
Mr Ramesh's ire is grounded in the fact that when he made a similar comment last year, he was subjected to not just sharp criticism from the BJP, but also gross acts vandalism by alleged members of BJP-affiliated outfits like the Bajrang Dal.
"BJP workers and supporters came and urinated in front my house. Where was Modi then? Where was he when I was being attacked by Rajiv Pratap Rudy, Prakash Javdekar and others?" he said today.
A year ago, almost to the day, Mr Ramesh, then Ministry of Drinking Water and Sanitation., had said, "I think toilets are more important than temples. No matter how many temples we go to, we are not going to get salvation. We need to give priority to toilets and cleanliness."
BJP leader Rajiv Pratap Rudy slammed him saying, "It would be good for Mr Ramesh that out of his exuberance he stops making such comments which will destroy the fine fabric of religion and faith."
I spoke of toilets out of conviction, Modi out of compulsion: Ramesh
Rupashree Nanda,
CNN-IBN
Oct 03, 2013 at 07:07pm IST
New Delhi:
Union Minister Jairam Ramesh, who was criticised by the BJP over a similar comment on toilets as Gujarat Chief Minister Narendra Modi, has questioned the BJP's 'double standards'. Speaking to CNN-IBN on Modi's comment that toilets should be built before temples in India, Ramesh said, "I still believe we need more toilets than temples. I wish Modi had discovered this 20 years ago, then we would not have had the Babri Masjid episode."
"When I spoke, Rajiv Pratap Rudy said I should respect the fine line between faith and religion. Then he went on to say that the BJP maintains that one should not get into the debate of whether a temple or toilet is more important. Prakash Javadekar also attacked me. Activists of the RSS and VHP came to my house and left bottles of urine. I wonder where they are now when Mr Modi has suddenly discovered the value of toilets," Ramesh added.
Jairam Ramesh said that Modi was making whatever statements due to his ambition of becoming the Prime Minister. "I spoke out of conviction, Modi speaks out of compulsion," Jairam Ramesh said.
Speaking at a function organised in New Delhi for the youth, Modi said he dared to say so even though his image as a Hindutva leader did not allow him. "I am known to be a Hindutva leader. My image does not permit me to say so, but I dare to say. My real thought is 'Pehle shauchalaya, phir devalaya' (toilets first, temples later)," he said.
However, a similar comment by union minister Jairam Ramesh a few months ago had invited flak from Hindu outfits. Ramesh said that toilets are more important that the temples in our country also commenting on poor hygiene levels in the latter.
BJP spokesperson Rajiv Pratap Rudy had then said, "Making of toilets and having faith in a religious place of worship are two different things. India is a multicultural country where we should have unblemished faith in a temple, a mosque, a gurudwara or a church. You cannot juxtapose the two."
But the BJP has welcomed Modi's comments now. "All Modi was saying was that sanitation is another name of God in a way. So we should focus more on the sanitation part and temples people will build any way. Jairam lacked conviction and his motive was a suspect when he made such a statement," BJP leader Balbir Punj said.
The Congress has said that it exposes the party's double standards. "I am only saying that the BJP is showing double standards. When Jairam Ramesh said the same thing, the BJP critics criticised him. Where are the critics today? Why are they not saying anything to Modi. Actually Modi has no faith in Hinduism," Congress MP Rajeev Shukla said.
Congress General Secretary Digvijaya Singh said, "I would like to know what VHP, RSS, and the party that chose him as their PM nominee thinks of it. Modi talks of a spiritual experience. I would like to ask him if he has experienced the spirituality involved in cleaning a toilet."
Following is the full transcript of Jairam Ramesh's interview:
CNN-IBN:
Narendra Modi has made this remark that toilets are more important than temples. But when you had made a similar statement you were attacked by sanghis and various people. How do you respond to this comment?
Jairam Ramesh:
On October 5, at Sewagram in fact, where Gandhiji had his ashram in the mid 30s, I made this comment. And I still believe in it that this country needs more toilets than temples, or mosques or gurudwaras or churches. And that's what I had said. I had used temples as a short form for any place of worship. And I'd said that what we need, with 60 pc of women still defecating in the open and the link established between open defacation and malnutrition, what we need are more toilets and less places of worship. When I said this Mr Rajiv Pratap Rudy attacked me for destroying the fine fabric between faith and religion. His exact words, I have it here, 'for destroying the fine fabric of faith and religion'. I don't know what he means by it. Then he went on to say that the BJP maintains that one should not get into the debate of whether a temple or toilet is more important. Prakash Javadekar then attacked me publicly. Activists of the RSS and VHP came to my house, they left bottles of urine outside my house. I went to Agra a couple of days later and black flags were shown, my effigies were burnt. I wonder where they are now? Now that Mr Narendra Modi has suddenly discovered the value of toilets.
I wish Mr Narendra Modi discovered this 20 years ago. We wouldn't have had the Babri Masjid episode, communal riots across the country, particularly in Mumbai.
CNN-IBN:
But do you think this signifies a shift in his position?
Jairam Ramesh:
I can't speak for Mr Modi. All I can say that in his blind pursuit of the Prime Ministerial post, he seems to be willing to make whatever statements that are necessary to appeal to whatever section of the society he wants to appeal to. All I wish is that this enlightenment had dawned on him before he became one of the orchestrators of Mr Advani's rath yatra, which caused untold misery on the people of India and brought about a bitter and almost lasting communal divide in our politics.
CNN-IBN:
Mr Balbir Punj has said that when you spoke you lacked conviction. He somehow believes that Mr Modi has some conviction, which is why BJP is probably going to defend his statement?
Jairam Ramesh:
I don't give Mr Punj much credence but let me say that I spoke out of conviction, Mr Modi is speaking out of compulsion.