W
ho knows where I will be the coming year 2012? But, before I take my leave with you lot, I would like to thank

GOD

whoever and wherever He is, for the long life he gave me, the deep happiness and sorrow I have known, and all the beautiful and courageous people he has put in my path, and there were quite a few, and

Mark Glenn

is definitely one of them.

Thank you, Lord and bless Mark and his loved ones.
It has been quite difficult in past decades to make my beloved Christian Sisters and Brothers understand that I do not celebrate nor do I wish any of them a happy Christmas, but I am always happy to wish them a very
Joyeux No
ë
l
and a

Very Happy Anniversary

of the
Birth Day of
Jesus Christ
and Season's Greetings every New year.
Clément Clarke Moore 1822
'Twas the night before
No
ë
l
, when all through the house
Not a creature was stirring, not even a mouse;
The stockings were hung by the chimney with care,
In hopes that
St. Nicholas
soon would be there;
The children were nestled all snug in their beds,
While visions of sugar-plums danced in their heads;
And mamma in her 'kerchief, and I in my cap,
Had just settled down for a long winter's nap,
When out on the lawn there arose such a clatter,
I sprang from the bed to see what was the matter.
Away to the window I flew like a flash,
Tore open the shutters and threw up the sash,
The moon on the breast of the new-fallen snow
Gave the lustre of mid-day to objects below,
When what to my wondering eyes should appear,
But a miniature sleigh, and eight tiny reindeer,
With a little, old driver so lively and quick,
I knew in a moment it must be
St. Nick
.
More rapid than eagles his coursers they came,
And he whistled, and shouted, and called them by name;
"Now, Dasher! Now, Dancer! Now, Prancer and Vixen
On, Comet! On, Cupid! On, Donder and Blitzen!
To the top of the porch! To the top of the wall!
Now dash away! Dash away! Dash away all!"
As dry leaves that before the wild hurricane fly,
When they meet with an obstacle, mount to the sky,
So up to the house-top the coursers they flew,
With a sleigh full of toys, and
St. Nicholas
, too.
And then, in a twinkling, I heard on the roof
The prancing and pawing of each little hoof.
As I drew in my head, and was turning around,
Down the chimney
St. Nicholas
came with a bound.
He was dressed all in fur, from his head to his foot,
And his clothes were all tarnished with ashes and soot;
A bundle of toys he had flung on his back,
And he looked like a peddler just opening his pack.
His eyes, how they twinkled! His dimples how merry!
His cheeks were like roses, his nose like a cherry!
His droll little mouth was drawn up like a bow,
And the beard on his chin was as white as the snow;
The stump of a pipe he held tight in his teeth,
And the smoke it encircled his head like a wreath;
He had a broad face and a little round belly,
That shook when he laughed like a bowlful of jelly.
He was chubby and plump, a right jolly old elf,
And I laughed when I saw him, in spite of myself;
A wink of his eye and a twist of his head,
Soon gave me to know I had nothing to dread;
He spoke not a word, but went straight to his work,
And filled all the stocking; then turned with a jerk,
And laying his finger aside of his nose,
And giving a nod, up the chimney he rose;
He sprang to his sleigh, to his team gave a whistle,
And away they all flew like the down of a thistle.
But I heard him exclaim, ere he drove out of sight,
Happy Christ Birth Day to all and to all a good night
(N.B. The word "Christmas" has been substituted in the above text because of the Roman Catholic belief that during MASS Christians do literally EAT THE BODY OF CHRIST AND DRINK HIS BLOOD!

BAFS)
A
Noël je n'ai pas plus envie de rose que je ne voudrais de neige au printemps. J'aime chaque saison pour ce qu'elle apporte.
A
t Christmas I no more desire a rose than wish a snow in May's new-fangled shows. But like of each thing that in season grows.
#16 by Vickie Jacobs on March 9, 2012 - 3:23 pm
"I have become more depressed after reading about those who are jumping on the bandwagon of the "GATHERING OF EAGLES SUMMIT" this past January. Nearly everyone in so called christian organizations plus their influence with Congress. Great God in heaven…..!"
DEDICATED TO VICKIE JACOBS
AND OTHERS
We may and will disagree on many doctrinal issues, but when whe are SINCERELY MOTIVATED BY LOVE, we always write with love in our hearts and it always pains us to see our sincere efforts trampled by others - the human Devils who are full of prejudice, lies and ignorance!
I am at variance with much of Christian and Catholic teachings, but I never ignore the beautiful teachings of the Churches I have known. I still carry MY 1938 "MY SUNDAY MISSEL" and on pages 343-344 we read the following beautiful and sublime words in the Chapter "GLORIOUS MYSTERIES"
Sunday, Wednesday, Saturday
1. RESURRECTION to obtain increase of Faith.
2. ASCENSION to obtain Increase of Hope.
3. DESCENT OF HOLY GHOST to obtain Increase of Love.
4. ASSUMPTION to obtain Devotion to Mary.
5. CROWNING OF MARY to obtain Grace of Perseverance.
"MY VOCATION IN LIFE
Pray frequently to make the right choice of the married, single or "religious" life. On it depends the happiness of your own soul and other souls in this life and for all eternity.
BEHOLD ME at thy feet, O Virgin most kind, seeking to obtain through thee, the most important grace of knowing what I ought to do. I desire nothing but to comply perfectly with the Will of thy Divine Son at every moment of my life. Mother of Good Counsel, let me hear thy voice. It will dispel every doubt that troubles my mind.
I trust in thee, being confident that, since thou art the Mother of my Redeemer, thou wilt also be the Mother of my salvation. If thou, O Mary, will not send me a ray of the Divine Sun, what light will enlighten me? Who will direct me if thou refusest, who art the Mother of the uncreated wisdom?
Listen then, to my humble prayers. Let me not be lost in my uncertainty and instability; lead me along the straight road that ends in life everlasting, thou art my only hope, and whose hands are full of the riches of virtue and of life, and who dispensest the fruits of honor and holiness.
300 days Ind. Once a day."
WHEN I was an idiot like most of us are when we are young,
without the full knowledge of things, without insight, without wisdom, and without the DIVINE SPARK, we stop at the doctrine and fight over words. I, like all Muslims, felt appalled and revolted by this Catholic Church Doctrine, which in our view had associated partners with the UNIQUE GOD.
THEN, I lived, learned, and experienced LIFE as a PURE SOUL!
I spent a lifetime protecting both my heart from getting contaminated by vain earthly desires and my soul from being taken over by the Devil!
I LEARNED to GO BEYOND and it is THE BEYOND that brought me closer to GOD
and to what is HUMAN in those two legged "animals" calling themselves men and women and all that GOD represents in our daily lives. Militant Atheist fanatic, Pr Richard Dawkins, calls this CALLING FOR THE DIVINE a madness of medieval thinking, a false religion because he has allowed his heart to be corrupted and he sold out his soul to the Devil!
So, I learned to love the Wisdom where I could find it
and I found it in all the four corners of the Earth disproving the teaching of the Roman Catholic Church that outside the Roman Church there was no Salvation! The Zionist Popes John Paul II and Ratzinger REFORMED this Pillar of the Catholic Faith and now we are taught in Church that THERE CAN BE SALVATION OUTSIDE THE ROMAN CHURCH! And the Jews and the Zionists were immediately invited to join the Roman Church and INVADE AND TAKE OVER THE CHURCH!
VICKIE, SWEETHEART, DO NOT BE DEPRESSED!
"Somebody" or "something" woke me up at 4 o'clock (My usual time of communication with the Divine or the Devil!) and I see myself writing to you and dedicating this Message of Love to you and others (I am also thinking of one "Ruby" here) who are sincerely searching for the Truth, the Divine and closeness with Humanity's very hearts and souls.
Those 'Christians' who accuse me of being anti-Christian are deluded
and too young in knowledge and wisdom. When CHRIST spoke to the Palestinians and Israelites, most did not understand him and I do not expect most of us to understand me. If only they knew. We, people of GOD, do not need Sigmund Freud during the tribulations of life and no Jewish pharmaceuticals to pretend curing the body or the mind (they never cure!) when the heart and soul are diseased.
I AM BLESSED DESPITE ALL MY LAMENTATIONS!
SO, LOVE, YOU ARE BLESSED TOO AND DO, LIKE ME, NOT LET YOURSELF BE DEPRESSED BY THE WORKS OF THE DEVIL, ALTHOUGH IT IS INDEED QUITE DEPRESSING.
With Much Love
Basheer
Saturday 10th of March 2012
5.45AM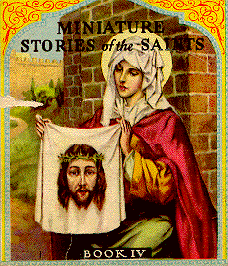 Miniature Stories of the Saints
by Rev. Daniel A. Lord, S.J.
Saint Agatha
the Pure Virgin
Saint Angela
Friend of Girls
Saint Barbara
the Brave Martyr
Saint Brigid
of Ireland
Saint Catherine of Siena
the Dominican
Saint Clotilde
Queen of France
Saint Colette
the Franciscan
Saint Mary of Egypt
who had been a Sinner
Saint Ursula
and her Companions
CopticChurch.net now offers the entire searchable Arabic Bible online with diacritics for the first time on the internet. The Arabic translation is Smith & Van Dyke version which is the most commonly used Arabic Bible. We hope that you benefit from this project and please
let us know
if have any suggestions.
Our Special Thanks to:
ArabicBible.com
for permission to use the Smith & Van Dyke Arabic Version of the Bible.
BibleGateway
for use of the English Versions of the Bible.