| | |
| --- | --- |
| | |
We are looking at sending at least one bus from the UK to Gaza, loaded with materials to set up the Samouni Family Community Centre/Classroom. We would like to do this in the next couple of weeks so we need many things to happen very fast if we are to meet such a deadline. Keep in mind that there are about 112 Samouni kids, two years on from Operation Cast Lead with hardly any support in so many regards, so the sooner we make a difference the better. For 112 kids the requested items that follow are pretty modest; we will look to expand the facilities for sure, with a full educational complex planned, but the goal at this moment is ambitious yet realistic, it really is up to all of us. I am hoping everyone who reads this will give something, big or small. Now is the time to have a functioning classroom and community centre ASAP for this family. We have met with the family and consulted them at length, what they want, including the children, is a real learning facility where the kids can get back to where they were before Operation Cast Lead. We have the teachers ready to go here in Gaza, teachers the kids love, we just need to get the classroom up and running.
Yesterday we managed to arrange an Internet connection for the classroom; this took some bargaining I can tell you as the Samouni's are not in the urban part of Gaza. We are building the official Samouni Project website right now, we have some great people on this; the site is going to be outstanding. The website will have photos and videos of the family, the children are keen to begin writing blogs (with automatic translations from Arabic to English), and there will eventually be a forum where the family can interact with people from around the world. This is one of my primary goals, to connect people outside of Gaza with the family, to create an extended Samouni family.
Items/Materials/Support sought immediately;
1) A UK based coordinator to facilitate this project, this is a volunteer job.
2) A mechanic or someone very good with vehicles that can travel to Retford, Nottinghamshire, in order to make sure the vehicle is sound and as purchased.
3) We need the vehicle MOT'd and taxed by hopefully the same person above.
4) Costs covered to put vinyl graphics on the bus, such as the Samouni Project logo as well as the logos of our sponsors.
5) Costs for food, fuel, tax, MOT, and insurance for the drive to Gaza.
6) Sponsors; we seek sponsors from unions, organizations, Mosques, community and Palestine Solidarity groups. We propose a minimum donation of £100 to become a sponsor, but anything will help so we encourage everyone no matter what you can contribute.
7) We will need at least two or three drivers who will have to sleep in or just outside the bus in order to ensure security.
8) More Vehicles: if we can get a couple more vehicles, possibly even a bus that can carry the whole family in Gaza, which would be great. There are good deals on vehicles and maybe people will have a vehicle or two that they would like to donate to the family, a work van would be ideal, but any working vehicle will be extremely valuable to the family.
9) Computers: Ideally we will bring 12 desktop computers, mouse, keyboard, computer speakers and if possible, 12 laptop computers so each household will also have something in their home.
10) Office Chairs – 12 is perfect.
11) Webcams with Microphone Headsets for Skype calling.
12) Laser Jet Printer/Copy/Fax/Scanner with refill ink cartridges.
13) Laminating Machine with lamination sheets.
14) Digital Cameras, the more the better, all the kids love cameras.
15) LCD Projector and screen.
16) Small generator, big enough to power a small home.
17) A nice Globe for teaching.
18) Large World Map for wall.
19) Quality books with emphasis on education, history, science, etc. English is great, but if people have Arabic language books as well, that will be fantastic.
20) We hope to bring 50 English teaching books which we already have a teacher to teach with, here is the link to the book we need;
http://www.amazon.co.uk/New-Headway-Beginner-Students-English/dp/0194376311/ref=sr_1_fkmr1_1?ie=UTF8&qid=1301319517&sr=8-1-fkmr1
21) We are looking for a carpenter to build Custom Bookcase and deliver to London very soon.
22) If a carpenter can work right away, we can give dimensions and precut some material for long desktops to be used for the computers and classroom.
23) Lighting, good quality lighting, LED's lighting would be ideal so the electricity consumption is low. But we want something other than fluorescent lights, something warm and nice to read and learn with.
24) Musical instruments, if you have an instrument that you can give for these children to experiment with and play; this will be a beautiful contribution. Does somebody have a Piano?
25) Office supplies, paper, paper clips, notebooks, pens, pencils (coloured as well), markers, pencil sharpener, etc.
26) Arts & Crafts of all sorts.
27) Puppets and educational toys.
28) A telescope, this has been asked for, would be great.
29) Tiles to lay on the floor, this is roughly a 10x15 metre space.
Items that would be good to bring now as well;
1) Blankets.
2) Clothes.
3) Kids football shoes.
4) Anything of value that might be useful.
If you have or are willing to purchase any of these items then please do so and email me at 1worldcitizen@spamarrest.com (please put 'Samouni Project' in the subject field). If you can provide a service, volunteer to drive to Gaza or be a coordinator then again, please email me.
The following are not likely to be arranged immediately, but maybe, you never know. But even if we cannot get these things now, I would like people to know of our longer-term goals and start looking around for ways to make this happen as well.
Supporting Independence for the family; long-term items sought;
1) We would bring a machine that can process Tomatoes into sauce. The Samouni family are farmers and if they had an industrial machine of this type they would be able to really get back on their feet and be independent soon. I will get more details of the exact type of machine that would be ideal tomorrow, if you think you can help with this then message me please.
2) A loom, an industrial loom that would allow the family to make Kuffiyeh's, if we do this I am sure the family will have a real income with exported Kuffiyeh's, made in Gaza, with the Samouni Family brand on it.
3) Building materials to make a small factory/warehouse.
And last, something that would just be wonderful for the entire family, especially the boys;
1) 1) The materials to build a 5 on 5 football pitch, the cement for the foundation, the padding and artificial grass, the walls, goals, bleachers, lighting for night time play.
I am already planning to make a video with the kids inviting FC Barcelona to come out this summer and do a football camp. I am making it clear to the kids that there are no guarantees, but if we try, we have a good chance of getting a result.
I would like to say to everyone reading this just one thing. If we really care, we will make this next phase happen and we will do so within a couple of weeks. We can do anything we set our minds to and what is asked for to make this project happen is completely doable. We all have something to offer, the question is what do you have to offer?
To my Muslim and Arab brothers and sisters, the Samouni's are your direct family; please make this project happen now. As a community, you alone could make this happen within a week.
Love and respect to everyone who is helping with this, you are blessing yourself big time by contributing, believe me I know this all too well.
To make a contribution right now go to;
http://www.indiegogo.com/Samouni-Family-Community-Centre-Classroom-1?c=comments%2F923%2Fdescription%2F0%2F0
TJP,
Ken O'Keefe
Add a comment to this post
Back in Gaza with Max Igan &
the Samouni Family
When I came to Gaza in November 2011 I planned to stay for 2 months maximum, at least that was the deal I made with my pregnant wife. But as happens Palestine has a way of seducing you, and in my case the Egyptian authorities have a way of imprisoning you, so my stay lasted 6 months rather than 2. In turn I ended up missing the birth of our second child.
Although I planned to film 30 separate family profiles here in Gaza, to have these families tell their story directly to a western audience, I did not plan to meet the Samouni family as their story had been told many times before. Fate had other plans however and this meeting was arranged without my knowledge.
It is ironic how unplanned events often impact your life far more than those that are planned. Before you know it you are taken down a path of which the universe, God, some unknowable force is clearly in charge, we become but a passenger. Meeting the Samouni family has been like that, it has caused a chain reaction of events that has dominated my life for the last 18 months. In that time I have known the greatest of joy, the joy of receiving a child's smile upon your return for instance. I cannot guess at the amount of smiles reciprocated with the Samouni kids and yet the joy it produces never diminishes.
In the last 18 months I have also known rage, primarily from the betrayal of those I trusted. To trust is to love, it is expose one's underbelly in the interest of union. It is the cornerstone of partnership, it is essential for any significant progress in effecting a better world. Those that are afraid to trust, to love, will never know the joy of love, and my willingness to trust has been one of the greatest sources of the immense blessings I have known. I have no regrets, even with the betrayals.
So the price one inevitably pays for misplaced trust is to be praised one day, and then slandered with the most filthy lies the next. This is the tactic of infiltration, get inside, develop trust, establish an apparently credible basis to defame the target, then attack. For me this extends not just about me, but of my wife, my mother and even my children who have been called "illegitimate". I have even seen Palestinians create a Facebook page designed purely for the purpose of defaming me (a blatant violation of Facebook's duplicitous, Israel slanted policies). I have been unlawfully arrested by the UK police, my family home has been violated and my property stolen by thieves in uniform. And yet I am grateful for it all because it is in these greatest of challenges, the injustices, that one finds the greatest opportunities to grow, to become wiser and stronger.
I am grateful because through the joy and through the hardship I have never lost sight of how blessed I am. When I look back at my life there is such richness in the stories I have accumulated and the friendships I have developed. I have thought with my heart more than with my head and in a world of collective insanity I realised long ago that popularity and approval is not what a content and honourable life generally provides, in fact it almost never does. The path of popularity is not for me, it is self-respect, service to life, commitment to truth and justice that I am committed to. The hardship, ridicule and slander is all part of the path and ultimately can only be overcome by steadfastness and love, love of truth, love of justice, and ultimately love of peace.
Indeed I have taken the path less travelled by and without doubt this has made all the difference. This path has lead me back to Gaza, and as potentially dangerous as this path is it doesn't really matter, if my mortal life ends today I will leave behind an example of what blessings await those that "think" with their heart and more importantly, act in accord with their heart.
So I am back in Gaza, and I am back with the Samouni family. What we have shared is what we shared before, love. If the full truth be known about all that has been employed to tear or relationship apart it could be made into a movie. Even a prominent human rights organisation has been advising the Samouni family to divorce themselves of me because I was all that I was accused of being by the slanderers. What makes this shocking is that this "human rights" organisation indicted me based on one source and one source alone, Facebook!
This organisation went even further to pressure the Samouni family to press charges against me. When the family asked for one simple thing, evidence, this organisation refused. Indeed this has been the judge of me for many, Facebook. What does this say about some of the so-called "friends" of Palestine, that they are so incredibly stupid as to validate a known CIA/Zionist tool as a source to crucify one of Palestine's most easily verified allies?
What I find myself saying more and more about the plight of the Palestinians is, "with friends like these, who needs enemies."
Between the human rights organisation and the corrupt UK police and court system and Zionist agents online and importantly, the idiots who give credence to all of the above, it is safe to say that the only thing that has truly protected me is integrity. And the only thing that will save the Samouni Project and the educational program it entails is steadfastness. And even if these poor, poor human beings who wish otherwise were to succeed, I will die with my integrity as it is not subject to the whims of a human society that is, literally, collectively insane to the point that we remain on the brink of the human caused end of the world as we know it.
But make no mistake at all, those who have instigated baseless slander against me, those that have stolen resources for the Samouni Project, Aloha Palestine, Trade Not Aid, those that have been stupid enough to propagate lies without any critical thought, have not attacked me primarily, they have attacked Palestine and in particular, the Samouni family. A massive amount of effort has been invested in destroying the trust between myself and the Samouni family, it has not worked. I remain a loved member of this family and I love this family as if they were my blood.
In the next few days prepare to feel the joy I am feeling with me, as something beautiful is about to happen here in Gaza.
| | |
| --- | --- |
| New post on KOK | |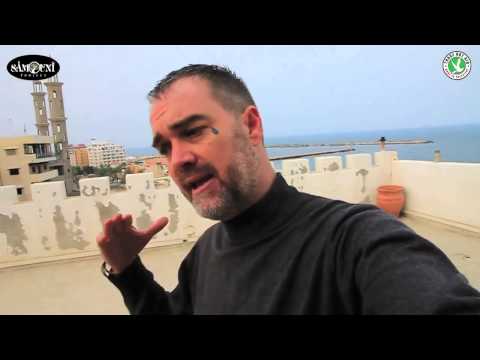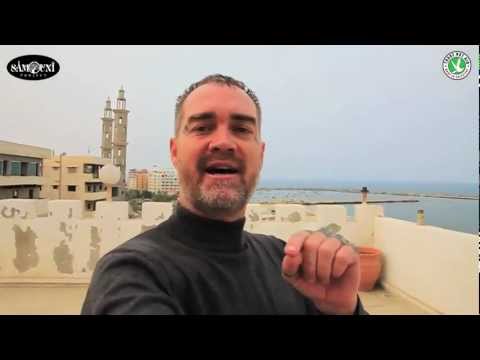 It is Ken O'Keefe back in Gaza. For the last 14, 15 months, I have been dealing with the results of the hijacking of the Trade Not Aid Mission, now I have provided a link to a video on Vimeo which gets into greater detail about this.
But the short version of the story is that I made a massive mistake by trusting some horrible people particularly Catherine Myles. But she was partnered with Saeb Shaath and some others that effectively infiltrated the Trade Not Aid Mission and stole money, donated goods and vehicles, two vehicles including an 18 ton truck that had been filled with donated goods for the Trade Not Aid Mission.
Now, the trade not aid mission is effectively the brand name for a partnership between the two nonprofit companies, social enterprises that I am the Director of. One, Aloha Palestine CIC, a Community Interest Company and the other one, the Samouni Project.
Now, the Samouni project was formed on the back of my relationship with the Samouni family here in Gaza. I formulated the plan for the Samouni Project with the Samouni family. In fact, the Samouni family put together a board that was comprised of all family members and those family members are the ones that gave me the direction to move forward with the formation of the Samouni Project and the carrying out of the objectives. Now, the two main objectives of the Samouni Project were;
To get the kids the education that they need because after operation Cast lead and the slaughter of the Samouni family by the Israelis, the children obviously were just a little bit traumatized to say the least. This has adversely affected their school and in this sense, they are just like the rest of the kids of Gaza. It is not just a Samouni family, but the Samouni's have been so incredibly violated and traumatized that these children are suffering. And, one of the things that they are suffering from is lack of ability to concentrate on school and thus they need real special attention—many of them—to even think about concentrating on school again. Well, here we are nearly four years later and they really don't have that yet. So this was the goal that was set a year and a half ago when I was here with the Samouni family.
The other objective of the Samouni Project is in line with Aloha Palestine and my goals as a whole which is "Fuck aid". Aid is not the answer. Aid, okay, in the extreme circumstances where people are literally going to starve to death, yes, you have to do it. But generally, aid is for the aftermath of a natural disaster when you have a hurricane or a tornado or an earthquake or something like that. Then you need send aid because the people clearly in that emergency situation would not have everything they need to survive. But this is not an emergency situation and natural disaster. This blockade of Gaza is now five years plus; it is human created. It is carried out by both the Israelis and definitely under Mubarak it was the Egyptian side, and more importantly for us in the west, it is carried out with the complicity in the cooperation of our corrupt western governments who are taking all our money and giving'em to the banksters and all this sort of stuff. So without our western governments, this blockade of Gaza which is five years plus couldn't continue and my goal with the Samouni family is to get beyond the blockade to be able to export products that they can produce because they are far worse (off then so many), be able to have them produce their goods, vegetables, chilies, tomatoes, things like this, dehydrate them. I wanted to bring them a dehydrator and use that dehydrator to dehydrate their vegetables and fruits and then we in turn would work to get them out. The plan of this was really that we would guarantee that those things they produced, we would market abroad. People would pay for them. We would pay the Samouni family with those funds and then it would be our task to export them out. So any of the purchasers of the products would have to understand that if we can't deliver the product, it is because the blockade is still in place.
So, that was the plan with the Samouni family. That is complemented by Aloha Palestine which I formed with Lauren Booth in late 2008 and the whole objective of Aloha Palestine way back in 2008 was trade not aid, to establish a trade route in and out of Gaza so that the people could import and export and basically be able to develop their economy and get back on their own two feet and live a life of dignity. Even just recently here in Gaza, there is an organization set up on the principle of dignity by the youth here and the only way that dignity can be achieved is by the ability to do trade. And, the trade doesn't sound as sexy and altruistic as aid and charity but it is more important than aid and charity. This is where we as people really need to think about our critical thinking skills. Do we have them or are we continuously being manipulated in the one stupid dead end or another. Aid is not the answer and I am not the only one saying that. It has been said by the Palestinians for a long time. Go watch a video called Donor Opium on youtube, excellent video. It will tell you a lot about how aid is actually insidious and destructive towards the Palestinians who are now per capita the biggest receivers of '

AID'

in the world. http://www.youtube.com/watch?v=wVTYyRLMljc
So that was Samouni project in Aloha Palestine. Now, I fucked up. I trusted the wrong people; they got on the inside. In that position of trust, they breached the trust, they stole vehicles, they stole donated goods, they stole money. Now, I from the beginning, if this had been dealt with properly by the UK police, this could have been sorted. On August 23rd, I submitted a report to the UK police establishing who raised the money for those vehicles. What the purchase of those vehicles was for which I purchased them. The transfer of funds for those vehicles while I was here in Gaza last year to trusted people on the European side back in the UK. The funds were transferred, authorized by me, the purchase of the vehicles authorized by me, the raising of the money by me and those vehicles were registered in the name of the people who I trusted on that end. They were never the legal owners of the vehicles. They were never the legal owners of the donated goods and they certainly were never the legal owners of the donated moneys which I authorized to be put in the Catherine Myles account because I trusted her. This is my fuck up and I apologize to everyone for my screw up as the leader of the mission, I cannot do anything but take responsibility for my fuck up and I fucked up.
Now, what can I do to recuperate that and correct. What did I do? I went to the UK police. I handed them all the evidence to show the ownership of the vehicles. What did the UK police do? Well, they did what the UK government does and that all the western governments are doing. They acted like the corrupt puppet bastards that they are. They didn't arrest the criminals who provably had shown had stolen vehicles, donated goods and moneys, no, they arrested me. They 'investigated' me for five months and then said, "Oh! No further action." Yeah no shit no further action. Keep in mind, these people had nine hard drives of mine, had every hard drive I had. They had two computers, the only computers I had. They had paper work. They went through my home; they took everything they wanted. They went through my wife's underwear drawer. They went through everything in my house. Everything that might have established any kind of criminal activity on my behalf, they had access to it and they had it for five fucking months. I had to deal with that crap. I didn't have any representation for a while and finally I did get a defense attorney, great man, thank you so much Simon Natas and ultimately the police dropped their farcical bullshit investigation and then they said, "Oh, the vehicles, it is a civil matter." I then had to file a civil case to recover stolen vehicles which is the 18 ton truck and mini bus converted into the mobile office. Now, that is now still in process and the court system, another story but nonetheless, it looks like I should be recovering in the court system because quite frankly there is no evidence on the side of the criminals to defend what they have done.
I provided that initial report. That was about 108 pages, that initial report. I then supplied a year later, I supplied another 106 page report on the stealing of the vehicles, the stealing of the moneys, the stealing of the donated goods. I handed that over to the police. Who do you turn it over to? I handed it over to the UK police. That was three months ago, haven't heard back from them and I am talking about bank transfers, witness statements, emails, screenshots, all of it establishing that moneys were taken by Catherine Myles and moneys were transferred into her account and that those moneys are unaccounted for, that they have been stolen based on a principle of some collective and some bullshit group that somehow claims to have taken over the Trade Not Aid mission which they clearly did not. The UK police have dishonored themselves big time. FUCK the UK police that are at the top levels who are corrupt. I don't fear you, I don't give a shit what you do. I know who you are and plenty of people know who you are. Just like the UK government. I don't care what you think you are going to do to me.
Anyway, I have done everything I could to affect legal remedy. But we don't live in a lawful society. We don't live with law. Law is violated. Tony Blair's and George Bush's, what happens to them? They kill people, what, a million, two million in Iraq, what happens to them? Nothing, there is no law. So the law did not help me. I was foolish to think that they would have. But nonetheless, I have supplied all the evidence to so called legal authorities in the UK; they have done nothing. Now in September just last month, I also compiled a 336 (page) report. This was the conclusive report of everything that happened with the Trade Not Aid Mission. Going back to the formation of Aloha Palestine, all the way through to the present day, this is a conclusive detailed report with every single piece of evidence to establish that those that hijacked the Trade Not Aid Mission, are in fact nothing more than common criminals and thieves. I have established with the evidence that clearly Catherine Myles in particular has committed fraud, she has committed theft. She has committed blackmail and blatantly, fourth, perverted the course of justice. She perverted the course of justice by lying on record to the police saying that she thought that I was the head of a charity, that I had defrauded her and others into thinking that I was a head of a charity and so therefore, they went out to solicit donations for a nonexistent charity. This is bullshit.
Every single thing I have ever said publically, in email privately, has always made clear. I am actually not a fan of charity. Charities are often times the means to infiltrate places like Palestine with over paid NGOs that can buy out the best of the private sector and ultimately get the agenda of the outside powers, the colonial imperial powers into lands like Palestine. I am not a fan of charity. I wouldn't want to live on charity. I want equality. I want justice and in a just environment, if we partner together, we will be able to provide for ourselves. Fuck charity.
So the idea I ever said that I was the head of a charity is ridiculous. Not only that, but I actually went to Sheikhs, more than one because there is something called Zakat. Muslims are honor bound if they have the means to give a certain amount of their money to charity each year. Now, because my nonprofit companies are not technically a charity, I went to sheikhs, and I asked them listen, is this possible that it would qualify—the zakat—that it would qualify for charity? And effectively, the answer was no. This was very frustrating to me because I knew I couldn't say that it would qualified as zakat. I wanted to make sure and I did make sure by asking sheikhs, respected sheikhs about this. So I have never once represented myself as the head of a charity. The police could have easily verified that. They could have asked me questions and they could have shown some evidence. Where is the evidence? There is no evidence. And that's why now, I have got the services of a law firm in London that is representing me in a complaint against the UK police and I can tell you what, they have taken this case free of charge; it is costing me nothing. You know why they are taking the case? Because I have got the fucking police by the balls, that 's why, because they have violated my rights. They unlawfully arrested me. They falsely imprisoned me. They assaulted me by taking my DNA and they violated my rights in the European Convention on Human Rights on two different levels.
So all the proof is there, just waiting for the police to give me through, my law firm, to give us all the information that they used to justify my arrest which I can't wait for that because you know what they is going to do? That is going to show that Catherine Myles once again lied blatantly, perverted the course of justice.
What are the UK police going to do then? Are they going to arrest Catherine Myles? I don't think so. You know why? Because I believe she is definitely an asset of so called intelligence agencies or perhaps special branch. If not, its impossible to explain why are the UK police protecting this criminal? Why? What is the reason for this? I have the proof. I have submitted some of that proof online. You can look at it if you want.
http://www.trade-not-aid.net/documents/
And for you idiots out there that continue to believe in lives of these criminals, who are you? What have you done?
So, I am here in Gaza, amongst the millions of lies that have been told about me over the last 14 months, especially by Catherine Myles once again. One, I am not welcome. I am barred from Gaza. Here I am, I am in Gaza.

That screen shot will be put up for you to see as well. I am barred from Gaza am I? Well I'm here! I am also been suspected of luring young women into my apartment in Gaza and Hamas nearly arrested me twice. Is that right? Well here I am again. Why aren't they arresting me?
Not only that, but I have come to Gaza for two primary reasons. Two:
To apologize to the Samouni family directly. Especially, to the kids. I love those kids and I am so sorry for what I have done to them by my failure to have the right people who can be trusted inside the Trade Not Aid Mission. I have done that now and I have come and I have explained to them my perspective and I have also submitted to them the evidence that I am talking to you about tonight.
The other reason was to go to the government here. And I have done that now. I have gone to the Minister of Interior and I have gone to the Minister of Justice and I have submitted 4 reports—the ones I have just told you about—the initial report that I wrote in August of 2011, the 80 pages, excuse me it was 80 pages of evidence to the UK police in July of 2012 establishing the fraudster, the criminal, the hijacker, the absolute criminal, Catherine Myles with evidence, verifiable evidence I gave to the UK police in July of 2012. I then have the chronological report—336 pages of it—absolutely conclusive establishing everything that the UK police would need to arrest the right people. And lastly, the complaint filed on my behalf by law firm in London. I have handed all that over. All of that has been handed over to the officials here.
I have made it very clear to the government here in Gaza. I am here, I am ready to answer any question at all. In fact, I want to answer any question and I would like to see any evidence, any evidence that indicts me of anything not only illegal but immoral. Show it to me; I am ready for it. And if there is any legitimate evidence against me, which there isn't but if there is, let's go! Let's go! I am here ready to face it.
So, I don't consider the UK government anything but a bunch of corrupt bastards quite frankly and their little quisling underlings or the UK police. Which, let's make no mistake as we get closer to the third world war are going to be called on to do horrible things to the UK people. So, I hope you do the right thing, the good people within the UK police.
I don't believe the government here in Gaza is as corrupt as you are in the UK. And I have handed over all the evidence to the officials here and I have requested that they take all the evidence they have and if there is sufficient evidence to indict me of anything to charge me, I will come back to Gaza. I am coming back to Gaza because I would not be able to stay here too long this time around. But I am here if any charges need to be leveled. And I am coming back as well and here is my open proposal to Catherine Myles:
Catherine Myles, you still maintain possession of stolen vehicles, donated goods and also at least £20,000 of donated money went into your account all verifiable. You say I stole it, show the proof. How did I get money put into your account? Why was I so stupid as to allow it to be put into your account is really the question for me. But nonetheless, me being as stupid as I was, how did I get my hands on money put into your account because you are going to have to show somehow that it was put into my hands. You can't do that because you stole it. Now, all evidence is there; it's all there. Catherine Myles, I have found the funds for you to come to Gaza. We will pay for you to go to Gaza. I will pay for your tickets from the UK to Cairo and then your taxi fare to Gaza and your accommodation in Gaza and your return taxi fare back Cairo, back to the UK. You have a paid, PAID trip to Gaza. You come down to Gaza and all those things that you have said about me, everything you have said about me. I am a white supremacist, I am a Nazi, I am a fraudster. My wife is worse than me. My children are illegitimate.

All of these lies that you have told, all of them, include accusations that I have stolen money and that I have somehow dishonored myself and harmed the Palestinian cause. You bring all your evidence to Gaza and you face the authorities here in Gaza. If you are not willing to do that, now, today, with the Simouni family coming out and making the statement calling on you, demanding you return all of the items back to me. If you don't do that, let the whole world know and every single person who cares about Palestine, let them all know you have stolen directly from Palestine. You have stolen directly from the Simouni family and even after the Simouni family have demanded that you return all the stolen property back to me as their friend, as their brother, as their trusted partner. If you refuse to do that, let the wrath of the Palestinian Solidarity Movement come to you. Let it come to you. And Saeb Shaath, as a Palestinian, I suggest you tell Catherine Myles to return the stolen goods now as well.
That is my report from Gaza. I look forward to seeing what happens in the near future but let us make no mistake, NO mistake, no matter how corrupt, no matter how evil, no matter how servile and disgusting, there will be justice in this world, there will be justice in Palestine. And we will never give up and you can make damn sure that I will never give up. I will die with my honor and integrity and I believe that we will see Palestine free in the not too distant future.
Why I Dislike Israel
By Philip Giraldi

October 06, 2012 "
Information Clearing House
" - Even those pundits who seem to want to distance U.S. foreign policy from Tel Aviv's demands and begin treating Israel like any other country sometimes feel compelled to make excuses and apologies before getting down to the nitty-gritty. The self-lacerating prologues generally describe how much the writer really has a lot of Jewish friends and how he or she thinks Israelis are great people and that Israel is a wonderful country before launching into what is usually a fairly mild critique.
Well, I don't feel that way. I don't like Israel very much. Whether or not I have Jewish friends does not define how I see Israel and is irrelevant to the argument. And as for the Israelis, when I was a CIA officer overseas, I certainly encountered many of them. Some were fine people and some were not so fine, just like the general run of people everywhere else in the world. But even the existence of good upstanding Israelis doesn't alter the fact that the governments that they have elected are essentially part of a long-running criminal enterprise judging by the serial convictions of former presidents and prime ministers. Most recently, former President Moshe Katsav was convicted of rape, while almost every recent head of government, including the current one, has been investigated for corruption.
Further, the Israeli government is a rogue regime by most international standards, engaging as it does in torture, arbitrary imprisonment, and continued occupation of territories seized by its military. Worse still, it has successfully manipulated my country, the United States, and has done terrible damage both to our political system and to the American people, a crime that I just cannot forgive, condone, or explain away.
The most recent outrage is Israeli Prime Minister Benjamin Netanyahu's direct interference in U.S. domestic politics through his appearance in a television ad appearing in Florida that serves as an endorsement of Republican candidate Mitt Romney. The Netanyahu ad and his involvement in the election has been widely reported in the media and has even been condemned by several leading Jewish congressmen, but it has elicited no response from either Obama or Romney. Both should be condemning in the strongest terms the completely unprecedented intervention by a foreign head of government in an American election. That they are saying nothing is a testament to the power that Israel and its friends in Congress and the media have over the U.S. political establishment. Romney might even privately approve of the ads, as he has basically promised to cede to Netanyahu the right to set the limits for U.S. policy in the Middle East.
And why is Benjamin Netanyahu in such a lather? It is because President Barack Obama will not concede to him a "red line" that would automatically trigger a U.S. attack on Iran. Consider for a moment the hubris of Netanyahu in demanding that Washington meet his conditions for going to war with Iran, a nation that for all its frequently described faults has not attacked anyone, has not threatened to attack anyone, and has not made the political decision to acquire a nuclear weapon in spite of what one reads in the U.S. press. At the U.N., Netanyahu's chart showing a cartoon bomb with a sputtering fuse reminiscent of something that might have been employed by an anarchist in the 1870s failed to pass any credibility test even for the inevitable cheerleaders in the U.S. media. If the U.S. is to go to war based on a Netanyahu cartoon then it deserves everything it gets when the venture turns sour, most likely Iraq Redux, only 10 times worse.
Even more outrageous, and a lot less reported in the media, were the comments made by Patrick Clawson, director of research for the Washington Institute for Near East Policy (WINEP), an organization founded by the American Israel Public Affairs Committee (AIPAC). WINEP is widely viewed as a major component of the Israel Lobby in Washington and is closely tied to the Israeli government, with which it communicates on a regular basis. Clawson heads WINEP's Iran Security Initiative. At a briefing on Sept. 24 he said, "I frankly think that crisis initiation is really tough, and it's very hard for me to see how the United States … uh … president can get us to war with Iran.… The traditional way America gets to war is what would be best for U.S. interests."
Note that Clawson states his conviction that initiating a crisis to get the U.S. involved in a war with Iran and thereby fooling the American people into thinking that it is the right thing to do is actually a "U.S. interest." He cites Pearl Harbor, Fort Sumter, the Lusitania, and the Gulf of Tonkin as models for how to get engaged. Which inevitably leads to Clawson's solution: "if the Iranians aren't going to compromise it would be best if someone else started the war … Iranian submarines periodically go down. Some day one of them may not come up…. We are in the game of using covert means against the Iranians. We could get nastier at that." Clawson is clearly approving of Israel's staging an incident that would lead to war, possibly even a false-flag operation carried out by Israel that would implicate the United States directly, or he is urging the White House to do the job itself.
Clawson not surprisingly has never served in the U.S. military and has a Ph.D. in economics from the New School for Social Research, which would at first glance seem to disqualify him from figuring out how to set up a covert operation to sink a submarine and thereby start a war. He might be seen as moderately ridiculous, but like many of his neoconservative colleagues he is well wired into the system. He writes regularly for The Washington Post, The New York Times, and The Wall Street Journal; appears on television as an "expert"; and is a colleague at WINEP of the ubiquitous Dennis Ross, sometimes called "Israel's lawyer," who was until recently President Obama's point man on the Middle East. Clawson is a useful idiot who would be registered as an agent of the Israeli government if the Justice Department were doing its job, but instead he is feted as a man who tells it like it is in terms of American interests. The distortion of the foreign-policy decision-making in this country is something that can be attributed to Clawson and his host of fellow travelers, all of whom promote Israel's perceived interests at the expense of the United States. And they do it with their eyes wide open.
I will deliberately avoid belaboring another Israel Firster Pamela Geller and her New York subway posters calling Palestinians savages and Israelis civilized, as I am sure the point has been made about how any lie that can serve the cause of Israel will be aggressively defended as "free speech." A poster excoriating Jews or blacks in similar terms as "savages" would not have seen the light of day in New York City, another indication of the power of the Lobby and its friends to control the debate about the Middle East and game the system.
And then there are the reasons to dislike Israel and what it represents that go way back. In 1952's Lavon Affair, the Israelis were prepared to blow up a U.S. Information Center in Alexandria and blame it on the Egyptians. In 1967, the Israelis attacked and nearly sank the USS Liberty, killing 34 crewmen, and then used their power over President Lyndon Johnson to block an investigation into what had occurred. In 1987, Jonathan Pollard was convicted of spying for Israel with investigators determining that he had been the most damaging spy in the history of the United States. In the 1960s, Israelis stole uranium from a lab in Pennsylvania to construct a secret nuclear arsenal. And the spying and theft of U.S. technology continues. Israel is the most active "friendly nation" when it comes to stealing U.S. secrets, and when its spies are caught, they are either sent home or, if they are Americans, receive a slap on the wrist.
And Israel gets away with killing American citizens — literally — in the cases of Rachel Corrie and Furkan Dogan of the Mavi Marmara. And let's not forget Israel's treatment of the Palestinians which has made the United States complicit in a crime against humanity. Tel Aviv has also played a key role in Washington's going to war against Iraq, in promulgating a U.S.-led global war on terror against the Muslim world, and in crying wolf over Iran, all of which have served no U.S. interest. Through it all, Congress and the media are oblivious to what is taking place. Israel is a net recipient of over $123 billion in U.S. aid and continues to get $3 billion a year even though its per capita income is higher than that of Spain or Italy. No one questions anything having to do with Israel while Congress rubber-stamps resolution after resolution virtually promising to go to war on Israel's behalf.
I have to admit that I don't like what my own government is doing these days, but I like Israel even less and it is past time to do something about it. No more money, no more political support, no more tolerance of spying, and no more having to listen to demands for red lines to go to war. No more favorable press when the demented Benjamin Netanyahu holds up a cartoon at the U.N. The United States government exists to serve the American people, no more, no less, and it is time that our elected representatives begin to remember that fact.
Philip Giraldi
, a former CIA officer, is a contributing editor to The American Conservative and executive director of the Council for the National Interest.
his article was originally posted at
AntiWar