David Lane - Qui est Blanc ?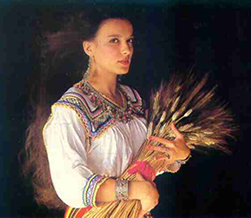 Ceux d'entre vous qui, depuis des années ou des décennies, ont soit observé soit participé à la résistance au meurtre de la race blanche, savent que des provocateurs ont attaqué la pureté raciale de dirigeants officiels, pour discréditer leurs motivations.
A mon avis, une des raisons pour lesquelles cela a profité à l'ennemi est une mentalité venant d'une religion étrangère. Un principe de base du judéo-christianisme, et une des raisons de son attrait fatal, est qu'il permet à des hommes inférieurs de réclamer un statut supérieur sans faire l'effort correspondant. Un judéo-chrétien avec un QI de 90 et un passé lamentable peut être baptisé, répéter quelques mots rituels et aussitôt proclamer avoir un statut divin, supérieur à celui d'un homme un million de fois supérieur à lui par l'intelligence et le caractère.
Le syndrome du «blond aux yeux bleus» est typique de cette mentalité. Et je dis cela après mûre réflexion, car j'ai une apparence nordique, grand, mince, blond aux yeux bleus. Cependant je peux seulement conjecturer sur la pureté de mon ascendance.
Mon père vendait ma mère à ses copains et à des étrangers pour trouver l'argent pour boire au bistrot, donc seuls les dieux savent tout.
Voilà ce que je sais. J'ai l'apparence d'un Blanc. Je combats pour les Blancs. Je reconnais les réussites de la race blanche. Je veux préserver notre espèce. Je suis horrifié que la beauté de la femme aryenne blanche puisse bientôt disparaître de la Terre pour toujours. Je souffre pour chaque enfant blanc tourmenté dans le cauchemar multiracial de l'Amérique.
Je vois la beauté dans une princesse celtique aux cheveux bruns ou roux et aux yeux verts. Je vois la beauté dans la sculpturale déesse nordique aux yeux bleus et aux cheveux d'or. Je vois la beauté dans la fille irlandaise avec des taches de rousseur. Je vois l'héroïsme chez Robert Jay Mathews et Richard Scutari avec leurs cheveux sombres et leurs yeux verts ou bruns, aussi bien que chez Frank DeSilva, un frère à la peau claire et au nom franco-portugais. Leur noblesse est bien plus grande que celle de 99% de ces «parfaits Nordiques», pourrais-je dire.
Pour ceux qui se vantent de leur «pureté», vous avez deux parents, quatre grand-parents, huit arrière-grand-parents, et ainsi de suite. Retournez à peu près 500 ans en arrière et vous avez un millier d'ancêtres. Quelques générations de plus, et quiconque a foulé le sol de l'Europe est votre ancêtre, y compris les Huns, les Mongols et les Maures. Il n'y a pas d'Aryens purs à 100% comme il y a 10 000 ans. Mais nous existons encore en tant qu'entité biologique distincte et unique. Les cultures et les civilisations que nous avons créées sont au-delà de toute comparaison. La beauté de nos femmes - blondes, brunes, rousses, aux yeux verts, bleus, bruns - est désirée par tous les hommes et enviée par toutes les femmes du monde.
Nous n'allons pas commencer à discuter pour savoir si le patrimoine génétique collectif blanc qui reste est aryen à 95% ou à 97%. Cela serait sûrement une tragédie si les différentes variétés dans notre race perdent leurs traits et leur beauté distinctifs. Et quand nous aurons assuré l'existence de notre peuple et un avenir pour tous nos enfants, nous pourrons prendre des mesures pour préserver cette diversité.
Mais pour l'instant, nous allons accepter les faits et les circonstances telles qu'elles existent. Nous allons travailler ensemble pour la cause sacrée et nous ne tolérerons pas les provocateurs, les divisions et les dissensions. Si quelqu'un a l'apparence d'un Blanc, s'il agit comme un Blanc, s'il combat pour les Blancs, alors tant que ses actions ne prouvent pas le contraire, il fait partie de notre Peuple.
Par contre, quels que soient leur pedigree ou leur apparence, ceux qui s'opposent à notre cause, la critiquent, l'entravent ou ne la soutiennent pas, ne sont pas nos amis.
David Lane - 88 Préceptes
David Lane sur Balder Ex-Libris - PDF
4/4/2010
1/27/2010
4/11/2009
2/20/2009
1/31/2009
12/12/2008
12/1/2008
9/2/2008
6/29/2008
6/12/2008
5/26/2008
5/15/2008
5/10/2008
4/4/2008
12/28/2007
Signs of Resistance to Jewish Supremacism
By Bob Finch
Since the second world war, Jewish elites in America and other western, over- industrialized, countries have mushroomed in economic and political power until today they compose either a significant part of these countries' ruling elite or, as is the case in America, its dominant part. These elites promote Jewish supremacism. This ideology consists of the following components:
* Uncritical support for the Jews-only state in Palestine;

* Uncritical support for Jewish expansionism both inside, and outside, Palestine;

* The continual extension of the definition of antisemitism;

* The vilification, and persecution, of critics of the Jewish apartheid state as antisemites;

* The vilification, and persecution, of critics of Jewish interests as antisemites;

* The hyping of islamophobia, the racial hatred of all Moslems; and,

* The manipulation of America and other western countries into fighting more wars in the middle east in order to boost the military dominance of the Jews-only state in the region i.e. Jewish race wars boosting Jewish supremacism.
Jewish elites around the world, but especially in America, are promoting what they call 'world war four' against islamo-fascists. Jewish racists lump all Moslems together as if they form one cohesive enemy called islamo-fascists not merely Baathists but al Qaeda, and Shiite Iran and Hezbollah.
[1]
They believe Moslems pose
"a threat equal to or greater than World War II and the Cold War." (
Jim Lobe 'Et Tu, Cal'
http://www.ips.org/blog/jimlobe/?p=43
July 06, 2007).
It is remarkable that Jewish supremacists are pressuring and manipulating western countries into fighting racist wars on behalf of the Jews-only state. Even more remarkable is that it is not in the west's interests to fight such wars as the examples of Afghanistan and Iraq demonstrate all too clearly. What is even more remarkable is that western political leaders seem willing to fight such wars for the benefit of the Jews-only state no matter what it costs western countries in lives, treasure, and reputation. But what is most remarkable of all is that these political leaders have become blatant quislings to the Jewish cause who are willing to fight such racist wars no matter what public opposition there is to these wars. The west's invasion of Iraq has been a huge benefit to the Jews-only state but a catastrophe for America and the west. An attack/invasion of Iran is likely to make this contrast even more stark. Never have so many dupes been willing to lay down their lives, their livelihoods, and their countries, for so few and for such dishonourable objectives.
(more…)