ISRAELI ADMITS HAVING NUCLEAR WEAPONS
Barack Obama - Zionist Wolf In Sheep's Clothing
ISRAELI MILITARY & WEAPONS
Paid for with American Tax Dollars!
"Arabs may have the oil, but we have the matches."
Ariel Sharon as quoted by Mark Gaffney in Dimona, The Third Temple:
The Story Behind the Vanunu Revelation, 1989.
Click on the picture above to view. The macromedia display will open in a new window. From the IslamOnline.net website. It can be found on their website by looking at the bottom of articles like this one. Look for the "Israel's Nuclear Arsenal" link.
Dimona Reactor Animation
Here is the Israel Files from the MSNBC site. PDF And the macromedia display of the military secrets at the MSNBC site.
General Israeli Military & Weapons Articles
We possess several hundred atomic warheads and rockets and can launch them at targets in all directions, perhaps even at Rome. Most European capitals are targets for our air force. Let me quote General Moshe Dayan: "Israel must be like a mad dog, too dangerous to bother." I consider it all hopeless at this point. We shall have to try to prevent things from coming to that, if at all possible. Our armed forces, however, are not the thirtieth strongest in the world, but rather the second or third. We have the capability to take the world down with us. And I can assure you that that will happen before Israel goes under.'
..Martin van Creveld, professor of military history at the Hebrew University in Jerusalem as quoted in The war game PDF September 21, 2003
So how are disasters created by the zionists? PDF by Cody F. Walker February 9, 2010
Defeating Israel: Chemical Disaster PDF - I commented on a possible result of Israel being recently defined as a terrorist organization by the Human Rights Commission of the UN. An international army could be sent – as it was to Iraq – in an attempt to stop the atrocities of the Zionist regime and to restore democracy to the area.
Israeli Air Force Chief: We must stop S-300 delivery from every country that would want to defend itself from Israeli attack PDF By Yaakov Katz Jerusalem Post 18 Sep 2009
Israeli military develops robot snake for battlefield, children's nightmares PDF by Joseph L. Flatley Jun 9th 2009
Israel's Military Supplies to India PDF By Hari Mar-07-2009
U.S. Military Aid to Israel PDF KATHLEEN and BILL CHRISTISON Counterpunch March 6, 2009
Israeli Green Pine radar may track North Korean missiles PDF Daily Times February 17, 2009
Comparison of military strength of Israel and the Palestinians PDF IMEU, Jan 5, 2009
Greece hinders US arms delivery to Israel PDF 14 Jan 2009
US installs advanced radar and personnel in Israel PDF By Dan Williams 29 September 2008
A 14-plane US airlift lands high-powered FBX radar in Israel with US personnel PDF DEBKAfile Special Report September 27, 2008 -The Raytheon system can detect a flying object the size of a baseball at a distance of 4,700 km, fix on its speed and trajectory and convey the data to the Israeli Arrow anti-missile battery.
A casually deployed radar system PDF By Aluf Benn 8/08/2008
US steels Israel to counter 'Iran threat' PDF 17 Aug 2008
PLAIN FACTS ABOUT IRAN'S MILITARY PDF by Eric Margolis July 15, 2008
Weapons of Mass Destruction in the Middle East PDF Updated: April 2006
Google Earth provides bird's eye view of Israeli reactor PDF October 05. 2007
Israeli military aid to Burmese regime: Jane's PDF by David Bloom 09/29/2007
Robo-Snipers, "Auto Kill Zones" to Protect Israeli Borders PDF By Noah Shachtman June 04, 2007
Israel to Sell Armored Vehicles to US PDF AL-QUDS, Feb. 27, 2007 - Zionist arms producers are already providing US troops in Iraq with drones, rockets and armor for tanks and armored personnel carriers.
US forces to test Israeli anti-RPG system for Iraq PDF 6 December 2006
Israel developing anti-militant "bionic hornet" PDF Nov 17, 2006
Italian probe: Israel used new weapon prototype in Gaza Strip PDF By Meron Rapoport, Haaretz Correspondent 11/10/2006
Israel 'is using chemical ammunition' PDF By Duraid Al Baik, Foreign Editor 07/11/2006
Israeli Naval Forces Will Join NATO Exercise for First Time PDF May 30, '06
Israel's weapons exports skyrocket PDF - Defense News has ranked Israel as No. 3 based on 2002 contracts
What Israeli Disengagement Sounds Like By Dr. EYAD SERRAJ September 28, 2005 - The new method of exploding sound bombs in our skies is now available to the Israeli army who would not use it before the disengagement because they were careful not to alarm or hurt the Israeli settlers who were in Gaza.
WORLD: U.S., Russia Top Arms Exporters, Congressional Report Says PDF - [This story reports the "total value of military weapon sales worldwide in 2004" for the U.S. but for Russia, the U.K. and Israel only reported "arms transfer agreements to developing countries". I suspect that they do not want Israel's weapon sales to the U.S. factored in or it would place Israel right behind Russia in total arms exports as This Article from 2003 does PDF . America buys a lot of military technolgy from Israel, another way that Israel has of skimming money from us. -ed.]
IDF disperses riot with sound technology PDF - The IDF unveiled Friday a new crowd-dispersal tactic, emitting painful bursts of sound at a special frequency to help break up a violent Palestinian demonstration, military officials and witnesses said.
U.S. may sell bunker busters to Israel Proposed deal raises concerns about Israeli strike on Iran
Israeli Army Unveils Ultra-Modern Weapons By Margot Dudkevitch and JPost.com Staff The Jerusalem Post 4-7-5 - Like much of Israel's US-acquired military hardware, the Saraf will receive improvements in its armament and navigational systems, using technology that does not yet exist in the US.
Israel, U.S. hold joint missile defense exercises, officials say - The United States provides about $2.5 billion a year in military assistance to Israel.
Israel pressures Germany on arms - Israel's military intends that the deal should include the delivery of 100 Dingo 2 armoured personnel carriers and two new submarines. [They've got all that American money to spend on them too! -ed.]
Arabs may have the oil, but Israel has the matches By Shakeel Syed Al-Jazeerah, November 27, 2004 - With stockpiles of chemical and biological weapons and an extremely sophisticated nuclear arsenal, and an aggressive strategy for their actual use, Israel represents an acute threat to peace and stability in the Middle East.
ISRAEL DEATH SQUADS - One sometimes hear the name of an Israeli special forces unit operating on the West Bank or in Gaza and one wonders who's who. Radio and TV shows have "let slip" such names as "Egoz" ("Sayeret Egoz,") and "Sayeret Matkal," "the Golanyi Brigade," etc.
U.S. to transfer high-tech arsenal to Israel Strike against Iranian reactors is feared Thursday, September 23, 2004 - The transfer also includes 2,500 2,000-pound Mark-84 bombs, 500 1,000-pound Mark-83 bombs, 1,500 500-pound Mark-82 bombs and live fuses. All the bombs are being fitted with the Joint Direct Air Munitions kit, which uses inertial guidance and beacons from U.S. military global positioning satellites for deadly accuracy.
Israel Armament Development Co moving to the US - Following the halving of orders by the IDF, Rafael (Israel Armament Development Company) will probably move the bulk of its development and manufacturing operations to the US, Rafael chairman Jacob Toren told "Globes" today.
Israel's weapons exports skyrocket, making it friends and money PETER ENAV - In June, Defense News ranked Israel 3rd in defense exports, behind only the U.S. and Russia.
Facility 1391: Israel's secret prison - But Israel's secret prison, inside an army intelligence base close to the main road between Hadera and Afula in northern Israel, is real enough.
Military Industry - There are approximately 150 defense firms in Israel, with combined revenues of an estimated $3.5 billion. The three largest entities are the government-owned IAI, IMI and the Rafael Arms Development Authority, all of which produce a wide range of conventional arms and advanced defense electronics.
Official Acknowledgement of Israeli Nuclear Capability
Former President Jimmy Carter says Israel has '150 or more' nuclear weapons PDF By Reuters | May 27, 2008
Olmert indicates Israel has nuclear capability PDF By JPOST.COM STAFF Dec. 11, 2006
Gates beats Olmert to the nuclear punch PDF 12/12/2006
UK Admits Israel Has Nuclear Weapons PDF LONDON, Nov. 20, 2006
Calls for Olmert to resign after nuclear gaffe
· PM admits on TV that Israel has atomic weapons
· Blow to longstanding policy of ambiguity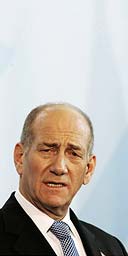 Israel's prime minister, Ehud Olmert, was yesterday trying to fend off accusations of ineptitude and calls for his resignation after he accidentally acknowledged for the first time that Israel had nuclear weapons.After decades in which Israel has stuck to a doctrine of nuclear ambiguity, Mr Olmert let slip during an interview in Germany that Israel did indeed have weapons of mass destruction.
He told Germany's Sat.1 channel on Monday evening: "Iran, openly, explicitly and publicly, threatens to wipe Israel off the map. Can you say that this is the same level, when they are aspiring to have nuclear weapons, as America, France, Israel and Russia?"
Mr Olmert's admission comes less than a week after the incoming US secretary of defence, Robert Gates, speculating at a Senate confirmation hearing on Iran's possible motives for trying to build nuclear arms, suggested that Israel had the bomb.
Speaking in Berlin after a meeting yesterday with Germany's chancellor, Angela Merkel, Mr Olmert attempted to backtrack. He insisted that Israel's doggedly held position of nuclear weapons ambiguity had not changed.
"Israel has said many times - and I also said this to German television in an interview - that we will not be the first country that introduces nuclear weapons to the Middle East," Mr Olmert insisted. He added: "That was our position, that is our position - nothing has changed."
But his remarks did nothing to assuage criticism in Israel. Opposition leaders accused him of "irresponsible" bungling and said he should resign.
"This causes great harm to Israel. We are in the midst of a huge [diplomatic] onslaught against Iran's attempts to make a nuclear bomb," former foreign minister Silvan Shalom, a member of the rightwing Likud party, said on Army Radio. He added: "We always face the same question which our enemies ask: 'Why is Israel allowed to [have a bomb] and not Iran?'"
Yossi Beilin, of the leftwing Meretz party, which is also in opposition, questioned Mr Olmert's fitness to lead. "The prime minister's amazing statement regarding nuclear capability indicates a lack of caution bordering on irresponsibility," the Yedioth Ahronoth newspaper quoted him as saying.
Mr Olmert's domestic approval ratings have plummeted since this summer's war against Lebanon's Hizbullah guerrillas.
Aides to the prime minister tried frantically to limit the damage. His spokeswoman, Miri Eisin, who is accompanying Mr Olmert on his visit to Germany and Italy, said it did not mean Israel possessed or wanted to acquire nuclear weapons. "No, he wasn't saying anything like that."
Israel has long declined to confirm or deny having the bomb as part of a "strategic ambiguity" policy that it says fends off numerically superior Arab enemies. But Arabs and Iran see a double standard in US policy in the region.
By not declaring itself to be nuclear-armed, Israel gets round a US ban on funding countries that proliferate weapons of mass destruction. It can thus enjoy more than $2bn (£1.02bn) a year in military and other aid from Washington.
Israel's main atomic reactor, officially for civilian use, became operational in the early 1960s. The CIA first concluded that Israel had begun to produce nuclear weapons in 1968, but few details emerged until 1986 when Mordechai Vanunu, a former technician at the nuclear facility, gave the Sunday Times detailed descriptions that led defence analysts to rank the country as the sixth largest nuclear power.
Mr Vanunu, who was released in 2004 after spending 18 years in prison, welcomed the prime minister's admission. "Obviously, I don't welcome the atomic bomb but this openness could lead at last to some realpolitik - and maybe to some real peace." Mr Vanunu said he believed the admission was not accidental. "My idea is that it was said intentionally. For 20 years they tried to deny me and my story but the policy of cheating and lying didn't succeed. There is now a new defence secretary in the United States and there are also changes taking place in the Arab world, so I think that may have led to the change."
Thursday, 07 June 2012 19:23
According to Gordon Duff at Veteran's Today, Germany is supplying Israel with nuclear warheads and arming submarines with missles.
What is more likely is an attack on the US, Great Britain or South Korea. What makes this possible is that Israel currently has, unlisted in its inventory, more than one submarine with long range nuclear capability and an unclear naval command stucture. Israel, in actuality, has no civil government and only a minimal military government. An examination of political moves made by Israel clearly demonstrates that they don't function as a nation at all but rather as an outpost for a post war conglomerations of secret societies, some closely aligned to Himmler's SS and Gehlen's DVD.

British security experts are of a general belief that the Gehlen group, under Operation Paperclip, run by the Dulles brothers, Allen and John Foster, aided by a young Richard Nixon (highly classified) created the CIA, not out of the OSS but entirely out of German intelligence groups who had worked, hand in hand, with counterparts in America during the entire Second World War. Among their best known operations were the Kennedy assassinations, their manipulation of American media and their ability to hide behind Jewish identity.
The implication here is that Israel will launch a false flag attack blaming it on Iran and the Nazi cabal headed by Bush will orchestrate behind the scenes. In the end we have "conglomeration of secret societies" running Israel and then the U.S. and behind that a stargate located in the leylines that converge in the desert of the Sinai (see my Keith Hunter interviews for more on this). But the bottom line on what he discovered is that military installations such as Pine Gap, Dimona and Menwith Hill are connected by leylines that due to hyperdimensional physics have a unique relationship facilitating portals, time travel and activation of the transdimensional capability where a nuke that is detonated has far greater repercussions beyond just this solar system.
Connected to this of course is the notion of the Anunnaki operating along with U.S. military and Space Command from the 4th dimension... using Phobos as a command and control center, so I am told.
This is where former Nazi's, Israel and the Anunnaki link up in a mad configuration that points to the planet being run from off planet and in that sense 'untouchable' by conventional weapons. It also manifests in a top down system where orders come from off-planet (a 4th dimensional Mars base for example) and via Phobos where the solar system itself is monitored such that no craft come in or go out without their knowledge.
Combine this with the role of Israel on the planet's surface and keeping in mind this very clear statement by Duff (who is telling the truth about this) and you have the real recipe for what is going on.
Needless to say, there are plenty of rogue players in this scenario including some STO (service-to-others) Guardian races who step in when possible without violating this free will sector, to create balance.
How this will all play out is unclear. But I am told that as of December 21, 2012 and maybe sooner, there is some kind of a line up which facilitates the possible invasion of a race of robots who as mentioned in Wingmakers are and have been headed this way.
According to Ashayana Deane, at least during our interview back in part III, this has become less likely an alternative. James of the Wingmakers wrote his Ancient Arrow Project about this possibility however. And the recent discovery of the site in the Carpathian Mountains in Romania of a library of records/ time travel device (see Peter Moon's book Transylvanian Sunrise by Radu Cinamar for this story) indicatees that the sites mentioned in the Wingmakers may still be activatable... These sites have within them material or devices said to contain a natural technology that when linked and activated (by way of human discovery) 7 sites around the globe will provide Earth with a protective shield and/or jump her into another dimension where she avoid the invasion scenario.
How all of this plays out within the diabolical designs of the uber nazi / anunnaki / Lucifer rebellion is also not clear.
In other words, Earth could be saved from invasion by a race of robots only to fall prey to the robotic superman/ nantech/ AI that has already begun to take control orchestrated by the Bush/Israeli/ Rothschild/ Rockefeller Cabal conglomeration of secret societies and military orders of which the Asian secret societies no doubt also have a part.
For more about the secret space program and hidden troops of android or human looking robotic supersoldiers see our interview with Pete Petersen.
And all this gets back to how Germany is supplying Israel with nuclear weapons and submarines with missles and they want a war in the Middle East. The final question here is why? Why is war in the Middle East so coveted? The confluence on stargates (Iraq, probably in Iran, Israel/Dimona, Egypt/Giza, Gulf of Aden and possibly others) certainly could be part of it.
From what I understand above all else the various on and off planet races are warring over Stargates ie. Ascension gates, most of the natural and artificial ones have been taken over by the dark side. Although according to the Guardians (via Ashayana Deane aka A'esha aka Anna Hayes) there are some gates still in their hands and those are the ones we humans will use when exiting this planet in the future. (We created a few gates in India with the help of the Guardians).
As far as group ascension goes, in the future (not on December 21, 2012, there will be a 3 way split with one group opting for a step-back version of Earth and the oher going to a middle Earth some are calling Aurora Earth and lastly those headed for true ascension. And this is not going to begin to happen for several years from what I understand. Individually, in my view, ascension ie. getting out of this matrix is always an option depending on your level of development.
However none of this is completely agreed upon out there. And meanwhile we contend with this mixture of races playing games for control. Few humans get any sense of the real big picture... However the above is a short summary of at least one way to think about all of it.
Female Israeli soldiers disciplined for 'unbecoming behaviour' after posing for pictures dressed only in their underwear and combat fatigues
Group of women are said to be new recruits based in southern Israel

Pictures show them dressed only in their underwear and combat fatigues

Israeli military said they were disciplined for their 'unbecoming behaviour'

Latest in string of incidents with inappropriate images of

Israeli soldiers



By
Becky Evans
|
Dressed
only in their underwear and
provocatively
holding weapons for the camera, they
appear to be having a great time posing for
photographs in their barracks room.
But four Israeli female soldiers have now been disciplined
by the country's military for their 'unbecoming behaviour'
after the raunchy pictures were posted on
Facebook.
The images, published on Israeli news website Walla, showed the soldiers removing their fatigues to expose their underwear and backsides.
Scroll down for video
In trouble: The images showed the soldiers removing their fatigues to expose their underwear and backsides
From behind: The photographed women were said to be new recruits stationed on a base in southern Israel
In another, five women posed in what appeared to be a barracks room, dressed only in helmets and a small amount of combat equipment.
Walla, which blurred the faces of the women, said they were new recruits stationed on a base in southern Israel.
The incident is the latest in a string of episodes involving young Israeli soldiers on social media that have drawn reprimand from the military.
In a statement, the military said the women had acted in a manner showing 'unbecoming behaviour' for Israeli soldiers, adding: 'The commanding officers disciplined the soldiers as they saw fitting.'
The Israeli military said the soldiers were disciplined for 'unbecoming behaviour' after the pictures were posted online
The women posed in their underwear and combat fatigues in the images that were posted on Facebook
The statement did not identify the soldiers or give any details about the punishments. Military officials said the base conducted educational lectures to keep soldiers from repeating the offence.
Several times in recent years, the Israeli military has disciplined soldiers for what were considered improper postings in social media sites.
Last year, the social media chief for the Israel Defence Force was branded 'racist' after posting a picture on Facebook of his face covered in mud alongside the caption 'Obama style'.
Lt. Sacha Dratwa faced a barrage of abuse for the picture, which appeared to show him swimming in the Dead Sea, and denied he was racist.
A male Israeli soldier was also condemned after being filmed
dancing suggestively around a blindfolded Palestinian woman in a video posted to YouTube in 2010.
In 2010, this Israeli soldier was disciplined after posting a picture of her with a blindfolded man online
That incident followed the discovery of photos earlier that year showing a female soldier posing in front of Palestinian prisoners.
The Israeli military banned soldiers from using social media sites while on base after the photographs came to light.
The ban was an effort to prevent future embarrassing posts on social media. It remains unclear whether the ban is in effect.
Early this year, another soldier was reprimanded for writing anti-Palestinian tweets and posting pictures to multiple social media services showing himself naked with a gun.
Most Jewish Israeli men and women are required to serve in the military, starting at age 18.
Read more:
http://www.dailymail.co.uk/news/article-2335015/Female-Israeli-soldiers-disciplined-unbecoming-behaviour-posing-pictures-dressed-underwear-combat-fatigues.html#ixzz2VR0nPUc9
Follow us:
@MailOnline on Twitter
|
DailyMail on Facebook